Nano shows 15% surge, BTC at $5,218
After a weekend of mostly slow cryptocurrency trading trends, Nano took the lead in the Top 50 and gained momentum surging upto 16% and reaching the $1.68 price mark in just a few hours.
The Nano Coin, introduced in 2016 and formerly known as Railblocks, was trading at $1.42 before its price slightly dropped reaching $1.30.
Today Nano was initially trading at $1.39, before the coin gained strong momentum surging upto 16% and reached the $1.68 price mark. Nano coin is currently trading at $1.61 with a market cap value of $213,9 million and ranking in 36th position.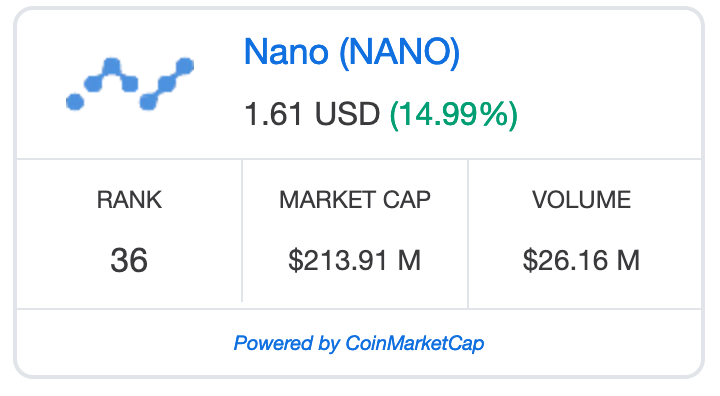 Read more: Max Keiser: 'Bitcoin's new ATH at $28,000 is still in play'
Nano is the second biggest gainer of the day, following closely behind VestChain, which shows an inpressive gain of more than 20% on the day and is currently trading at $0.009 and is ranked in 84th position.
Moving today:
↗️ VestChain $VEST: 20.02%
↗️ Nano $NANO: 16.7%
↗️ Verge $XVG: 11.02%
↘️ Dogecoin $DOGE: -7.69%
↘️ Loopring $LRC: -14.76%
↘️ Maximine Coin $MXM: -15.67%

— CoinAlerts.io (@GetCoinAlerts) April 8, 2019
Just last month Chepicap reported that Nano made a significant improvement to its network. The team announced a set of new features that allows social media users to tip each other seamlessly and easily.
The first one on the tipping feature is the Nano Tip Bot for Twitter. Created in September 2018, it allows Twitter users to show appreciation to others by giving tips without leaving Twitter, or even having a Nano wallet.
Read more: Cryptocurrency market cap sees 2019 all-time high of $185 billion
Bitcoin in the meanwhile is currently sitting just above $5200, which is roughly the highest level that it tested before dropping back down to $4900 a few days ago.
BTC is currently trading around $5,218, up 1.15% from yesterday's prices.

Bitcoin will END Crypto Winter at $6K! What's next? Subscribe to the Chepicap YouTube Channel for more videos!


Follow Chepicap now on Twitter, YouTube, Telegram and Facebook!

Chepicap is now LIVE in Blockfolio! This is how you receive our latest news in your portfolio tracker!