Bitcoin interest spikes on Google, while BTC trades well above $5,200
Crypto analyst and investor, Joseph Young, took to Twitter to point out that Google trends data shows that the excitement for Bitcoin is finding its way back to the broader markets.
'Looks like some people are interested in Bitcoin', the crypto trader tweeted.
Looks like some people are interested in bitcoin pic.twitter.com/ERt2XJsry2

— Joseph Young (@iamjosephyoung) April 8, 2019
According to data from Google Trends, Bitcoin searches spiked at around 6:44 PM this evening, with Nigeria as the region featuring the most searches while South Africa comes in second. The Netherlands, St Helena and Austria make up the rest of the top five.
Read more: Is Bitcoin going to $8.4k next?


While Google Trends does not provide exact number of searches, it is clear in the image below, that the amount of worldwide Bitcoin searches reached 75% of what it was one year ago. So the recent and unexpected price surge in Bitcoin has people excited worldwide.

Another popular Twitter cryptocurrency enthusiast, going by the Twitter handle EmpyBeerBottle, seems to agree with Joseph Young and takes it one step further by saying that Bitcoin will go parabolic next month.
Clear cup and handle on the searches for Bitcoin, will go parabolic next month. pic.twitter.com/yBgfUhumlU

— Emptybeerbottle (@Fullbeerbottle) April 8, 2019
Read more: Bitcoin shorts suddenly drop 27%... to the lowest point this year
Bitcoin is currently trading around $5,226 and is showing a 1.71% growth on yesterday's prices. Bitcoin's intraday low stands at $5,106.55.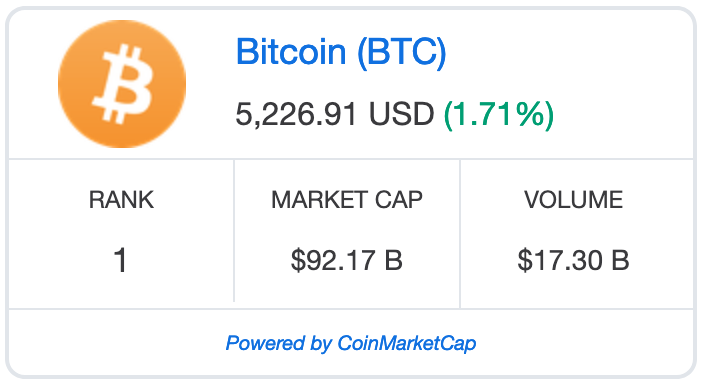 Bitcoin will END Crypto Winter at $6K! What's next? Subscribe to the Chepicap YouTube Channel for more videos!


Follow Chepicap now on Twitter, YouTube, Telegram and Facebook!

Chepicap is now LIVE in Blockfolio! This is how you receive our latest news in your portfolio tracker!