Ethereum classic surges by 21%, what's behind it?
Another day another pump, however, today the market isn't being led by bitcoin, or what would be typically classed as a major altcoin, instead, its led by Ethereum Classic currently up 20% head and shoulders above the rest, so what's going?
While for the most part Ethereum classic (ETC) has followed the market of late, in the usual correlation we often see from alts, today it seems to be forging its own path s one of the only alts seeing double figure gains and managing to breach a new 2019 high: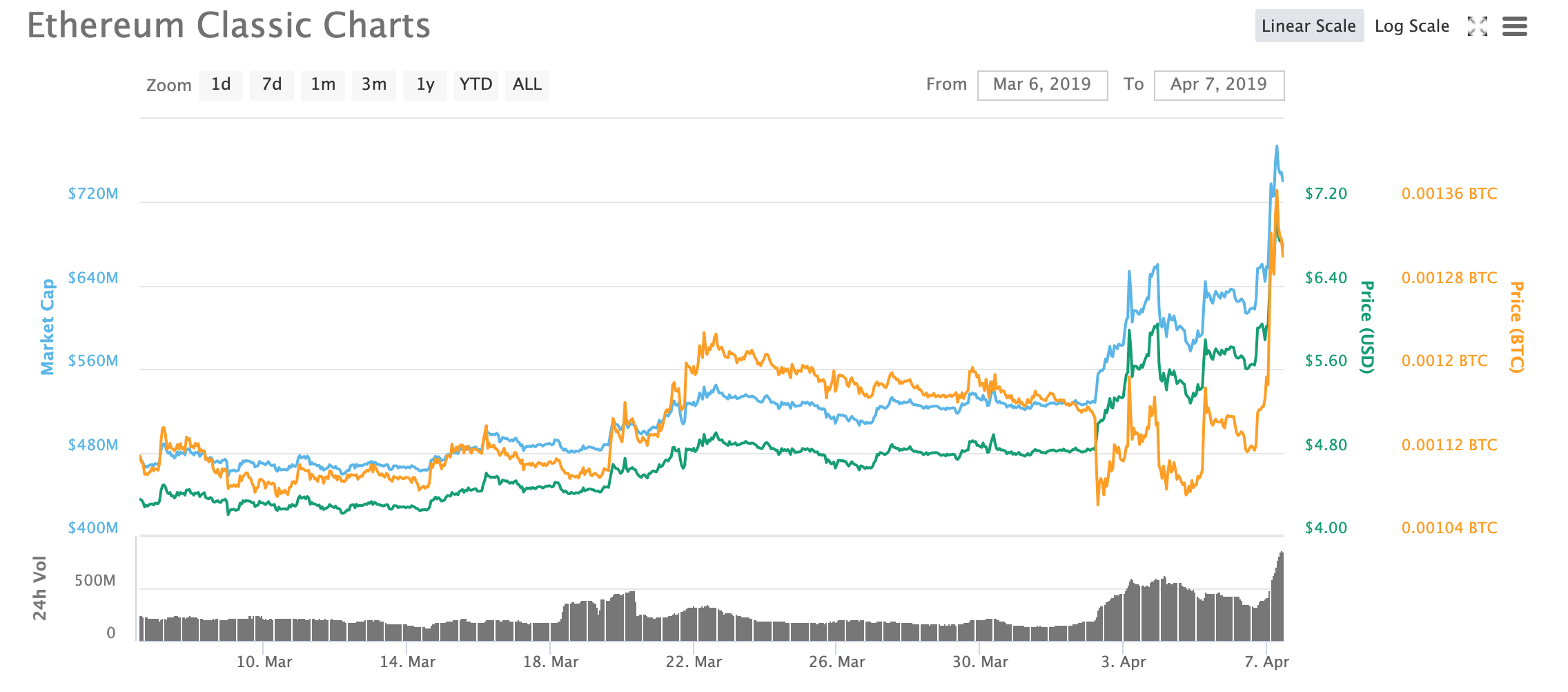 Today's breakaway from the pack could possibly be due to the increased talk around ETC and its upcoming hardfork, Atlantis.
Around a dozen #EthereumClassic contributors, developers, pool & node operators joined today's preliminary meeting covering ECIP-1054 Atlantis, even EF's @virgilgr joined the chat.

Re-Watch ECIP-1054 Community Meeting—Atlantis & #SpuriousDragon Upgradeshttps://t.co/13Tzs687VI

— Ethereum Classic (@eth_classic) April 5, 2019
The discussions, which kicked off last week, divulged several potential changes including:
1. Spurious Dragon state-trie clearing.
2. Spurious Dragon contract-code size limit.
3. Byzantium EVM opcodes, namely REVERT, RETURNDATASIZE, RETURNDATACOPY, and STATICCALL.
4. Byzantium EVM precompiled contracts, namely addition and scalar multiplication on the elliptic curve alt_bn128, optimal ate pairing check on the elliptic curve alt_bn128, and BIGINT modular exponentiation.
5. Replacing the intermediate state root field in transaction receipts with the contract return status.
It seems as though these proposals are providing a move for ETC, proving that technological progress continues to be a key market catalyst.
Read more: Ethereum Classic ecosystem discussing upcoming hardfork, Atlantis
Follow Chepicap now on Twitter, YouTube, Telegram and Facebook!

Chepicap is now LIVE in Blockfolio! This is how you receive our latest news in your portfolio tracker!