Bitcoin can topple $100K; XRP could grow by 3x, says analyst
All eyes are fixed to the market today, with ever more bullish sentiment echoing around the community. While a few technical favors may have brought us here, one analyst believes that this Bitcoin momentum will continue, eventually spreading to altcoins, suggesting that XRP could potentially grow by 3x …
As Bitcoin (BTC) continues to rally, and the rest of the market follows in its stead, it looks as though months of patience have paid off, this coupled with Bitcoin's low volatility as well as its technical stars aligning, led BTC to finally break all the way through $4000, nuzzling nicely up to $5K.
Now, Naeem Aslam, chief analyst for Thinkmarkets, reveals that this drop below $5k might be short-lived due to Bitcoin's extended momentum which has built up in recent months;
"Since touching its lowest point of $3136 back in December 2018, the bitcoin price has scored 61 percent gain, and year-to-date, it is up nearly 25 percent."
Aslam explicitly states that this is a move that we haven't seen in a long time, adding that it will likely attract more investors who have been "waiting on the sidelines for this moment."
The analyst adds that these last six weeks of consecutive gains have built up more momentum in terms of price action compared to that of the last 3 months of 2018: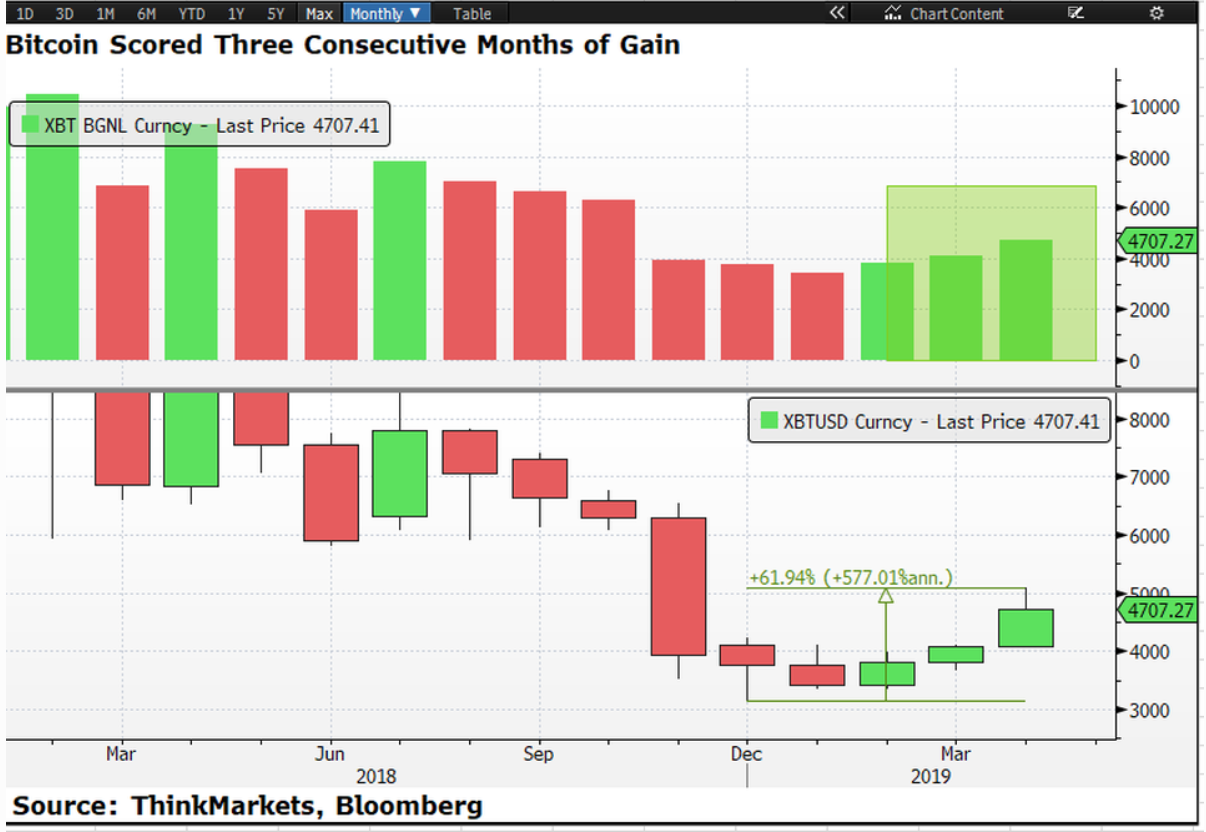 Moreover, Aslam also notes that the past six weeks of consecutive gains is a trend not seen since Bitcoin's all-time high back in December 2017; a fact that could well attract and encourage further investment: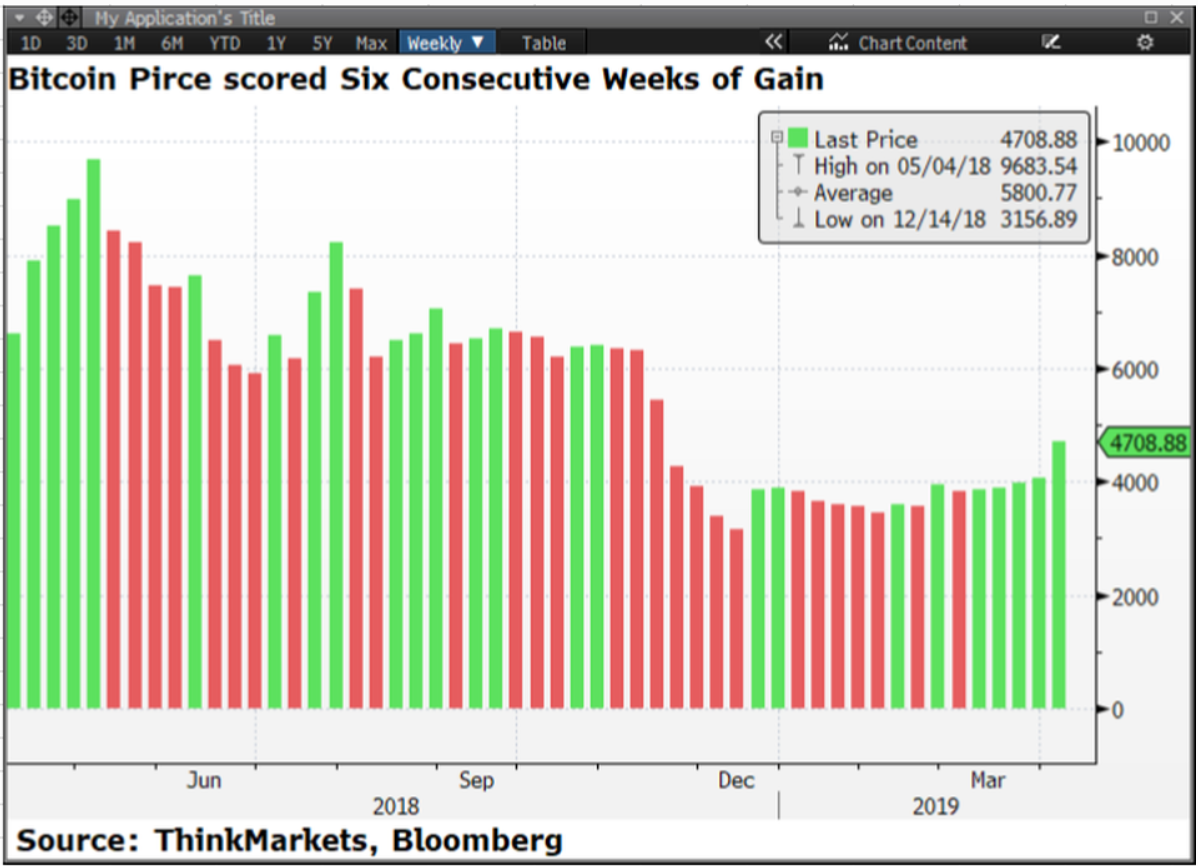 While BTC may be the trendsetter, Aslam hasn't ruled out altcoins, suggesting that the "spill over effect is inevitable"
Specifically looking at XRP, the analysts suggest that its support is holding firm at $0.30, something which could support a move up:
"I think the path of least resistance is to the upside."
Aslam urges traders to keep in mind the ease in which low-price high potential stock, such as XRP can gain, suggesting that "it is a lot easier for XRP price to grow by 2X or 3X compared to the Bitcoin price."
The analyst concludes by reiterating his position that this latest pump was a pure build up for momentum, leaving us with one last bullish thought:
"Bitcoin has the potential to topple the $100,000 mark and it is only a matter of time when this becomes a reality."
"I am not saying that fiat money is going to vanish, but the way the central banks are managing the monetary policy, alongside the high levels of government debts, are going to bring the shine in the Bitcoin price again."
Read more: Crypto trading volume hits new all-time high, fake volume questions raised; 8 Altcoins outperforming Bitcoin during this cryptocurrency pump


Follow Chepicap now on Twitter, YouTube, Telegram and Facebook!
Chepicap is here for you 24/7 to keep you informed on everything crypto. Like what we do? Tip us some Satoshi with the exciting new Lightning Network Tippin.me tool!
Read more: How to tip and receive Bitcoin via the Lightning Network with Tippin.me