Everything you need to know about Bitcoin's price pump
Today has been a fairly momentous day for Bitcoin and the wider cryptocurrency market, and with so much happening, it's often hard to keep up to date, so with that in mind, here's everything you need to know about Bitcoin's price pump.
The market adds 20 billion to its coffers; Bitcoin pumps 15%
It might finally be time to hang up your coat and gloves, because the crypto winter may actually be thawing out. Today saw the entire cryptocurrency market cap grow by $20 billion, and Bitcoin adds a sizeable 15% to its price, expanding from approximately $4200, all the way up to $4850, in under an hour.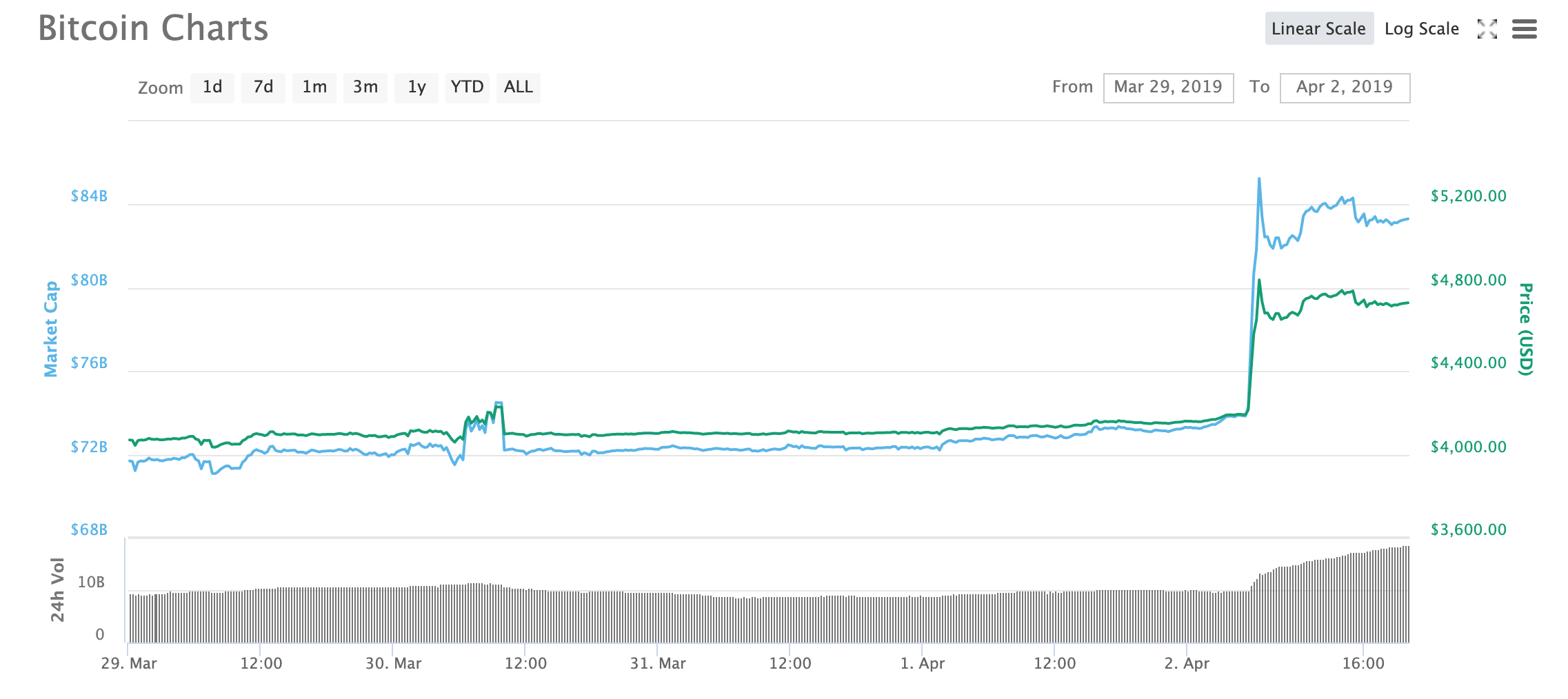 Many altcoins followed in Bitcoin's stead, with Cardano (ADA), Litecoin (LTC) and Monero (XMR) among others, citing gains upward of 10%.
Read more: Is alt season here? Market cap jumps $20 billion, BTC jumps 20% over $5,000
So, is that the last we've seen of those pesky bears? The jury is still out, but it's looking ever more likely as this pump continues…
Bitcoin is trendy again…
Bitcoin started trending on Google earlier, after the market pumped, clearly due to hordes of excitable and speculative people trying to find out what all the fuss was about.

At the time Bitcoin managed to clock up over 50,000 searches following the price surge, sandwiched between "Avengers endgame tickets" and "astigmatism" (sounds uncomfortable…)
Read more: "Bitcoin" trending on Google following BTC's 20% rise
According to Google Trends, Bitcoin searches reached its peak around 7:28 am UTC, several hours after the initial BTC pump.

Why did Bitcoin Pump? "A Technical move", says analyst …
While many were left scratching their heads as to what caused this latest bullish movement from Bitcoin (BTC), one analyst provided a clear cut answer.
Mati Greenspan, the senior analyst for eToro, specifically pointed towards $4200, stating that this integral price point acted as a catalyst for BTC to move higher.
According to Greenspan, this price had been eyed by traders for weeks due to its connection with the 200 day moving average line, which has been "incredibly important for Bitcoin" within the past 2 years.
Read more: Analyst on Bitcoin: 'Was a technical move, lots of entry orders at $4200'

As such, Greenspan asserts that a myriad of entry orders and stop losses coagulated at these levels, providing a much-needed leg up for BTC.
CZ: "Plenty of money ready to jump in, and in full FOMO mode"
The Binance CEO, known colloquially as CZ, has offered his opinion on the latest Bitcoin pump, suggesting that it might be far from over.
In CZ's estimation, the vast amount of fiat current invested in various stablecoins, is sat in waiting, looking for the right time to jump in.
Read more: Binance CZ on Bitcoin pump: 'Money ready to jump in, all in FOMO mode'

In a Tweet from last week, CZ wrote: "there is more money parked in pseudo fiat than most token," alluding to the idea that many speculators are still on the sidelines.
I guess this was true. Plenty of money ready to jump in, and in full FOMO mode.

Everyone will be in Crypto. Don't get left behind! https://t.co/rfvRS7uhGK

— CZ Binance (@cz_binance) April 2, 2019
Today saw CZ's premonition come to fruition, as money poured into the crypto market. The Binance boss, referred to his previous tweet, remarking that this was just the beginning, adding that plenty of money was ready to jump in, and "in full FOMO mode."
BitMEX Bitcoin shorters get rekt.
In other news the Bitcoin rally saw $500 million in short position liquidated on Bitmex, causing yet more pain for the bears. This mass onslaught of short positions was preceded by a BTC premium of $5129 on the popular leverage trading platform.
Read more: Bitcoin rally sees shorts get rekt to the tune of $500m on BitMex alone
Around $500m in liquidations on Bitmex alone, ouch
____________________
chart @TensorCharts pic.twitter.com/wePyX7hbL7

— Edward Morra (@edwardmorra_btc) April 2, 2019
Understandably, not everyone was happy, however, this firmly excluded BitMEX CEO Arthur Hayes (I wonder why…) who's poorly timed, celebratory tweet garnered disdainful comments from multiple traders:
@CryptoHayes Dancing on his users corpses. 😎👍

— Farbridge 🍿™ (@MisterFarbridge) April 2, 2019
Binance users get rekt
The pump didn't just liquidate shorts but also revealed weaknesses within one of the largest exchanges in the world, which, according to many traders, couldn't hack the pressure of peak trading during the pump:
Read more: Traders frustrated after Binance fails to handle peak load during price pump

Yes, that the user experience of your site is utterly garbage.

— Crypto Michaël (@CryptoMichNL) April 2, 2019
A few traders complained of having suffered losses due to the Binance servers going down:
Lelll. I lost 4-4.5% because the site was in molasses. You're the biggest exchange making money hand over fist. Can't buy servers that can handle peak load?

— TraderVoltaire (@TraderVoltaire) April 2, 2019
CZ responded to the outcry explaining that this wasn't an attempt to cut costs but rather due to a part of the Binance system failing to "auto scale":
It was not a "try to cut server cost" issue. Parts of the system that was suppose to auto-scale didn't. Should be better now.

— CZ Binance (@cz_binance) April 2, 2019
Was the pump caused by just ONE $100 million order?
Speculation as to what caused the pump rages from technical analysis coming to fruition, to an April fools jest gone awry. However, it may actually be due to one trader and their massive buy order…
Read more: Was today's Bitcoin (BTC) spike caused by just one $100 million order?
According to Oliver von Landsberg-Sadie, chief executive of cryptocurrency firm BCB Group, one massive order amounting to 100 million was placed at roughly the same time, for roughly the same amount on three different exchanges, Coinbase, Bitstamp, and Kraken.
von Landsberg-Sadie suggests that these orders of 7000 BTC each were "algorithmically-managed across these three venues":
"If you look at the volumes on each of those three exchanges – there were in-concert, synchronized, units of volume of around 7,000 BTC in an hour."
This pump likely triggered many other algorithmically based orders set around the $4200, upon which many stop losses and entry orders were placed and set.
And that pretty much brings you up to speed, it's been a long day for BTC, but of course, the market never rests, and, tonight, neither will the vast majority of traders…
Read more: What traders say about this Bitcoin pump: '$5K, then $5.5K'; 'Bitcoin to $4300 means false breakout, Litecoin could swing to $116'; Why is Bitcoin pumping today?

Bitcoin PUMPS! 3 possible reasons! Subscribe to the Chepicap YouTube Channel for more videos!


Follow Chepicap now on Twitter, YouTube, Telegram and Facebook!
Chepicap is here for you 24/7 to keep you informed on everything crypto. Like what we do? Tip us some Satoshi with the exciting new Lightning Network Tippin.me tool!
Read more: How to tip and receive Bitcoin via the Lightning Network with Tippin.me