What can you buy with Bitcoin?: 2010 vs 2023
Even today, 10 years after the creation of the world's most popular cryptocurrency, those who have bought or earned their first supply of Bitcoins, no matter how large or how small, the question that goes most often through their minds is: what can I do with these Bitcoins? Well, some might advise you to Hodl them until they are worth millions of dollars(?), while others will remind you that the ultimate goal of BTC is to be able to spend them. So what could you buy with Bitcoin in 2010? and what will you be able to buy in 2023?
It is of course up to you what you do with your hard-earned Bitcoin, but it could be interesting to see what Bitcoin can buy you, especially with a growing number of participating merchants.
Let's take a look at what you could buy with Bitcoin over the years?
2010: 10,000 BTC for two pizza's
If you are in crypto longer than 3 weeks, then surely you must have heard about the Florida-based programmer and Bitcoin fan, Laszlo Hanyecz, who bought two pizzas at a Papa Johns pizza joint in Jacksonville, Florida on May 22nd, 2010 for the insane price of 10,000 BTC.
Hanyecz paid another Bitcoin talk forum user, 10,000 BTC to go and get him two pizza's, which was worth about $25 at the time, but would cost him around $50 million today.
The #Bitcoin pizza is worth $49,835,935 today. (+19% from yesterday)

— Bitcoin Pizza 🍕 (@bitcoin_pizza) April 3, 2019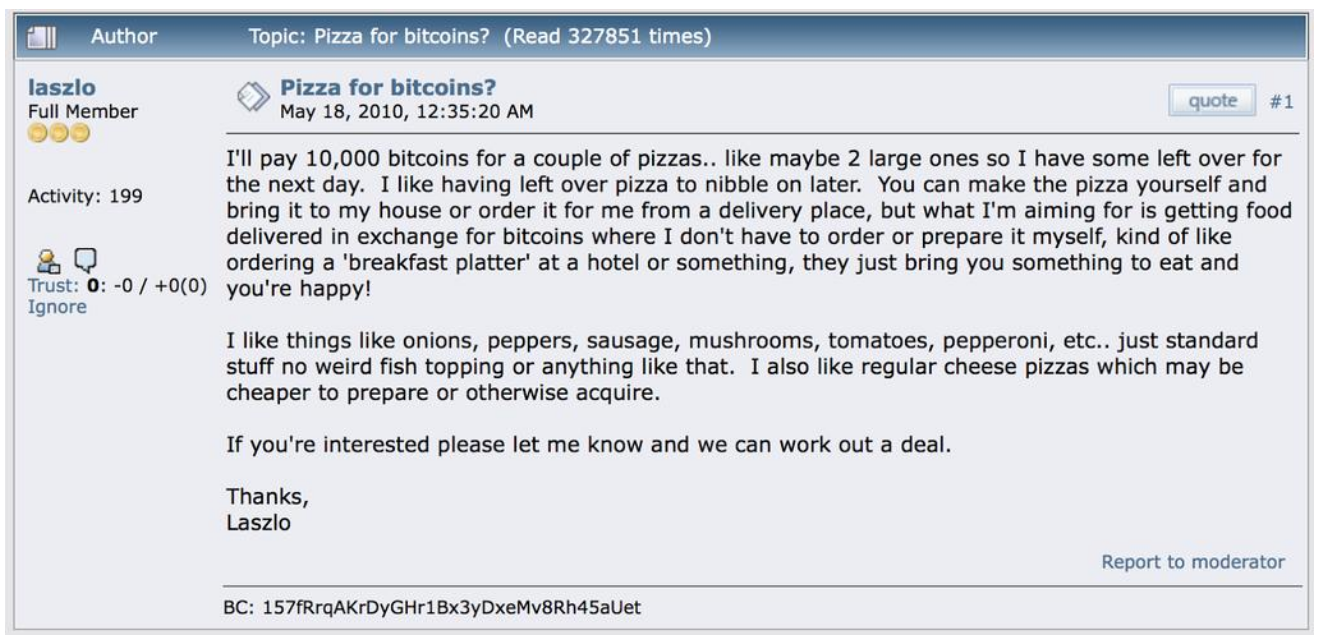 Even the Singapore-based cryptocurrency exchange, Huobi, created a nicely illustrated video about the first time a Bitcoin user purchased pizza with the cryptocurrency.
Now Bitcoin users around the world come together every year on the 22nd of May, to celebrate the so-called 'Bitcoin Pizza Day'.
Happy Bitcoin Pizza Day! In celebration of the 10,000BTC Pizza http://t.co/iZpBmKxKED pic.twitter.com/tiSToZkdLE

— Bitcoin (@Bitcoin) May 22, 2014
Last year the now infamous 'Bitcoin Pizza Guy' said that he didn't regret ever making this pizza purchase.
'It wasn't like Bitcoins had any value back then, so the idea of trading them for a pizza was incredibly cool. No one knew it was going to get so big.'
'I think that it's great that I got to be part of the early history of Bitcoin in that way', Hanyecz added.
Read more: These are the 3 coins to watch for Q2 2019 - Cryptocurrency

2013: 7000 BTC comfortably buys you a house.
A Canadian man was hoping to become the first person to sell a house for Bitcoins. He was asking CAD $405,000 for a 3.6-acre site.
'We are hoping to be the first piece of real estate sold for Bitcoins' Taylor More said at the time. 'We think maybe this could help push the currency more mainstream.'
The property, described as a quaint two bedroom bungalow, sat on 3.6 acres with beautiful mountain views and 110' of breathtaking Crowsnest River frontage and would have cost you close to 7,000 Bitcoins at the time. The rate for one Bitcoin was around $60 at the time of the sale.
Today that breathtaking property would have cost you a staggering $35 million!
And that is why we HODL!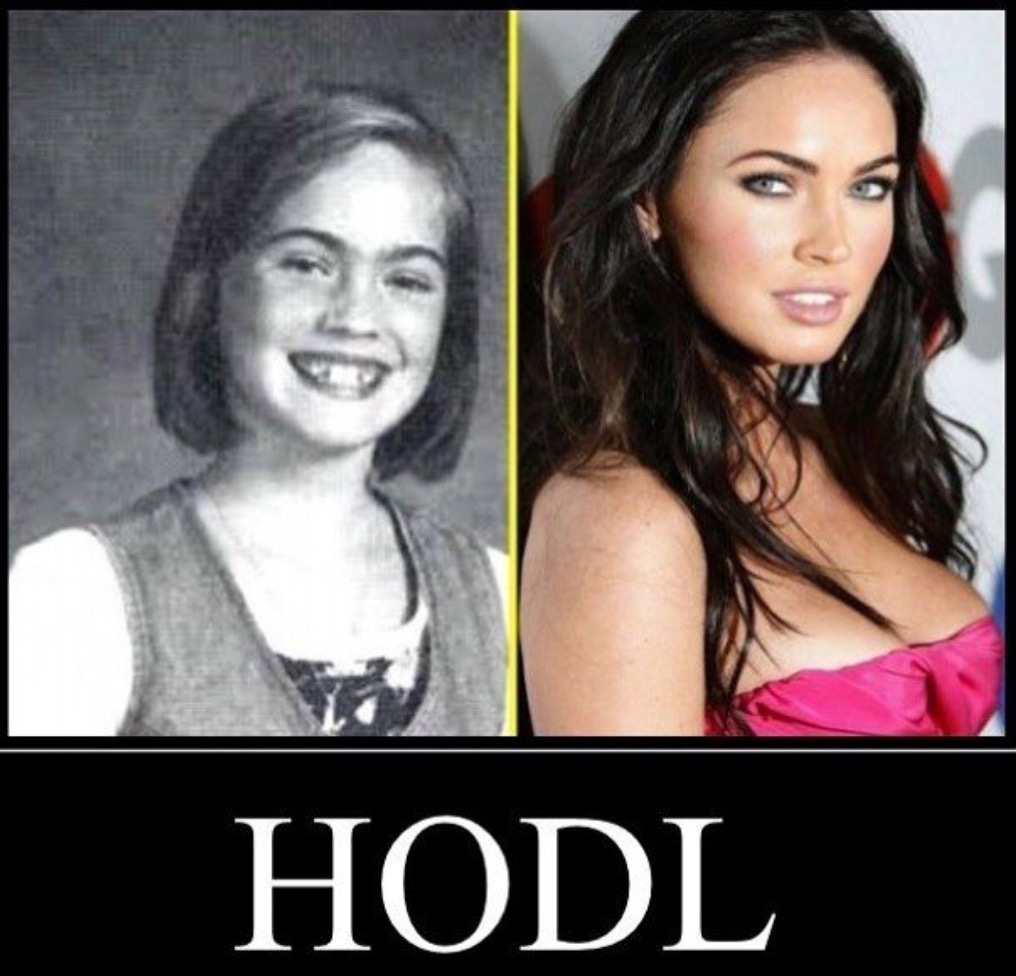 2014: Legally buy firearms with 0.5 to 1 BTC (in Texas of course)
The owner of Central Texas Gun Works, Michael Cargill, was most likely the first firearms store in the United States, and perhaps even the world, to accept Bitcoin as an acceptable form of payment for online and in-store sales.
The Austin-based firearms store even installed a Bitcoin ATM, to make sure anyone could 'safely' and instantly exchange dollars for Bitcoin.
Cargill said at the time that when he stands in front of his self-defense classes, he tells his students that this is all about their personal protection.
'This is about taking their own personal protection into their own hands', he said. 'It's the same thing for Bitcoin. It's about taking that financial responsibility upon yourself and controlling your finances yourself, and not depending on the banking systems who are too big to fail.'
Today you can purchase a Glock, 19 Gen 5, 9MM, for 0.10 BTC.
Read more: 6 Bitcoin conspiracy theories: did the CIA create BTC, or 4 tech giants?

2014: 12 BTC for one Private Jet Ticket from Brussels, Belgium to Nice Cote D'Azur, France
In 2014, the Belgian tech entrepreneur Olivier Janssens, a Bitcoin millionaire, became the very first person who paid his private jet ticket from Brussels, Belgium to Nice Cote D'Azur, France, in Bitcoin.
Ticket price at the time: €7,700 Euros, which would equate to 12.4 Bitcoin in 2014. Today, this 'Bitcoin-powered flight' would cost you exactly 1.72 BTC.
The Monaco-based Bitcoin millionaire said at the time that he became a client of PrivateFly in early 2013 when he was looking to find a more technology-focused approach to private jet charter.
'PrivateFly's service, giving price comparison via web and mobile platforms, alongside 24-hour phone support, suited my hectic business lifestyle. When they started to accept Bitcoin, I was the first in line, having obtained all my bitcoins by mining in 2010', Janssens added.
'I am a firm supporter of Bitcoin and the efficiency it offers compared to other currencies, as a payment method and an investment. The flight was the biggest Bitcoin payment transaction I have made, but it was very easy and efficient, particularly as I wanted to fly at very short notice. It was the perfect way to pay.'
The CEO of PrivateFly pointed out that Mr. Janssens flight was booked on the same day as departure.
'This is not at all unusual for us' The CEO said. 'With Bitcoin payment being fast, flexible and not subject to banking hours, it's a good fit.'
According to a report by Colibri Aircraft, there is a new class of crypto millionaires and billionaires coming into existence as we approach the year 2020.
The report highlighted that as much as 21% of the pre-owned aircrafts the company sold in 2017 have gone to first-time buyers, which is a 50% increase over the 2014 figures. The average price for a new jet stands at $3.68 million.
However, there are no current numbers on sales for the year 2018, which will go down in history as 'Crypto Winter' for sure. Most likely lots of those overnight crypto millionaires at the end of 2017, didn't go spending all their crypto on a new private jet in 2018.
Read more: What does Bill Gates have to say about Bitcoin?
2016: 0.016 BTC gets you a hamburger at Burger King in the Netherlands
In 2016, the city of Arnhem in the Netherlands was well on its way to being one of the most Bitcoin-friendly cities in the world.
The city initially started with just 2 local bars and a restaurant but the number of Bitcoin-accepting merchants grew fast and furious to more than a 100 Bitcoin merchants which included malls, coffee shops, and restaurant chains.
One of the restaurant chains that joined the Arnhem Bitcoinstad or Bitcoincity, was a Burger King, located in the city center of Arnhem.
The Arnhem Bitcoinstad team announced at the time that the project Arnhem Bitcoincity had reached a new milestone.
'There are now 100 venues that accept Bitcoin in Arnhem. The Burger King in the city center is the latest to join the project. For Bitcoin enthusiasts, Arnhem is like heaven as you can practically pay everything with Bitcoins.'
In 2016 the price for one BTC was hovering around $650, so one complete Whopper burger meal would have cost you 0.016 BTC at the time.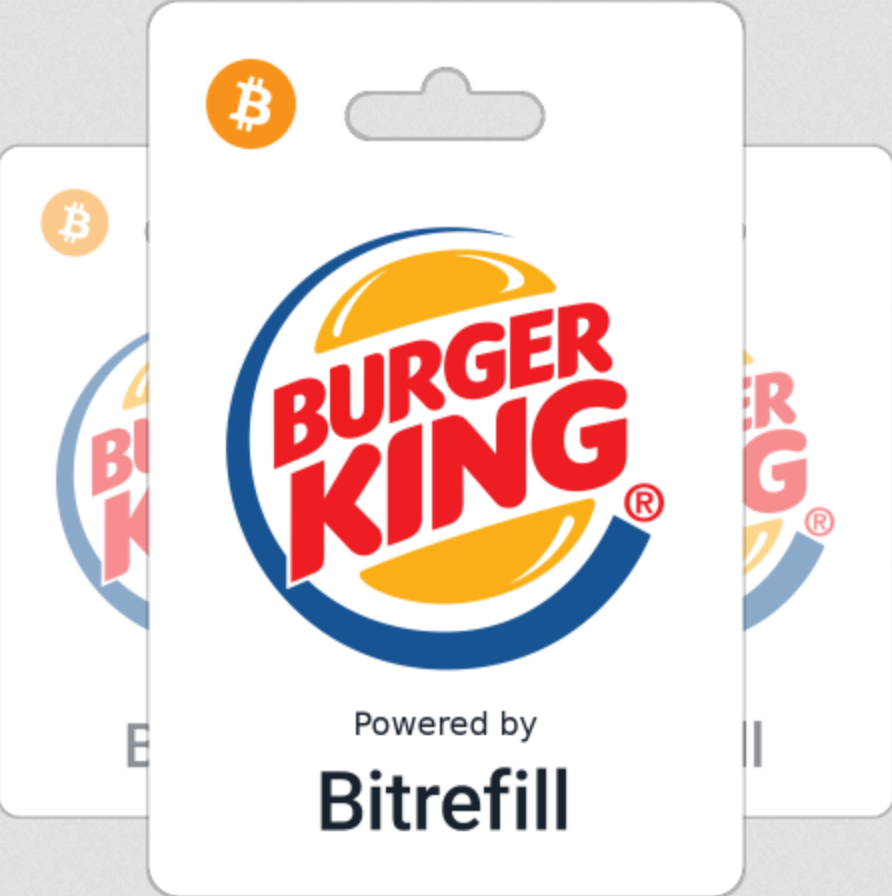 Read more: Will Bitcoin replace fiat money?

2018: 1900 BTC buys you an M90 Panacera 91 foot, fiberglass yacht
For about 1900 BTC, the Florida-based Denison Yachting can offer a yacht enthusiast the 91-foot Hatteras M90 Panacera, a fiberglass luxury motor yacht hailed for its light and airy interior and its made-in-America craftsmanship.
The yacht dealer Denison Yachting offers high-end yachts which can be purchased with Bitcoin and a few other cryptocurrencies.
The president and founder of Denison Yachting said that it is their job as the dealer or broker to make purchases as easy as possible.
'For us, this is just another effort to come to where the client is', Denison said. 'Sometimes my friends on the dock act like this is a marketing gimmick, but we've actually gotten results from it and I truly believe in it.'
'There is a misnomer about cryptocurrency, that the only reason people are moving in this direction is to be anonymous. Then you start having that conversation about the legal underworld part of it', Denison said.
'The more you get people transacting in Bitcoin for things like cars and homes and boats, the more obvious it is that this thing is a lot more transparent.'
This particular luxury yacht can be yours for a tad less than $10 million dollars or around 1900 Bitcoins. If you end up purchasing yourself one of these beautiful specimens, don't forget to invite the Chepicap team to the yacht christening party
Read more: Is Bitcoin at $1 million really possible?
2019: 14.8 BTC for the purchase of your new BMW X5!
Chepicap reported in July 2018, that UK-based Stephen James BMW allowed customers to pay for new vehicles with Bitcoin.
Stephen James is an authorized BMW dealership with branches in London and Kent and its offer of Bitcoin payments was another major step for the industry, and points the way forward for even more practical uses of crypto, as everyday vendors continue to appreciate its potential.
Stephen James is now accepting Bitcoin for the purchase of your new BMW! Contact us today to find out more about how you can use Bitcoin to walk away with a brand new vehicle #bitcoin #bitpay pic.twitter.com/qN1Bq5Juc1

— Stephen James BMW (@SJBMWGroup) July 5, 2018
The U.S.-built BMW X5 comes in three models, xDrive35i, powered by BMW's 3.0-litre TwinPower Turbo inline-six, the V8-powered xDrive50i, and the six-cylinder turbodiesel-powered xDrive35d.
The higher X5 trim, the xDrive50i, starts at $75,750 and would take 14.8 BTC out of your wallet.
Read more: What does Elon Musk have to say about Bitcoin?
2023: 35 to 100 BTC will buy you a round-trip around the moon with Elon Musk's SpaceX

Unfortunately SpaceX has already signed the world's first private passenger to fly around the moon aboard their BFR, which stands for Big Falcon Rocket, or Big F**king Rocket, however, by the time we have reached the year 2023, we are sure you can acquire a much-desired spot on the SpaceX's second flight to the moon.
Trips to the International Space Station have cost upwards of $35 million for space tourists, and SpaceX's moon shot is looking at prices above $100 million per private passenger.
Luckily for all of us, Bitcoin will have smashed that elusive price mark of at least $1 million dollars per coin by 2020 (right McAfee?), so you won't have to cough up too many BTC for a trip around the moon.
Just 35 BTC will earn you a stay at the International Space Station and for 100 BTC you will be flying around the moon ...
September 17, 2018
There are actually quite a few things you can buy with Bitcoin, and with growing popularity, it won't be long before Bitcoin becomes one of the most popular payment methods around.
So, there you have it. Now you know what you can do with your Bitcoins. So go out and buy yourself something with Bitcoin.
Bitcoin will END Crypto Winter at $6K! What's next? Subscribe to the Chepicap YouTube Channel for more videos!


Follow Chepicap now on Twitter, YouTube, Telegram and Facebook!
Chepicap is here for you 24/7 to keep you informed on everything crypto. Like what we do? Tip us some Satoshi with the exciting new Lightning Network Tippin.me tool!
Read more: How to tip and receive Bitcoin via the Lightning Network with Tippin.me