Dogecoin (DOGE) pumping hard: are traders buying into April fool's?
Taking in mind that the token was born as a kind of joke, perhaps traders understood their well-played April Fool's joke as an adequate fundamental performance. Another simple, and thus according to Ockham's razor paradox more likely explanation, is that some traders have bought into some of the most hilarious April's fools parodies.
As those following our reporting closely have already been warned off, several actors in the crypto space are throwing around their jokes in celebration for today's festivity. One of the most successful invented stories was spread by otherwise pretty serious crypto news site Trustnodes: a Dogecoin hardfork taking place tomorrow that would duplicate the value of Doge, by instating a new rule which considers 1 DOGE = 2 DOGE.
The slightly out-of-the-box proposal allegedly reported today has definitely grasped some attention online, although it appears that most were in it just for the lols.
However, perhaps affected by trading bot activity, given that most bots have trouble when trying to grasp even the most basic human subtleties such as humor, DOGE prices have been spiking over the last few hours, taking off from the $250 million range up to almost reaching for $300 million, for total intra-day peaks of about 20%.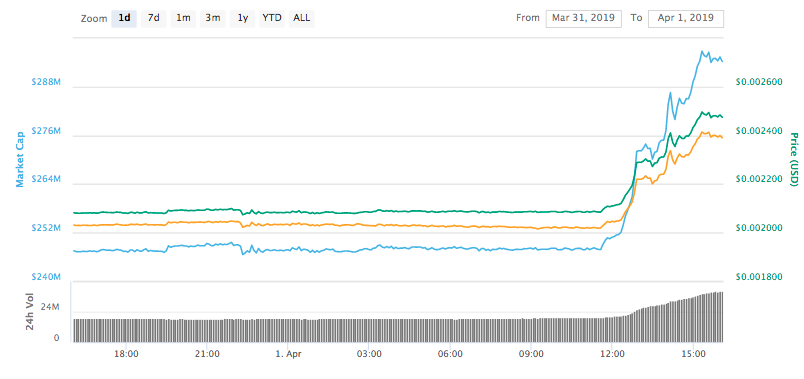 Read more: Will Doge have its day?: Doge4Amazon petition almost at 25,000 signatures; Dogecoin Long-Term Price Analysis 2019: Eyeing the climb back to $0.01
Follow Chepicap now on Twitter, YouTube, Telegram and Facebook!
Chepicap is here for you 24/7 to keep you informed on everything crypto. Like what we do? Tip us some Satoshi with the exciting new Lightning Network Tippin.me tool!
Read more: How to tip and receive Bitcoin via the Lightning Network with Tippin.me