Binance announces 4th Launchpad project: Matic Network sale on April 24th
Binance has just announced the 4th ever Launchpad token sale, revealing that the Matic Network (MATIC) token will launch on the 24th of April, and no, it's not an April fools joke…
The MATIC sale will begin on April 24th, 2019 at 8 AM (UTC) and run until April 26th 2:00 PM (UTC)
As per recent Launchpad token sales, BNB will be the only supported form of cryptocurrency. 1 MATIC has a USD equivalent of $0.00263, and the price in BNB will be determined 1-day prior to the token sale.
Introducing the @maticnetwork ( $MATIC ) Token Sale on #Binance Launchpadhttps://t.co/h0PUPW416n pic.twitter.com/kX1dmhGFIx

— Binance (@binance) April 1, 2019
Binance research's In-depth report calls the Matic network a layer 2 scaling solution that achieves scale by utilizing sidechains for off-chain computation while ensuring asset security using the Plasma framework and a decentralized network of Proof-of-Stake (PoS) validators.
Read our in-depth research report on the latest #Binance Launchpad project - @MaticNetwork $MATIC below👇

Matic Network is a Layer 2 scaling solution that achieves scale by utilizing sidechains, Plasma framework and PoS validators. https://t.co/UgPVi4wf3d

— Binance Research (@BinanceResearch) April 1, 2019
MATIC will be the first token to be launched via Launchpad's updated lottery format, something which has been met with both praise and displeasure from various groups within the crypto community.
Adversaries of the new format argued that the lottery format - which will require participants to hold a certain amount of BNB in order to be in for a chance at 'winning' token allocation – would exclude smaller investors and those who don't hold BNB.
However, CEO of Binance, CZ recently addressed the outcry, pledging to lower the minimum buy in from 100 BNB to 50 BNB, something which has been initiated on the upcoming MATIC sale:
Adjusted to 50 $bnb based on feedback from our community. https://t.co/41M4ZCl0eU

— CZ Binance (@cz_binance) April 1, 2019
In the moments since the announcement, BNB is citing an impressive pump of 3.5% in an impressive display of the powers of the Launchpad token sale and perhaps indicating a clever move to increase the utility of BNB within Launchpad.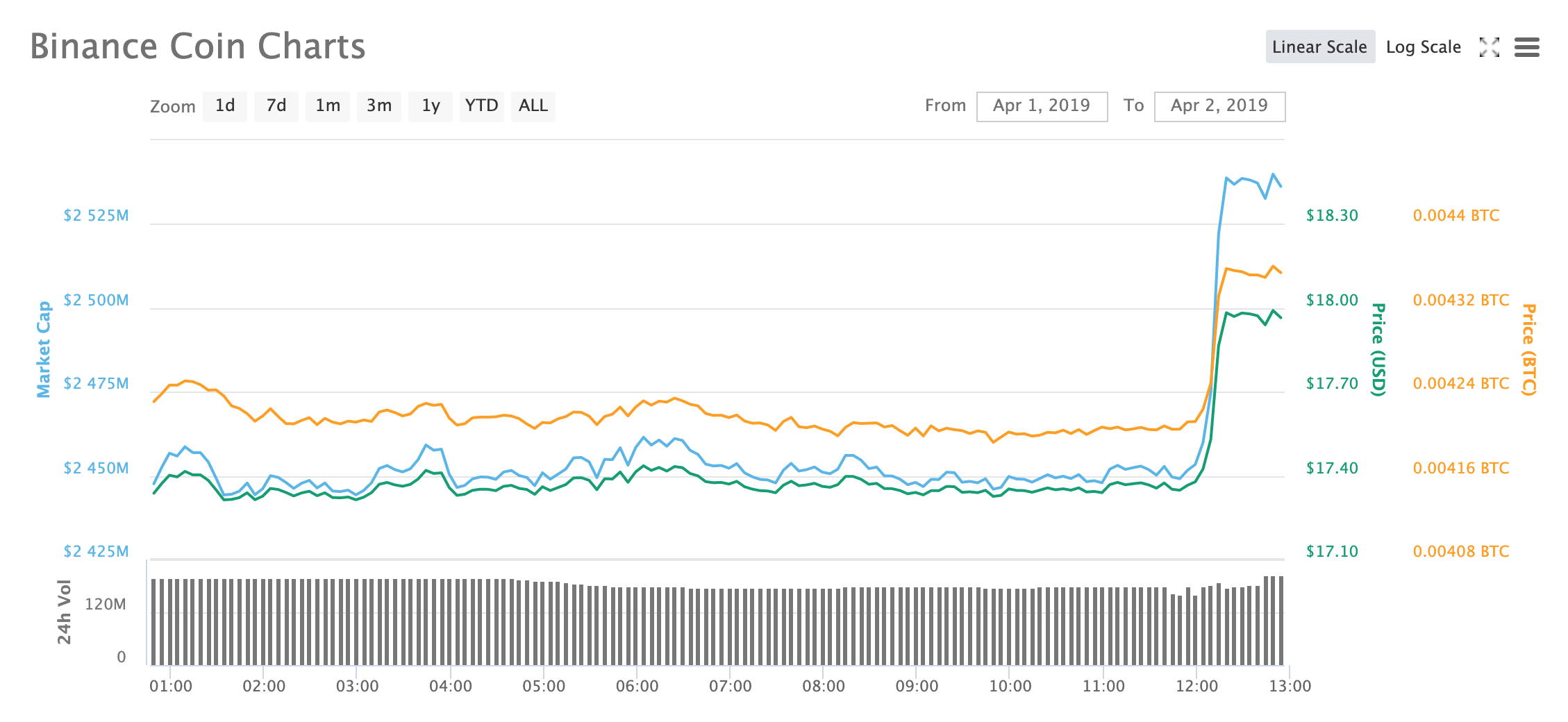 Read more: Binance attempts to make Launchpad 'fairer' with new 'lottery' format

Follow Chepicap now on Twitter, YouTube, Telegram and Facebook!
Chepicap is here for you 24/7 to keep you informed on everything crypto. Like what we do? Tip us some Satoshi with the exciting new Lightning Network Tippin.me tool!
Read more: How to tip and receive Bitcoin via the Lightning Network with Tippin.me