Bitcoin stays close to $4,100, while Top 20 sees red and green mix
The world's number one cryptocurrency has been showing little to no price movement on the day, while the Top 20 cryptos is a mix of green and red candlesticks.
Bitcoin hasn't been showing much price movement on the day, trading at around $4,096, after having reported a short-lived high of $4,275 during the day, according to CoinMarketCap.
Bitcoin's weekly chart shows that the current price is almost -0.75% lower than the value of one Bitcoin exactly one week ago.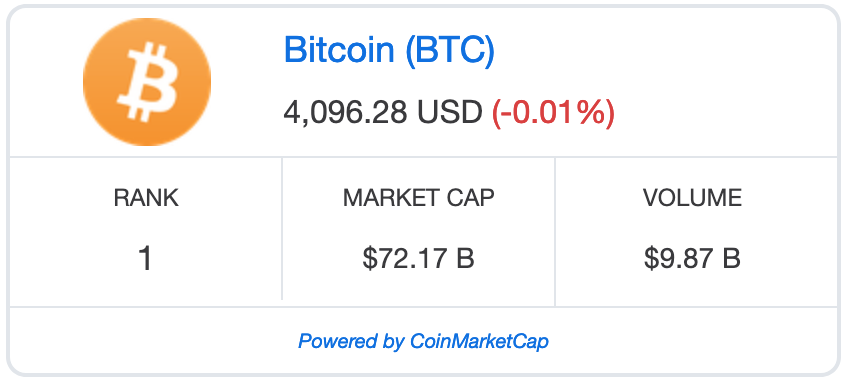 As of now, the total cryptocurrency market cap is sitting at $143,604,803,572. Bitcoin dominance, meanwhile, is still slowly slipping, now at 50.2%.
Read more: 9 things bigger than Bitcoin's market capitalization
Ethereum is holding onto its second position by market cap, which is at about $14.9 billion, almost $2 billion ahead of the second-largest altcoin, Ripple which is currently trading at $0.31 and has a market cap of about $13 billion at the time of writing.
Ethereum is showing a minor gain of 0.62% over the last 24 hours, and is trading just below the $142 price mark, after having started the day at prety much the same price.
Ethereum has seen its value decrease by about 3.5% according to its weekly chart.

Although plenty of industry experts are claiming that Ethereum is losing ground as developers are switching to other projects, Vitalik recently stated that they are no where close to 'blowing it' as the leading altcoin project.
Read more: Vitalik Buterin doesn't think Ethereum is 'blowing it'
Among the top 20 cryptocurrencies, which are mostly reporting slight to moderate gains on the day, Ontology is the one Top 20 coin that is showing the most notable growth with more than 4.5% gains in the past 24 hours.
Recently Chepicap reported Ontology to be one of the top 12 coins that outperformed Bitcoin by more than 60%.
'Finally, the top of the pyramid is taken by the few projects which have added some heavyweight to their investor´s bags. With some of them doubling their prices in a matter of three months, it is no wonder why some are already calling for a full-blown alt season. The top 12 coins are Enjin, ABBC, Crypto.com Chain, Ravencoin, THETA, Binance Coin, Holo, Huobi Token, Ontology, Litecoin, Augur and Steem.'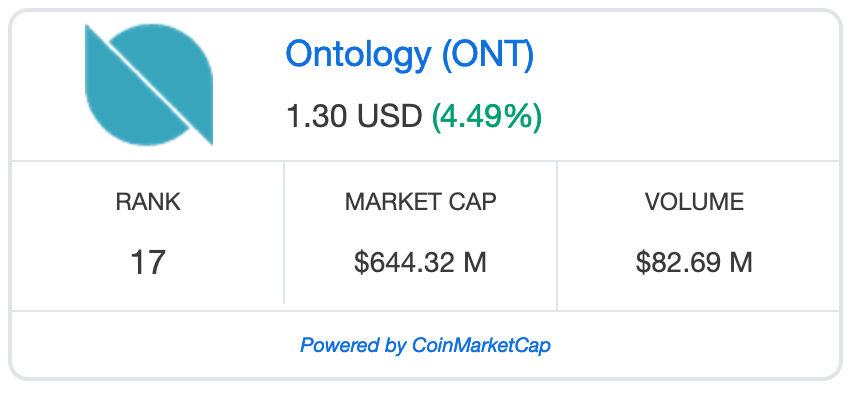 The total market cap of all cryptocurrencies is currently equivalent to $143.6 billion, more than $3.6 billion added since the value it saw one week ago.
While the market isn't on fire just yet, the market is looking healthy. As always, stick with Chepicap to find out more info on your favourite coins.
Bitcoin PRICE movement IMMINENT! What's next? Subscribe to the Chepicap YouTube Channel for more videos!


Follow Chepicap now on Twitter, YouTube, Telegram and Facebook!
Chepicap is here for you 24/7 to keep you informed on everything crypto. Like what we do? Tip us some Satoshi with the exciting new Lightning Network Tippin.me tool!
Read more: How to tip and receive Bitcoin via the Lightning Network with Tippin.me