Bithumb's statement on the most recent hack: It was insiders' job
Bithumb official statement about the most recent hack that costed them $19,158,000 confirmed that it was insiders' job.
After found deleting several tweets related to the most recent hack from their Twitter account, Bithumb finally releases an official statement.
Read more: Bithumb experiences another major hack, 3M of EOS & 20M of XRP lost
Posted on their Bithumb Café, the exchange revealed that the incident was allegedly involving insiders. The presumption is based on the company's manual that require them to "secure all the cryptocurrency from the detection time with a cold wallet" and "check them by blocking deposit and withdrawal service."
Moreover, the exchange claimed to apply a multi-signature withdrawal scheme and constantly monitor and block external hacking.
Added to the above statements is the fact that no external intrusion path has been revealed until now, thus, they are certain that the incident was insiders' job.
The exchange also stated that they're currently working with other exchanges and organizations to recover the equivalent amount of loss, while at the same time, conducting investigation with South Korean cybercrime authorities and security companies.
Meanwhile, according to the person who brought up the news to the public in the first place, Dovey Wan, the fund transfer from Bithumb's hot wallet address, g4ydomrxhege happened on March 29th, from 1-3PM UTC (9-11PM Singapore time).
The entire timeline as below - h/t @evilcos @chiachih_wu

(SGT time zone)

3/29 9:40AM - Hacker account ifguz3chmamg was created via accountcreat

3/29 9 to 11PM - Bithumb wallet g4ydomrxhege has been transferred out 3,132,672 EOS to the hacker account, total 16 transactions

— Dovey Wan 🦖 (@DoveyWan) March 30, 2019
The data from Whale Alert also shows similar information.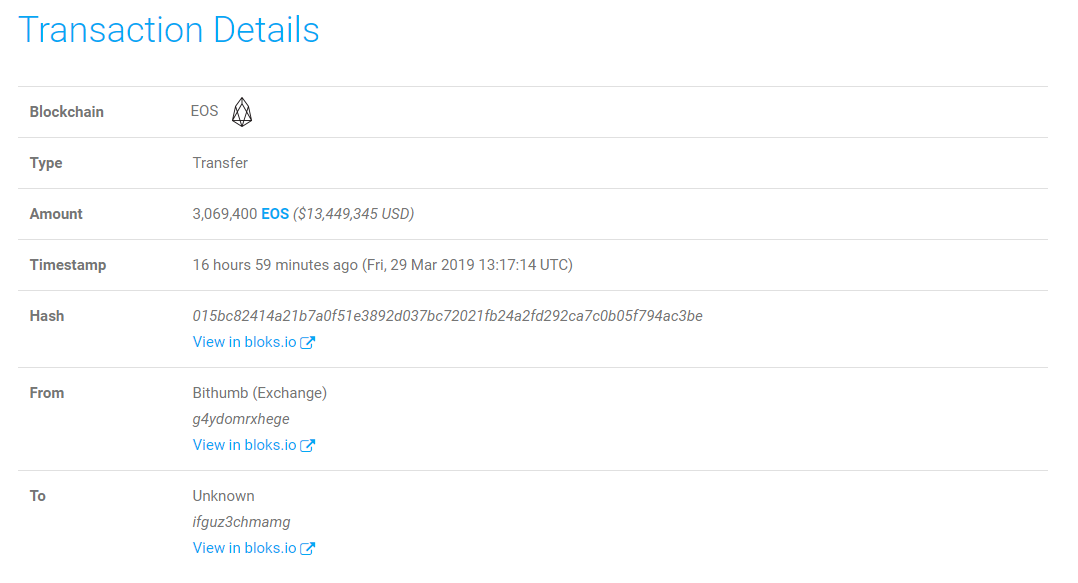 That means Bithumb already found out about the hack 15 minutes after the transfer was started, based on their clarification that they detected abnormal withdrawal on March 29th at 1.15PM UTC (10.15 PM Korean time). But, instead of announcing to their customers immediately, they decided to wait for almost 17 hours before announcing it on March 30th at 5.56AM UTC (2.56PM Korean time), which was preceded by Wan who posted it on Twitter.
It's unclear why the exchange decided to postpone their announcement to the public, but hopefully, whatever the reason is, it would help the investigation and recovery of the lost funds.
Stick with Chepicap for more updates.
Follow Chepicap now on Twitter, YouTube, Telegram and Facebook!
Chepicap is here for you 24/7 to keep you informed on everything crypto. Like what we do? Tip us some Satoshi with the exciting new Lightning Network Tippin.me tool!
Read more: How to tip and receive Bitcoin via the Lightning Network with Tippin.me