Altcoin season continues: The ten best performing altcoins this week
Over the last several weeks, many altcoins have been showing tremendous growth while Bitcoin remains relatively stagnant at around $4,000. Here are the ten best performing altcoins from the top 100 over the last seven days.
1. Ravencoin – 93.46%
Ravencoin (RVN) is the top performing altcoin out of the crypto market's top 100 projects. Over the last seven days, RVN has seen a meteoric rise of 93.46%. A surge like this has garnered a fair amount of attention, with many wondering what led to such a rise. There have been no major releases announced on the project's Twitter page, which has led some to say it could be a result of a solid team with good development, while others attribute the pump to new money investing in the first coin that rises. Either way, Ravencoin has had an impressive week.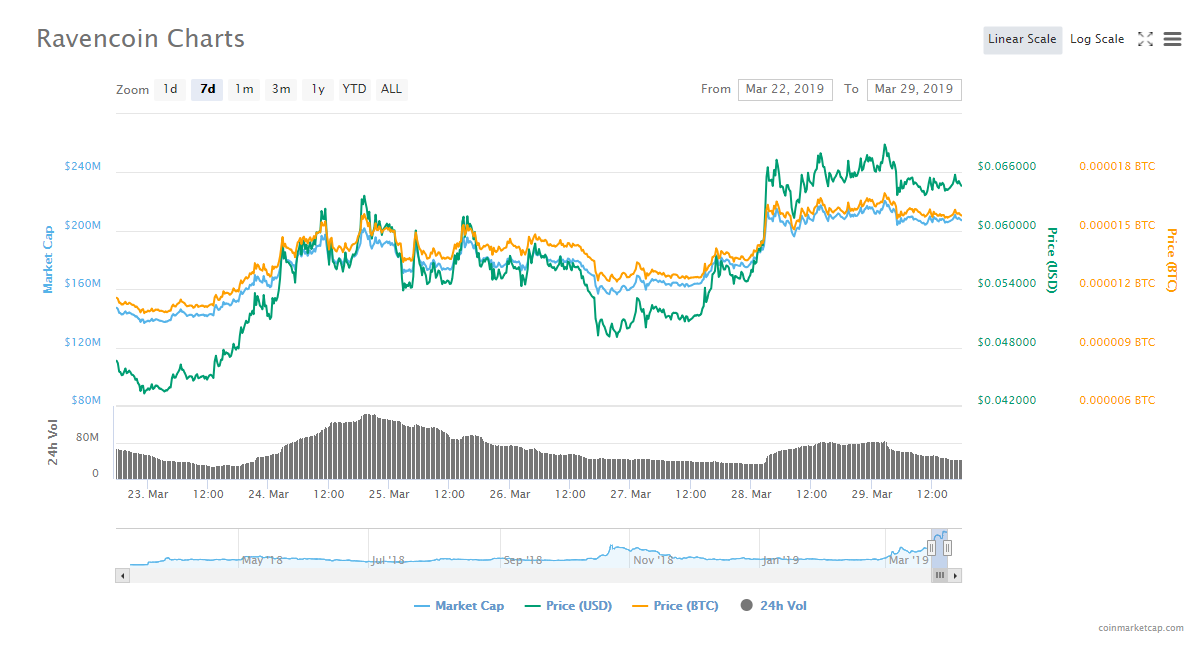 Read more: Ravencoin reaches a new all time high, up 28% in 24 hrs; 440% in 30 days!
2. Maximine Coin – 92.42%
Maximine Coin (MXM) comes in at a close second seeing a 92.42% surge over the last week. On Monday the project announced it had broken into the top 50 and has continued rising throughout the ranks since. Today it's ranked 32 on CoinMarketCap. Building on the project's impressive gains was an announcement that MXM has been listed on Singapore-based exchange Bitforex – a likely reason for the coin's continued growth. However, there have been suspicions around MXM's impressive run. For example, 98% of its trading volume has come from a single exchange. Additionally, a $65 million MXM transaction was one of the key reasons for analysts to suspect that CoinBene was hacked.
Heard the news? 👂🏼 Seen the papers? 👀 If you haven't, keep your eyes glued to the screen and your ears wide open because @maximinecoin is coming to @bitforexcom ! 🍻🙌🏼

Details in link below! 👇🏼https://t.co/A8E21UuBz2

— MaxiMine (@maximinecoin) March 26, 2019
Read more: Maximine Coin (MXM) raises eyebrows: 750% up in one month; Whale Watching: MXM dominates with suspected $65m Coinbene hack transfer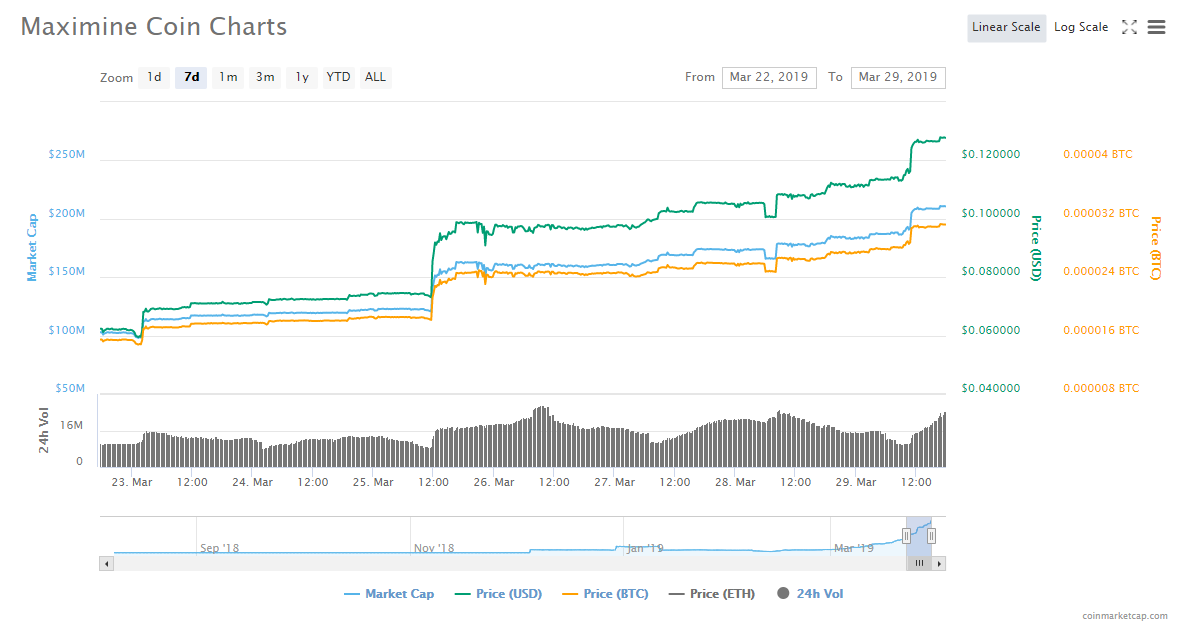 3. KuCoin Shares – 53%
KuCoin Shares (KCS) comes in at third place with a 53% pump over the course of the last seven days, and 13.93% up in the last 24 hours alone. One possible explanation for the rise may be KuCoin's announcement on Monday of the first project to be launched on Spotlight – KuCoin's version of Binance Launchpad. Since then, the project has been steadily rising. Other announcements include an upgrade scheduled for today at 10:30 AM (UTC) to welcome the launch of KuCoin Spotlight.
KuCoin System Expansion Notice

To welcome the upcoming launch of KuCoin Spotlight, KuCoin will be performing a system expansion on March 29, 2019, at 10:30 AM (UTC+8). The system expansion process is expected to last around 10 minutes.

Read more on:https://t.co/xEJRAklYwi pic.twitter.com/7KR7fR52gi

— KuCoin Updates (@KuCoinUpdates) March 28, 2019
Read more: Kucoin announces first project to be launched on Spotlight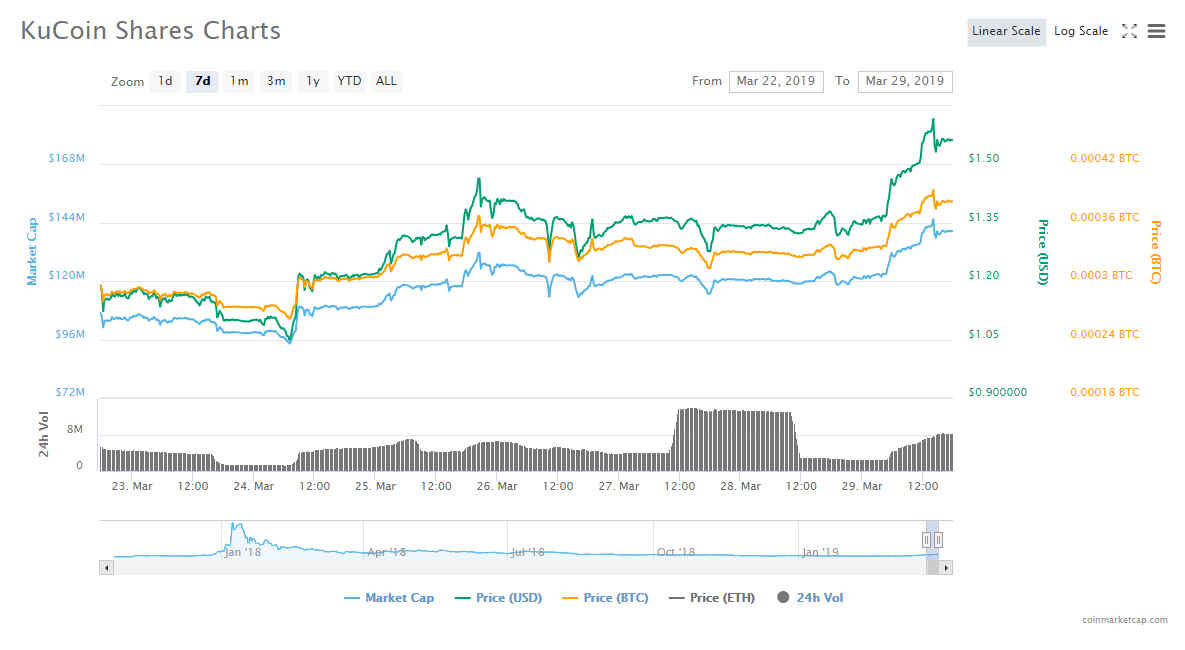 4. Tezos – 35.81%
Tezos (XTZ), currently ranked 21 by market capitalization has shown some impressive growth lately climbing nearly 34%. The most recent announcement, which may also be the biggest, came from Coinbase. The exchange will be leveraging the expanding proof-of-stake (PoS) mechanism, and Tezos will be the first PoS network to have that function enabled on Coinbase. Other announcements include Curve Wallet fully integrated with Tezos
"Coinbase Custody launches staking support for Tezos, MakerDAO governance to follow" by Sam McIngvale https://t.co/y5hJrLa9JW#Tezos $XTZ

— Tezos Announcements (@tezosbulletin) March 29, 2019
Read more: Coinbase launches institutional staking service
5. Polymath – 27.37%
Over the last seven days, Polymath (POLY) has grown 27.37%. On Wednesday, SeriesOne, an end-to-end platform for fundraising and issuing digital securities, announced a partnership with Polymath that enables issuers to create and manage tokens that are compliant. Then on Tuesday, Polymath tweeted that a major milestone had been achieved, seeing 100 tokens created using Polymath.
🚨 Major Milestone 🚨

✅ 100 tokens created using Polymath pic.twitter.com/cljlnXT0rc

— Polymath (@PolymathNetwork) March 26, 2019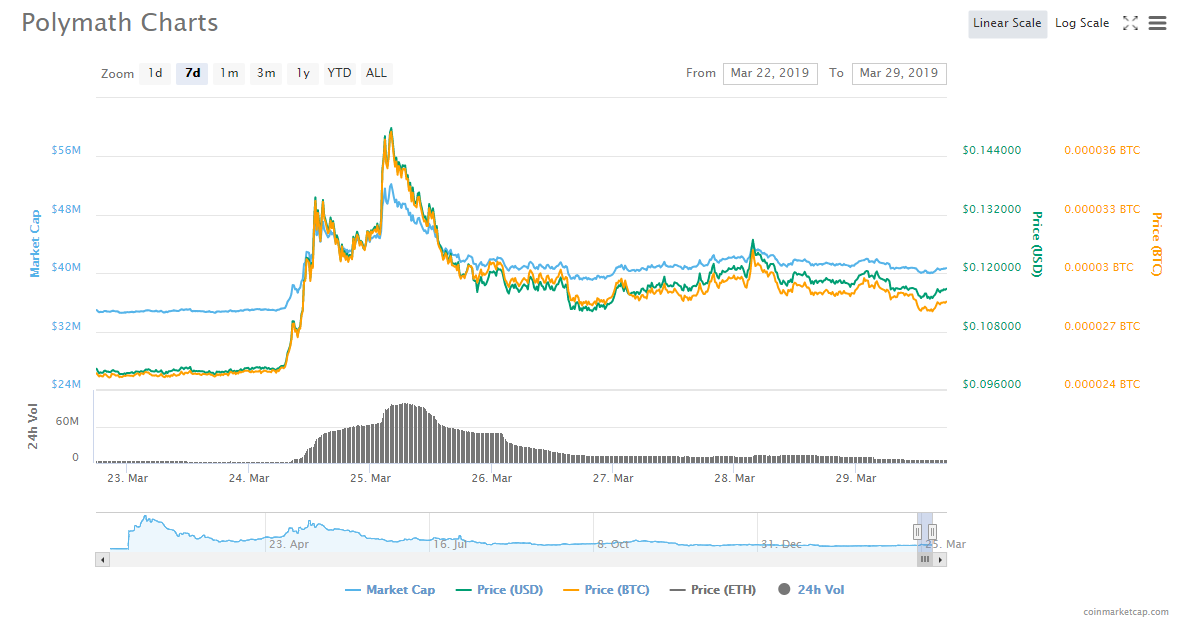 6. Huobi Token – 22.04%
There have been several big announcements coming out of Huobi over the last week, which is likely why Huobi Token (HT) has surged 22.04% over the week. On Tuesday, Huobi Prime's first token sale was met with resounding success, raising $3.4 million worth of TOP tokens in just seven seconds. Following this success, the exchange announced that in order to participate in the next token sale on April 16, users need to hold a daily average of 500 HT. Then, yesterday, Huobi announced support for Tron's stablecoin
Read more: Huobi Wallet to support Tron stable coin USDT-TRON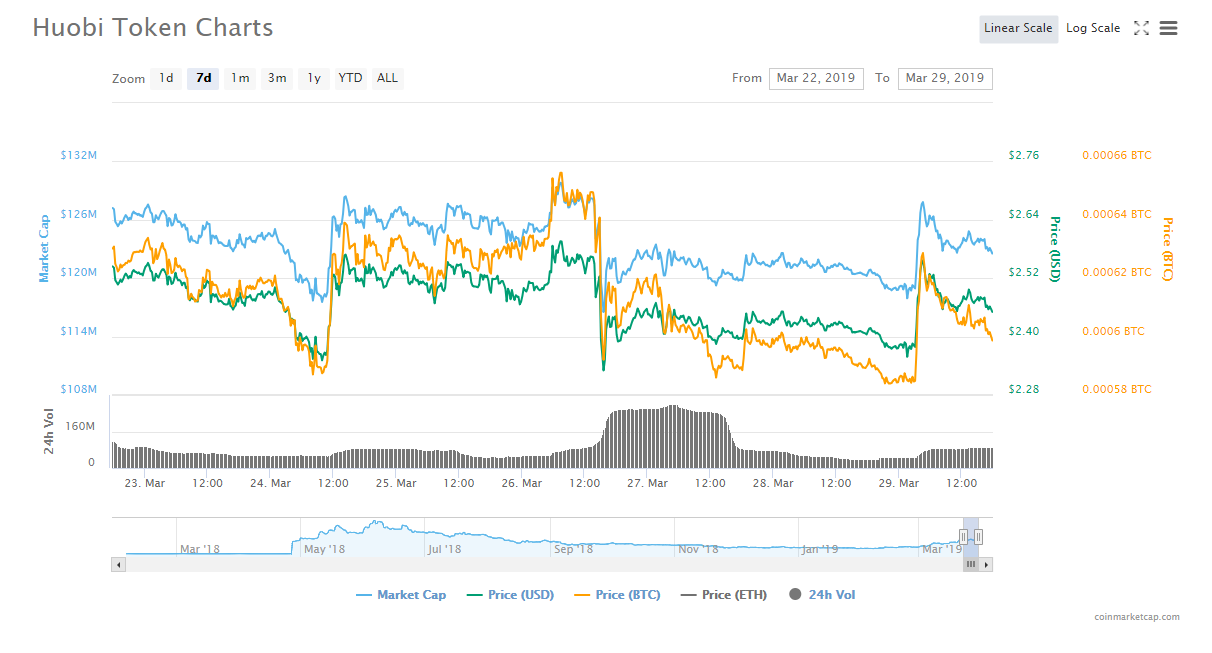 7. Cardano – 21.58%
By far the biggest project on this list, Cardano (ADA) is also the best earning top 10 coin this week, climbing an impressive 21.58%. On March 26, Binance announced that has opened trading for Cardano and NEO in pairs with PAX and USDC. Then, the next day, Cardano released a statement saying the Ledger Nano S now officially supported ADA thanks to an integration of the Yoroi wallet.
Read more: Cardano Foundation announces Ledger Nano S support for ADA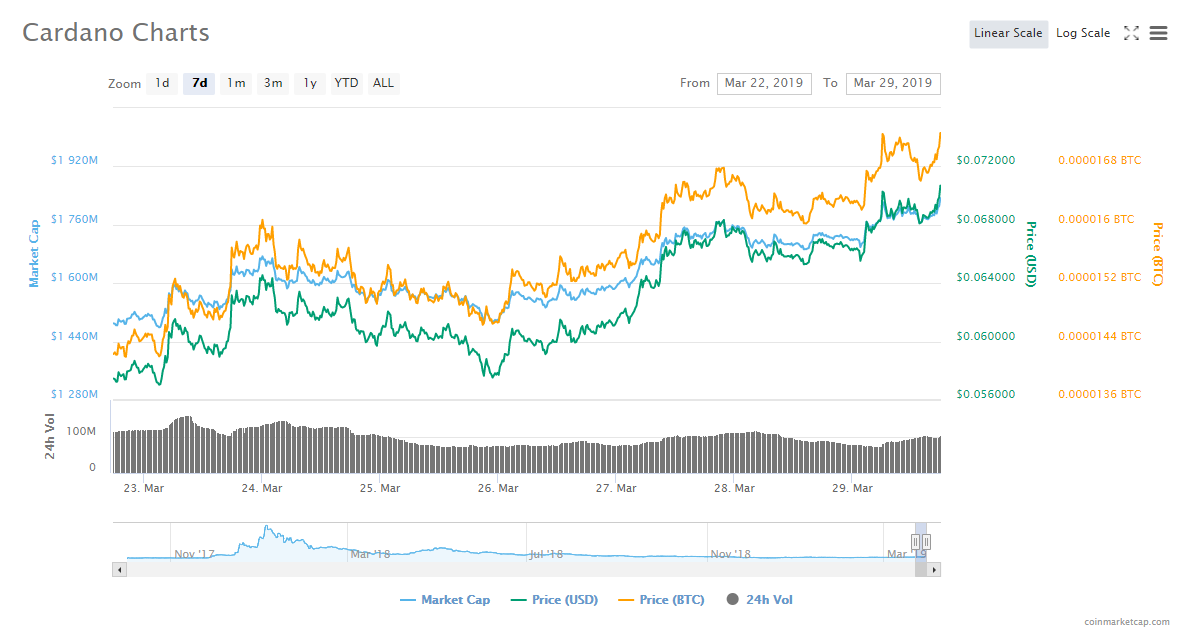 8. Project Pai – 16.60%
Little-known cryptocurrency Project Pai (PAI) makes it into this list with a 16.60% price surge over the course of the week. Project Pai announced a series of technical updates yesterday which seems the most likely reason for the price spike as no other recent major announcements have been released.
Spring is here 🌷🌼, and we've got a bunch of new tech updates to share. Pick them out in this week's #PAIUpdates #newsletter. https://t.co/lXuhaDPu1W

— Project PAI (@ProjectPai) March 28, 2019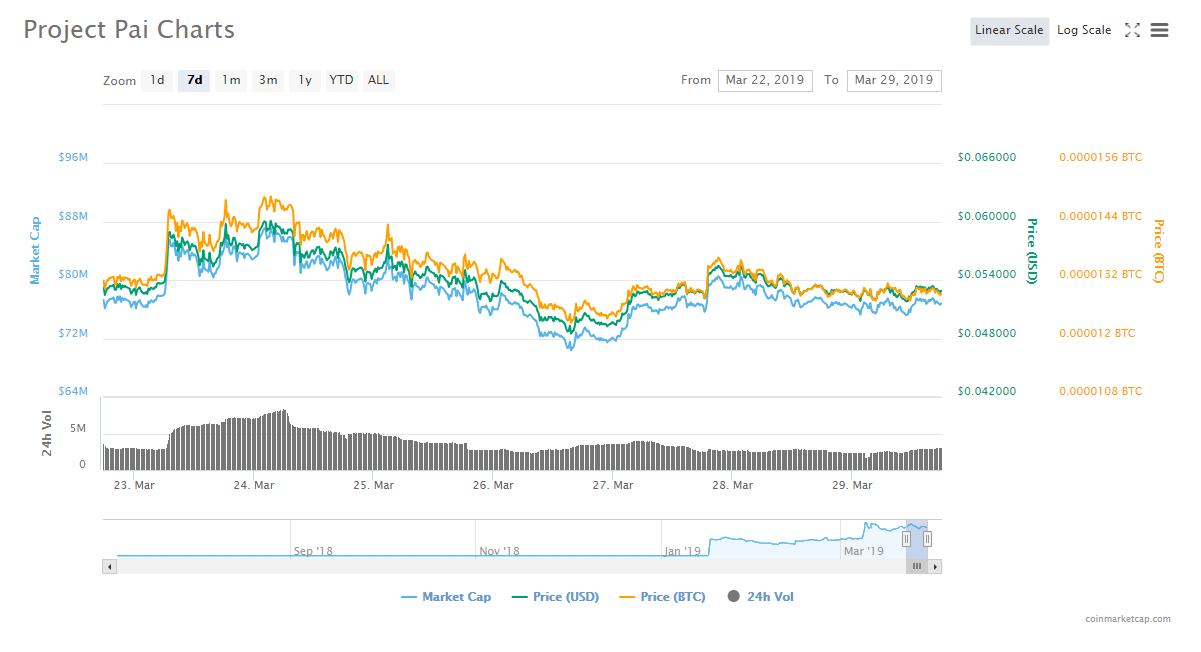 9. OmiseGO – 13.59%
Another one of the bigger projects on this list, OmiseGO (OMG) has seen a nice rise of 13.59% throughout the last seven days. On Tuesday, Plasma Group announced a major update, one of which was Unspent Transaction Output (UTXO). In the context of OMG, users are able to combine their various UTXos without paying any fees. This makes the user experience fnctionality similar to the account/balance model, significantly improving the usability of the child chain. It's an update that seems to have resonated with the OMG community.
It's finally here! 🎉🎉🎉 Read more to understand how Generalized Plasma introduces upgradeability, extensibility, and state channel interoperability: https://t.co/M7qjoegGJe

— Plasma Group 🔮 (@plasma_group) March 25, 2019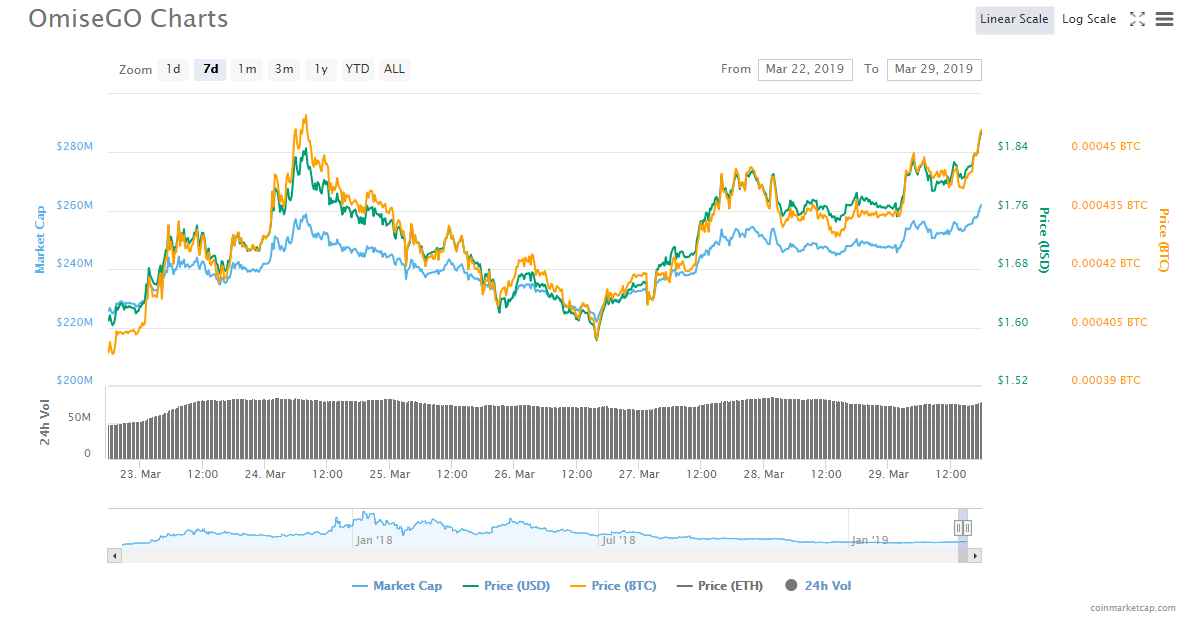 10. Aurora – 12.58%
Coming in at the bottom of the list is Aurora (AOA). The most recent news to come from the project's Twitter page is their weekly announcement. The project states that its plug-in wallet is now 15% completed and the Aurorachain upgradable blockchain mainnet modification plan is now 10% completed. Additionally, Aurorachain Solidility compiler upgrader is also 10% completed. The project has also announced a bounty campaign that will see 20 users win 30 AOA by retweeting the announcement.
I just published Weekly Report (3/18–3/24) https://t.co/zvbByAgDTB

— AuroraOfficial(AOA) (@AurorachainEN) March 27, 2019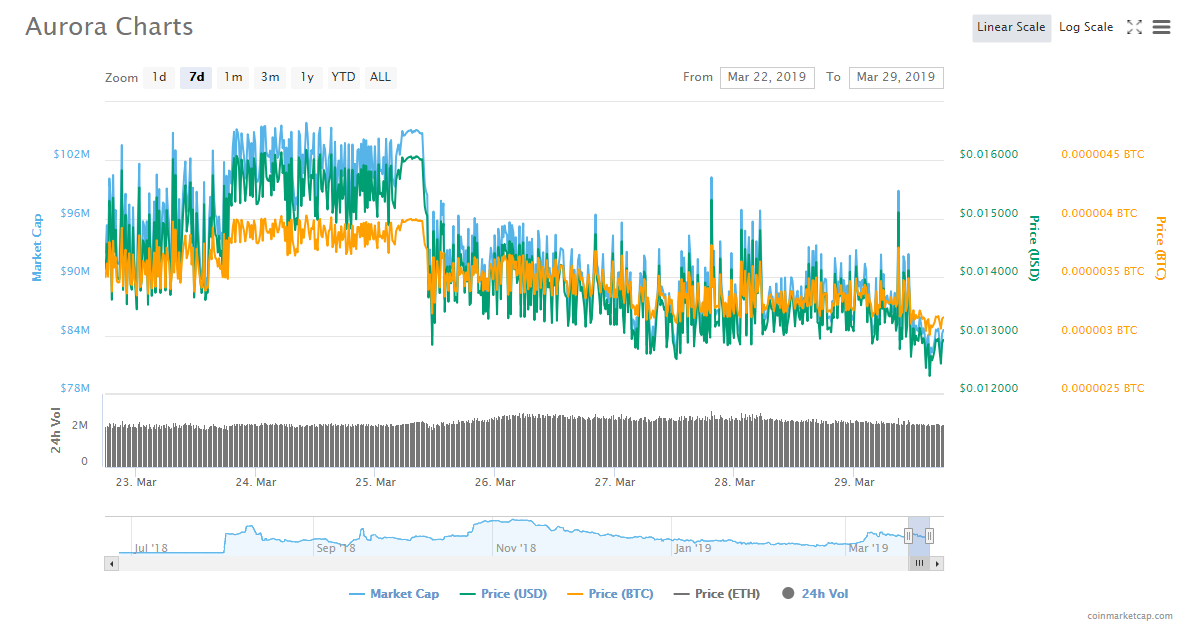 Read more: These 3 altcoins are undervalued and could boom in 2019 - Cryptocurrency
Follow Chepicap now on Twitter, YouTube, Telegram and Facebook!
Chepicap is here for you 24/7 to keep you informed on everything crypto. Like what we do? Tip us some Satoshi with the exciting new Lightning Network Tippin.me tool!
Read more: How to tip and receive Bitcoin via the Lightning Network with Tippin.me