Justin Sun accused of scamming after Tesla giveaway "glitch"
Tron's CEO Justin Sun has found himself embroiled in what some are calling a 'scam' following his Telsa giveaway, which appears to have been orchestrated…
Earlier this month, Sun announced the launch of a series of multiple giveaways, including an airdrop of $20 million in cash, and a Tesla, something which garnered widespread attention and hype.
The entry rules were simple, if a little painful for some… all you had to do was follow Justin sun, retweet the following Tweet:
To celebrate #BTT & #USDT-#TRON success, I am planning a $20m free cash airdrop. Good news-it's coming, bad news-I may decide to give away more! First, I will randomly pick 1 winner for a #Tesla up until 3/27! To apply, follow me and RT this tweet! Simple! #Blockchain pic.twitter.com/wFyzwtB3ur

— Justin Sun (@justinsuntron) March 12, 2019
(alright, but only for Tesla…)
Finally, yesterday a winner was announced, their suffering had come to an end, having to endure the endless hype had finally paid off.
In an apparent attempt at transparency. Justin Sun, tweeted a video of himself 'randomly' picking the winner of the Tesla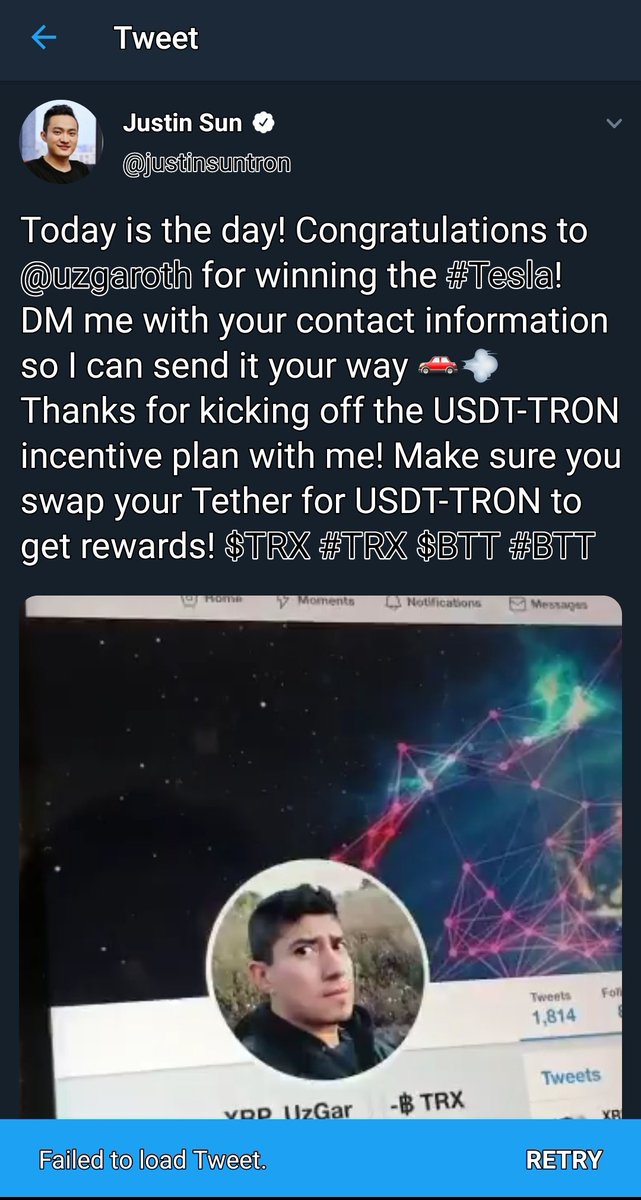 However, Sun quickly deleted the tweet along with video
There appeared to be something fairly fishy afoot…
To put more fuel on the flames of doubt, the deleted video, which was archived by a sharp-eyed Twitter user, appeared to show a split second frame of the 'winner' before the random draw commenced.
The clip can be seen here.
Sun quickly addressed these concerns, stating that he removed the video because of a "glitch" which allegedly occurred due to the large size of the 1-minute video…
We shared a video of the selection process for transparency. Due to the large size of the video, Twitter wasn't able to compress it properly resulting in a glitch. We will contact Twitter to make sure this doesn't happen again. We apologize to the community for the mishap.

— Justin Sun (@justinsuntron) March 28, 2019
Now, to be fair, despite the almost overwhelming desire to rag on Sun further, this seems fairly innocuous. It was probably, like Sun says, an unfortunate glitch in the video rather than any grand conspiracy.
However, and that's a big, however, one user may have dug up a little more dirt on the giveaway; something that isn't as easily explained…
A user by the name of John Galt unearthed the 'random' previous draws from one of the giveaways. The user highlighted that while the winners appear to be using different Twitter handles, their IP hashes were exactly the same; alluding to the fact that they're in fact the same person…
1/ So @justinsuntron did 88 draws using the Tesla giveaway tweet

- 1st draw (from @Tronfoundation acct) was on March 26th at 12:44am. Winner from that draw was @kozmenko2017, a bot

- Draws 2 - 88 were done anonymously but from ip hashes/time stamps were clearly the same person pic.twitter.com/nV6gXgYQSQ

— John Galt (@CryptoJohnGalt) March 28, 2019
Furthermore, Galt points out that the eventual Telsa winner, @uzgaroth, (the very same user that appears in the "glicth' video) actually won draw # 57 (lucky, son of a…):
2/ The eventual winner, who @ILoveCrypt0 pointed out strangely appears for a split second 0:33 into Justin's draw vid, is @uzgaroth, who was the winner of draw # 57/88 🤔 pic.twitter.com/X87b4gZGwf

— John Galt (@CryptoJohnGalt) March 28, 2019
This led many on crypto Twitter to ask the question: 'what the f-- is going on?'
A few even harked back to the infamously funny Waltonchain giveaway, in which the project accidentally tweeted the 'winner's' response from their official account, giving rise to the belief that the giveaway was orchestrated…
Wish JS did this. 😂 😂 pic.twitter.com/WrlqioB2ns

— Ravi (@hodlorr) March 28, 2019
Guarantee Justin gettin tricks from the $wtc play book 😂

— CryptoNephilim (@cryptonephilim) March 28, 2019
Others simply said what everyone was thinking:
March 28, 2019
Justin, will you be at World Cryptocon in Vegas this year?

— PacNode (@pacnode) March 28, 2019
Whether or not this is as bad as It looks remains to be seen, but for now, Justin Sun probably has some explaining to do…
Read more: Justin Sun announces $20 million cash airdrop and Tesla giveaway
Follow Chepicap now on Twitter, YouTube, Telegram and Facebook!
Chepicap is here for you 24/7 to keep you informed on everything crypto. Like what we do? Tip us some Satoshi with the exciting new Lightning Network Tippin.me tool!
Read more: How to tip and receive Bitcoin via the Lightning Network with Tippin.me