Ravencoin reaches a new all time high, up 28% in 24 hrs; 440% in 30 days!
it's been speculated that alt season has quietly arrived, right under all of our noses. Left right and center, altcoins are gaining tremendously and Bitcoin? Still struggling over a psychological barrier. For some altcoins though, altseason is undeniably in, Ravencoin is one of them, with sustained gains of over 500% in the past 30 days alone and today citing a brand new all-time high…
The nascent altcoin has made waves since its creation in January 2018, launching modestly without an ICO and promising to build an open-source tokenization and asset transfer protocol.
In the past 24 hours, Ravencoin (RVN) has added another 28%, bringing its current price to 0.065.
last night the RVN managed to bust a USD all-time high (ATH) going from $0.049 to $0.068 within a day.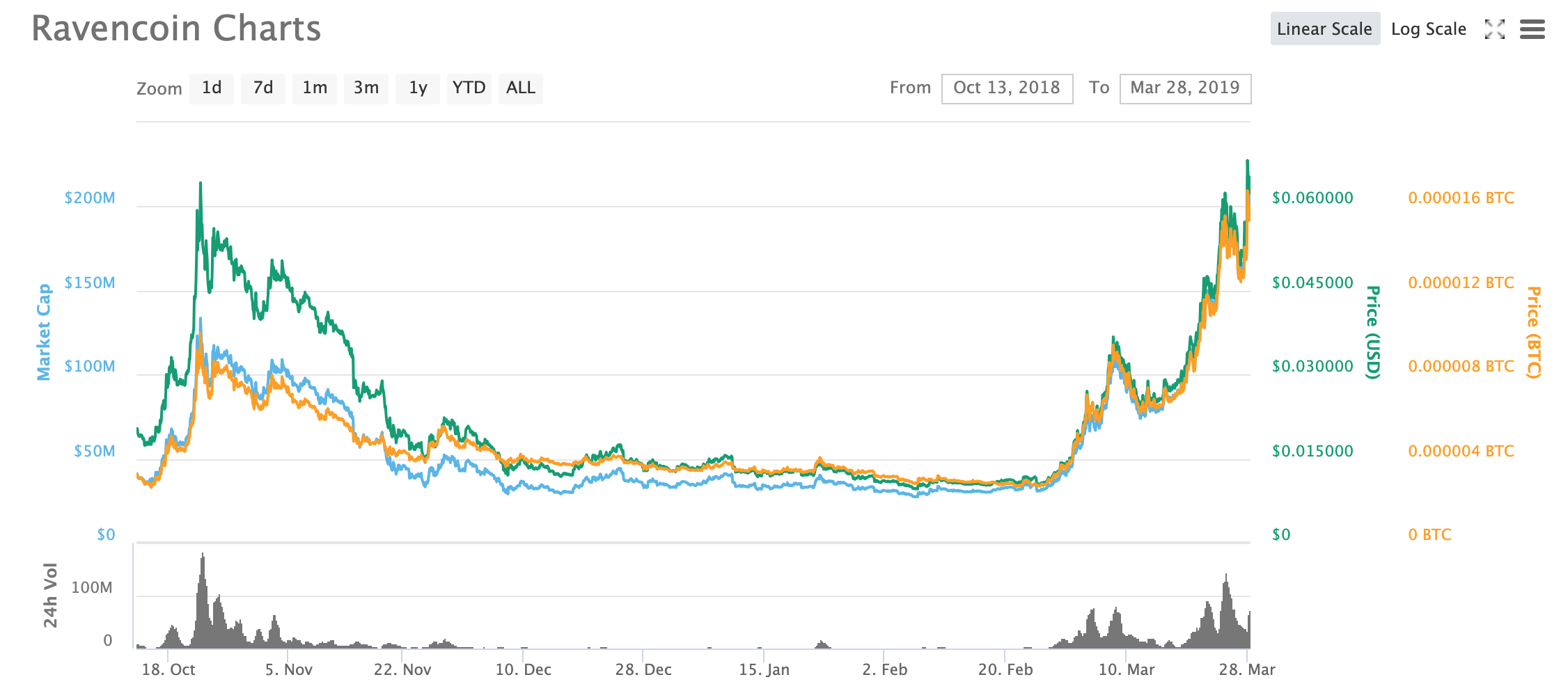 This smashes the previous ATH Back on the 22nd of October 2018 in which RVN cited a price of $0.0656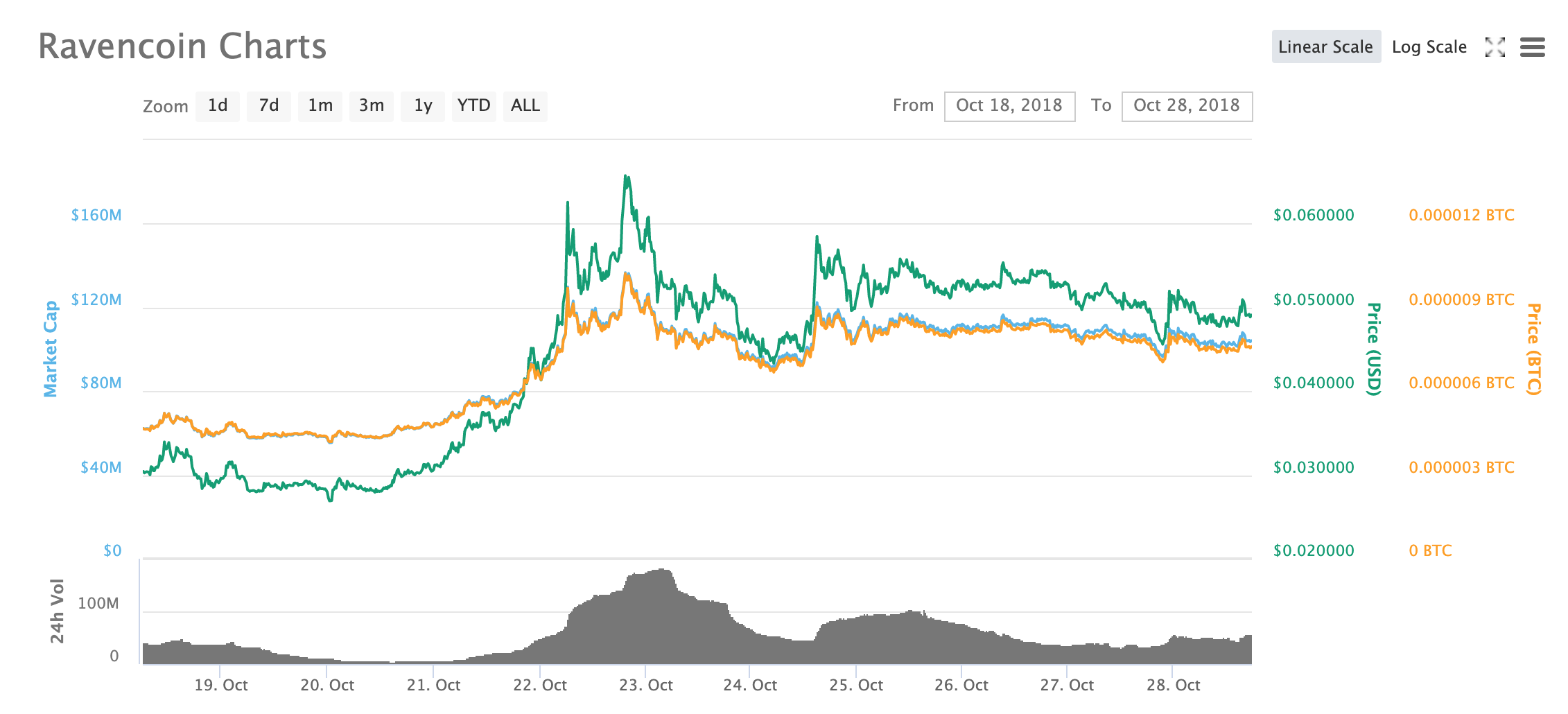 There aren't too many altcoins right now that can say that they've broken both a Bitcoin ATH and a USD ATH in the same month…
RVN managed to gain these bragging rights after a major 440% gain in exactly one month.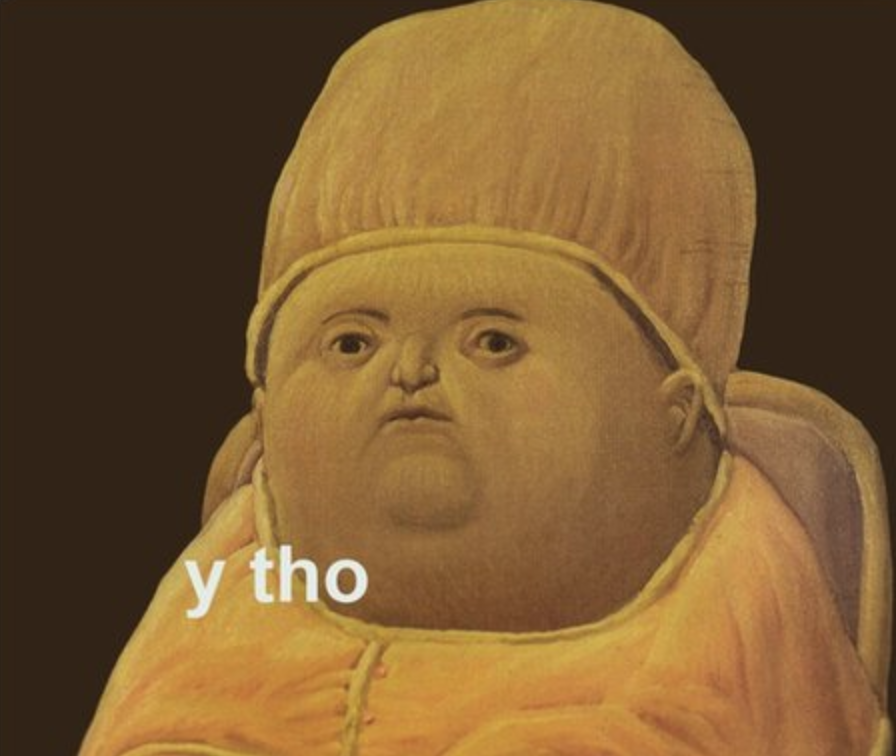 Speculation about the sneaky rise of RVN is rife on crypto twitter, and aside from speculation it appears there's no solid answers:
I think it's cause people love it 🥰

— Project Raven / RVN / Ravencoin (@Ravencoin) March 24, 2019
One believed it could be new money ignorantly jumping onto the first coin that pumps:
Ravencoin is proof that alt season is starting soon 🔥 #RVN

— Gustav "Crypto" Klimt (@consjammin) March 23, 2019
However, it could simply be due to good old fashioned building and development…
Price finally catching up with months of good news about the project, combined with a healthy dose of FOMO. It is a really good project. We've been mining it since May.

— PH/s (@PetahashMining) March 24, 2019
Over its short lifespan, Ravnecoin has garnered support from over 15 companies, with some using RVN to tokenize real world assets, oneblockchain nonprofit using it to it for voting and participation , another firm using it to build a decentralized web and the notable venture capital, Medici Ventures completing a $3.6 million security token transfer using RVN alone.
Live: Using Ravencoin to Move $3.6 Million in Digitial Securities Tokens - Chainstone Labs & Medici Ventures https://t.co/h3ZIYBTtEh

— Bruce Fenton (@brucefenton) December 18, 2018
However, for others this is simply a sign of things to come:
Ravencoin is proof that alt season is starting soon 🔥 #RVN

— Gustav "Crypto" Klimt (@consjammin) March 23, 2019
So, will this rally keep going? Or will it end in misery? Let us know your thoughts in the comments!
Read more: What's going on with Ravencoin? up 23% in 24hrs; 400% in the past 30 days; Ravencoin (RVN) pumps 32% in 24 hours, sees ATH market cap

Follow Chepicap now on Twitter, YouTube, Telegram and Facebook!
Chepicap is here for you 24/7 to keep you informed on everything crypto. Like what we do? Tip us some Satoshi with the exciting new Lightning Network Tippin.me tool!
Read more: How to tip and receive Bitcoin via the Lightning Network with Tippin.me