Weiss Ratings annual report: XRP, EOS, and Bitcoin all score an 'A' rating
Weiss ratings have just released their annual cryptocurrency report card, that's right, you better hope your favorite crypto has been studying this year… The report card relay' some interesting and bullish results with XRP, EOS bitcoin and Ethereum doing particularly well…
Weiss rates cryptocurrencies using a twofold grade system, a tech/adoption grade for long-term investors and a risk/reward grade for short-term speculators.
Based on these factors XRP managed to wrangle the top spot, sitting at #1 with an 'A' grade. Weiss qualified XRP's dominance by noting its impressive tech/adoption factors and it's positioning to compete with SWIFT.
Following just being in the #2 spot was EOS, also claiming an 'A' grade. Weise reasoned that EOS is the lead competitor of Ethereum, fostering an industry-wide increase in real-world applications.
Bitcoin (BTC) managed to just about scrape by, gaining 3rd place and yet again an 'A' grade. Weiss simply stated that this was due to the likelihood of BTC becoming a popular store of value.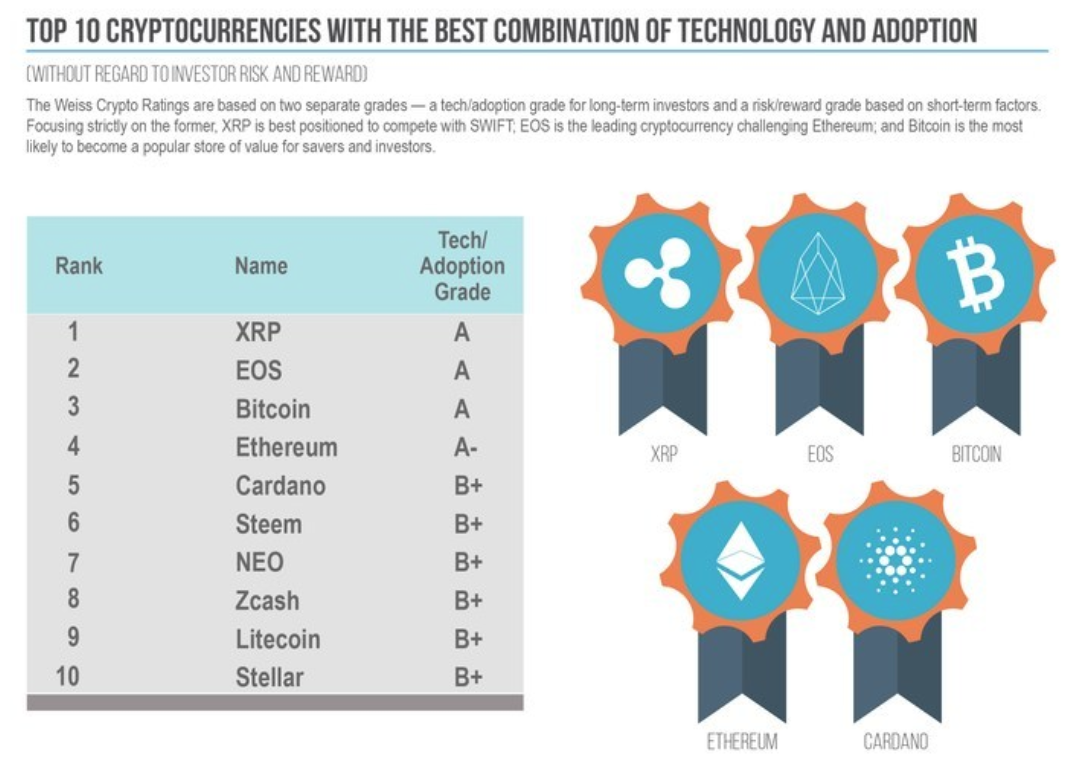 Weiss also explains that the lower prices of 2018 and beyond aren't indicative of the continued growth in the technology, asserting that the best time to invest may be soon:
"Despite lower prices since early 2018, our rating model gives us hard evidence that a critical segment of the cryptocurrency industry has enjoyed remarkable growth in user transaction volume, network capacity, and network security. Equally important is our finding that these improvements are often powered by an evolution in the underlying technology. Therefore, for those willing to take the risk, the best time to invest could be very near."
Read more: Weiss Ratings concerned over just a few wallets controlling 80% of ETH
Follow Chepicap now on Twitter, YouTube, Telegram and Facebook!
Chepicap is here for you 24/7 to keep you informed on everything crypto. Like what we do? Tip us some Satoshi with the exciting new Lightning Network Tippin.me tool!