Cryptopia open trading for Electroneum (ETN) as trading volume picks up
Cryptopia have been slowly chipping away at each wallet on the exchange to ensure everything is secured and safe before trading commences on each wallet. This week the exchange which was hacked in January, announced that trading had been opened for Electroneum (ETN)
The significance for the exchange to list Electroneum (ETN) is that ETN has for the most part, always been a top trading volume coin on the exchange and has actually maintained the highest trading volume on Cryptopia for weeks at a time.
#1 on @Cryptopia_NZ by volume!$ETN #ELECTRONEUM pic.twitter.com/aiUF4qFhpI

— Circle of competence (@ETN_HODL) September 28, 2018
ETN currently ranks #83 on Coin market cap, with Huobi, HitBTC and KuCoin currently being the most popular exchanges to trade ETN. Electroneum saw most of its volume over the course of 2017 and 2018 come from Cryptopia, and will no doubt be a welcomed coin to trade again at Cryptopia.
The trading volume on Cryptopia currently still remains low, however since the addition of ETN, volume is beginning to pick up steam as the exchange slowly starts opening new coin wallets for trading. Cryptopia which has been averaging 8-10 BTC in daily volume, has broken that with over 11 BTC volume in the last 24 hours. ETN making up over half the trading volume.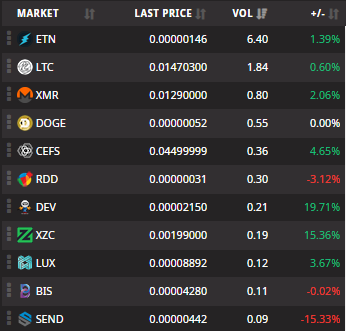 Cryptopia appear to be on the right track and today announced that they have re-opened their API. Will Cryptopia be able to return to its former glory once it is completely open? Only time will tell.
Read more: The Cryptopia Hack Timeline: as it happened
Follow Chepicap now on Twitter, YouTube, Telegram and Facebook!
Chepicap is here for you 24/7 to keep you informed on everything crypto. Like what we do? Tip us some Satoshi with the exciting new Lightning Network Tippin.me tool!
Read more: How to tip and receive Bitcoin via the Lightning Network with Tippin.me