Bitcoin hash rate is still rising, will it lead to rising price action?
It is being reported by NewsBTC that the Bitcoin hash rate has been seeing a slow but steady return to levels that were first hit last year. After the difficult 2018 market cycle, many miners began shutting down machines, leading to a decline in the overall hashrate of the network. Now it seems some confidence is creeping back as more miners are coming back online. The only question is, does this mean the price will rise soon too?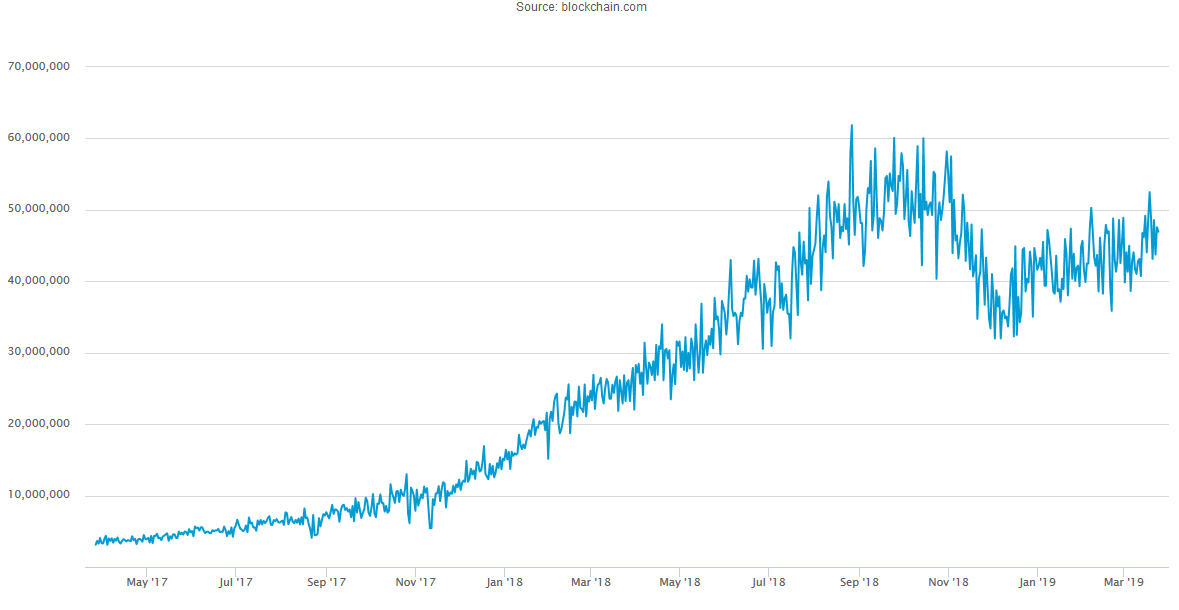 As you can see, the hash rate didn't begin to drop until near the end of last year. By that point the price of Bitcoin had already fallen significantly from the highs seen during the 2017 bull run. It was beginning to become unprofitable to mine, and then one more crash hit the market. This is largely why we see the hash rate drop by close to 50% around November.
Now, the hash rate is beginning to climb back up. This may be in part because some miners believe we have seen the "bottom" of this market cycle and there is no where to go but up. Also, due to decreased difficulty from the result of so many fewer miners, some degree of profitability has returned to mining.
On twitter, user Dovey Wan pointed out that not every coin has seen this return of hash power, and it points to the added confidence many miners have in specifically Bitcoin:
Hashrate for $ETH has dropped 50% since its ATH and sees no recovery. vs $BTC also once saw a drop for 50% but steadily climbed back up now it's 80% (50E) of ATH (60E)

This is the most direct reflection of confidence from miners based on their expectation of that PoW coin. pic.twitter.com/63NU9E9tCs

— Dovey Wan 🦖 (@DoveyWan) March 24, 2019
In a true sense, this is not an indication of an incoming bull run. It is an indication that miners believe an upturn in the market is coming. However, when it comes to investing, belief is a big part of the game. Will the added miners help the price? Stick with Chepicap for all price related updates!
5 BRAND NEW Bitcoin price predictions! Subscribe to the Chepicap YouTube Channel for more videos!


Follow Chepicap now on Twitter, YouTube, Telegram and Facebook!
Chepicap is here for you 24/7 to keep you informed on everything crypto. Like what we do? Tip us some Satoshi with the exciting new Lightning Network Tippin.me tool!
Read more: How to tip and receive Bitcoin via the Lightning Network with Tippin.me