Failed ICO for sale on eBay for $60,000
The owner of a blockchain startup, named Sponsy, is turning to the e-commerce website, eBay, where he is trying to sell his failed ICO for $60,000. If you are interested, you will have to hurry up, the sale expires in less than 4 days.
The advertisement on eBay lists Sponsy, a blockchain startup which is described as a blockchain project that is fully prepared to launch both ICO's and STO's and apparently was set up to create a distributed software solution for events and brands to manage sponsorship deals conveniently and reliably.
The offer further claims that the project was fully audited by an investment firm and approved by investment bankers. On top of this, the advertisement states that the solutions developed by Sponsy comply with European Union and United States regulations.
Read more: These are the 3 coins to watch for Q2 2019 - Cryptocurrency
The founder of Sponsy, Ivan Komar, told the Financial Times that the company had missed the ICO hype of 2017, and that therefor no one had shown interest in its tokens later in 2019.
Komar's lawyer had recommended that Sponsy developed the product first instead of launching an ICO, a decision that the Sponsy founder now regrets.
'We hired a lawyer and that was a big mistake for us. Because our lawyer basically told us that we should not launch any ICO before we built a real product that might have some users. And I asked him why, because I saw so many ICOs out there who did not have any idea for any product, yet they managed to raise tens of millions of dollars.'
So what would Sponsy have done differently if they had the chance again?
'We would not have tried to build a product first, we would have tried to run a token sale as soon as possible, to jump into this crypto craze bandwagon, and raise as much money as possible before building any product. And that's exactly what others were doing'
Komar further points out that he thinks that the project can be successfully sold, especially due to the fact that the crypto part can be easily removed from it.
'The core business model would run just as well in the centralised world without any tokens or crypto or blockchain... They can easily eliminate the crypto functionality out of this. The core component is a platform — it doesn't require any crypto or blockchain component to work. Just a typical, centralised server'
He did add that the institutional 'approval' claim, is quite a strong statement:
'Approved might be a huge word for it. It might be some kind of exaggeration. We did have a law firm based in the UK that ran some sort of audit of our project, and it ranked it, and the rank that we got was pretty high and the risk we got was pretty low.'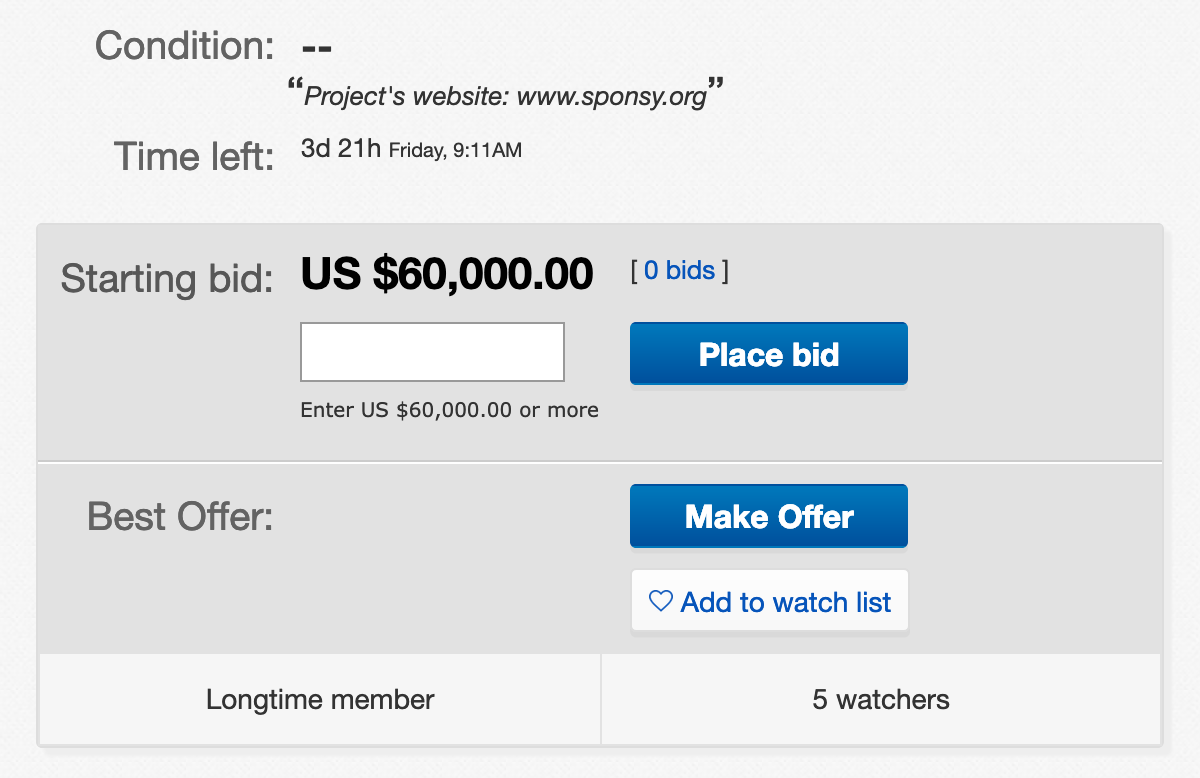 Komar himself seems to think $60,000 is a steal for the product he is offering. 'The ideal amount would be $200,000.'
As of writing time, no offers have been made to buy the failed ICO, and with less than 4 days to go before the offer expires, it seems likely that this sales attempt as well will end up being a 'Fail'.
3 Undervalued ALTCOINS in 2019!Subscribe to the Chepicap YouTube Channel for more videos!


Follow Chepicap now on Twitter, YouTube, Telegram and Facebook!
Chepicap is here for you 24/7 to keep you informed on everything crypto. Like what we do? Tip us some Satoshi with the exciting new Lightning Network Tippin.me tool!
Read more: How to tip and receive Bitcoin via the Lightning Network with Tippin.me