What will it be for Bitcoin? $5,500 or $3,000?
Although the world's most popular cryptocurrency is still trading in its long-established range between $4,000 and $4,100, some analysts believe the moment of truth for Bitcoin is near. What will it be for Bitcoin? $5,500 or $3,000?
Bitcoin has been trading between the $4,000 and $4,100 range for the last 10 days, and today Bitcoin's trading behaviour was no different. Bitcoin is currently trading at a price of $4,020 while showing a minor loss of -0.24%, according to coinmarketcap.com.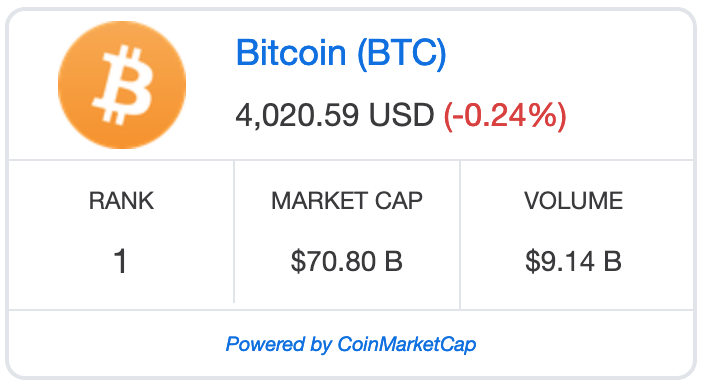 Most analysts are looking at the upper bound of BTC's current trading range, the $4,200 price mark, which will most likely act as a level of serious resistance again.
However, a Switzerland-based cryptocurrency analyst, who goes by the Twitter handle, Crypto Krillin, recently took to Twitter to state that the moment of truth for Bitcoin is very near. According to the crypto trader, or BTC will fly straight towards the $5,500 price mark, or we will re-visit $3,000.
$BTC

"Confluence"

The moment of truth for Bitcoin is very near.
We fly straight through the cloud to 5500, or we visit 3000. I'm leaning bullish. pic.twitter.com/15a9QWXpKK

— Crypto Krillin ॐ (@LSDinmycoffee) March 23, 2019
Read more: Bitcoin or Gold? Or both?
The Swiss cryptocurrency trader is not the only crypto analyst who seems to be convinced that Bitcoin's upside target currently exists around the $5,500 price mark.
Just a few days ago, Chepicap reported that Galaxy, another popular cryptocurrency analyst on Twitter, explained to his nearly 50k followers that Bitcoin is pointing to a promising potential for the number one cryptocurrency, hinting to an imminent surge of 35% to $5500.
According to Bulkowski's study, more than 60% of ascending triangles with declining volume end up breaking upwards

with an average price rise of 35%

That gives us a target of $5500 BTC once the breakout is confirmed. $BTC pic.twitter.com/dThMCtNZDX

— Galaxy (@galaxyBTC) March 23, 2019
Despite many analysts reporting optimistic views on Bitcoin's near-future upward breakout, another widely recognized cryptocurrency trader known to the Twitter community as 'The Crypto Dog', recently came forward stating that it is still possible for Bitcoin to drop to $3,500 in the short term, adding that the market conditions haven't changed over the last several days.
Read more: Bitcoin can surge as high as $400,000
According to crypto technical analyst known as DonAlt, we can only conclude crypto winter is over until Bitcoin crosses the $4,600 threshold and moves towards $5,000 and $6,000.
'Volume isn't what will convince me that the bear market is over', he said. 'A bullish market structure along with a break of at least $4.6k is. It's interesting that we've had so many altcoin pumps while the general market cap hasn't really changed. That makes me think there is very little new money coming in.'
Is NOW a good time to BUY BITCOIN?Subscribe to the Chepicap YouTube Channel for more videos!


Follow Chepicap now on Twitter, YouTube, Telegram and Facebook!
Chepicap is here for you 24/7 to keep you informed on everything crypto. Like what we do? Tip us some Satoshi with the exciting new Lightning Network Tippin.me tool!
Read more: How to tip and receive Bitcoin via the Lightning Network with Tippin.me