Binance pumps 15% after new Launchpad format; CZ addresses user concerns
Following the announcement of a new Binance Launchpad format, the exchange has come under fire for facilitating BNB whales and excluding smaller investors. Now CZ has addressed these concerns opening a dialogue with many on crypto twitter.
Early today, as reported Binance announced a brand new format for their token launch platform, Launchpad; changing from its original first come first serve format to a lottery format based on randomly selected winning tickets with an allocated amount of tokens set to each ticket. Ticket allocation appears heavily skewed in favor of BNB holders, with the amount of BNB held correlating directly to the number of tickets available to users.
For this reason, the new format was highly criticized as unfair, with many accusing the exchange pandering to BNB whales.
The new format allowed holders of less than 100 BNB access to one ticket only, meaning to have a higher chance to hold a winning ticket (allowing access to the tokens on sale) users must hold more than 200 BNB for 2 tickets, and up to 500 BNB for a 5 (the maximum amount of tickets) this meant the buy-in for the maximum chance of "winning" would require holding up to approximately $8,600 in BNB (500 BNB at current prices).
Due to this fairly hefty barrier to entry, many took to crypto twitter to complain:
So we have to hold a minimum of 100bnb to get just one ticket?! The lottery idea is great, although, this isn't fair @cz_binance .

— Niels (@nvds888) March 24, 2019
Still its is not an appropriate solution. @cz_binance you can't handle BINANCE launchpad until yet. Not satisfied.

— Asad Raza (@AsadBTC) March 24, 2019
Basically, Launchpad is now for the rich guys.

— Oguneko Stephen. A (@oguneko_stephen) March 24, 2019
Perceived champion of crypto, and CEO of Binance, Changpeng Z "CZ" Zhao addressed many user concerns, stating with the whale issue:
Feedback 1, whale issue, can't afford to hold 100 BNB.

Reducing it is possible, but would mean lower % chance of winning, and more dissatisfaction after the sale.

You should only participate in LaunchPad sales with spare funds, and should have an adequate level at that.

— CZ Binance (@cz_binance) March 24, 2019
CZ stated that while reducing buy-in was possible, that would also require reducing the chance of 'winning'.
His 'solution' was to only participate with spare funds… you know that spare $1700 you have laying around? Yeah, just chuck that in.
However, from a purely business position, this limit makes sense. BNB holders make up the vast demographic of Launchpad participants, and the problem of the original first come first serve format was that token demand is usually extremely high, meaning that whales are an even bigger issue than the would be with the lottery proposition. However, this still means that smaller investors or non-holders of BNB are, for the most part, excluded.
Another issue presented by the community was the potential of whales creating multiple accounts.
Cz allayed fears by stressing the importance upon Know your customer checks and measures in place to avoid this happening:
Feedback 2, whales creating more accounts

There is strong KYC and anti-fake KYC measures in place already, which we think should be adequate to address the problem.

— CZ Binance (@cz_binance) March 24, 2019
Many suggested lowering the limit to a 50 BNB buy-in, which appears to be a sweet spot :
this seems to be the number a few guys suggested. Will consider it.

— CZ Binance (@cz_binance) March 24, 2019
Regardless of some neigh-sayers, there was a fair amount of support for the new initiative:
🤣🔥

— CZ Binance (@cz_binance) March 24, 2019
well said. I thought that was reasonable too. But we are seeing some disparities between regions. Being global has its challenges. Will find a way.

— CZ Binance (@cz_binance) March 24, 2019
Regardless of anyone's personal feelings, at the end of the day Binance is a business, rewarding holders of BNB for … well, holding BNB, and so what? That CZ's prerogative, providing both a reward to BNB holders and increasing BNB's value proposition and utility.
And this new value proposition appears to be working, with Binance coin increasing up to 15% and marking a new BTC all-time high of 0.00429 BTC in the time since the format change announcement: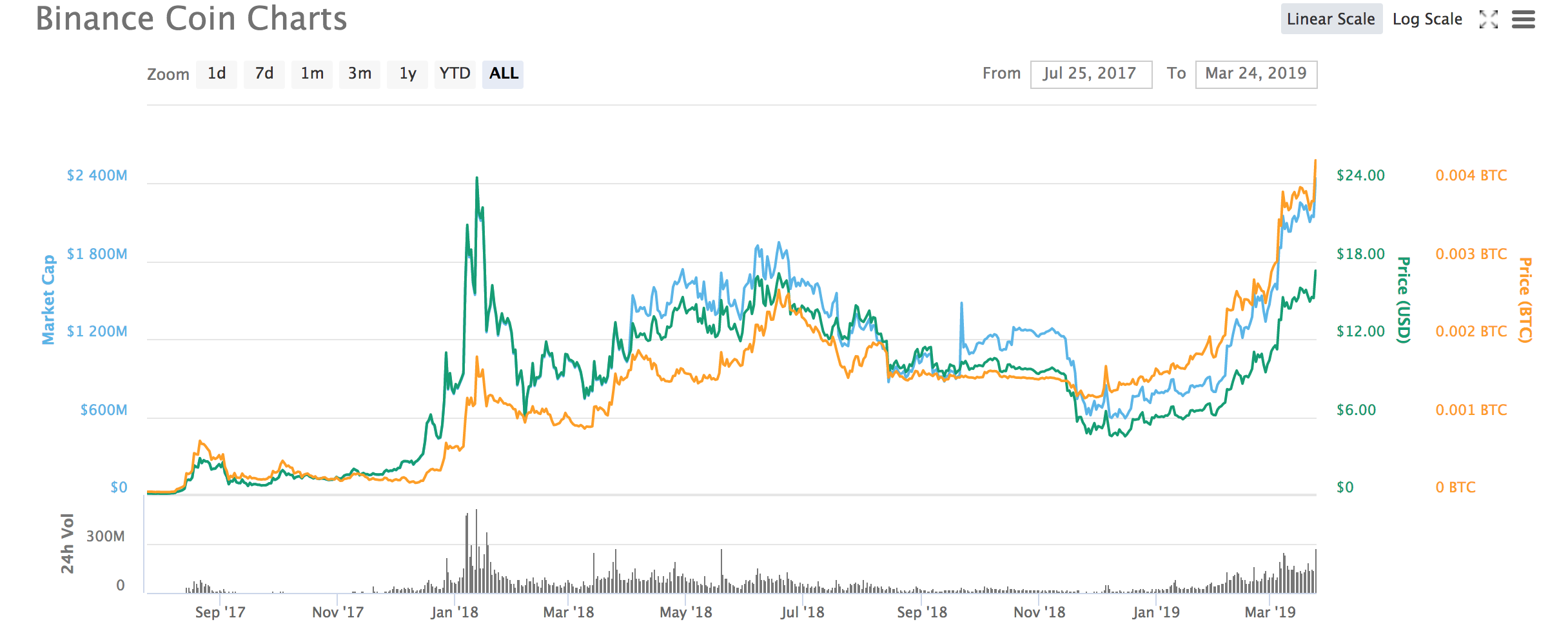 As they say, there's no pleasing everyone, but this certainly hasn't affected holders of BNB adversely…
How do you feel about the new Launchpad format? Let us know your thoughts in the comments!
Read more:
Follow Chepicap now on Twitter, YouTube, Telegram and Facebook!
Chepicap is here for you 24/7 to keep you informed on everything crypto. Like what we do? Tip us some Satoshi with the exciting new Lightning Network Tippin.me tool!
Read more: How to tip and receive Bitcoin via the Lightning Network with Tippin.me</