Bitcoin breaks above $4,000, most coins in the top 100 see red
Bitcoin breaks the $4,000 resistance, the top 100 is dominated by red, with few exceptions, such as Binance Coin (BNB), BitTorrent (BTT) and ABBC Coin (ABBC).
Overall
The overall crypto market is dominated by red color with several exceptions from several coins, such as Bitcoin (BTC), Binance Coin (BNB), ABBC Coin (ABBC) and BitTorrent (BTT).
The total market cap is $139,279,230,113.
Top 10
The gain on the top 10 coin is led by BNB that sees a 4.96% gain at $15.86, followed by Tether (USDT) that gains by 0.49% at $1.01.
The largest cryptocurrency, BTC manages to break through the $4,000 resistance level at $4,022 after seeing a 0.4% in the last 24 hours.
On the other hand, Bitcoin Cash (BCH) sees the biggest loss at $150.10 with -4.82%, followed by TRON (TRX) that's losing by 1.39% at $0.02 and Litecoin (LTC) that sees a loss of 0.9% at $61.14 price point.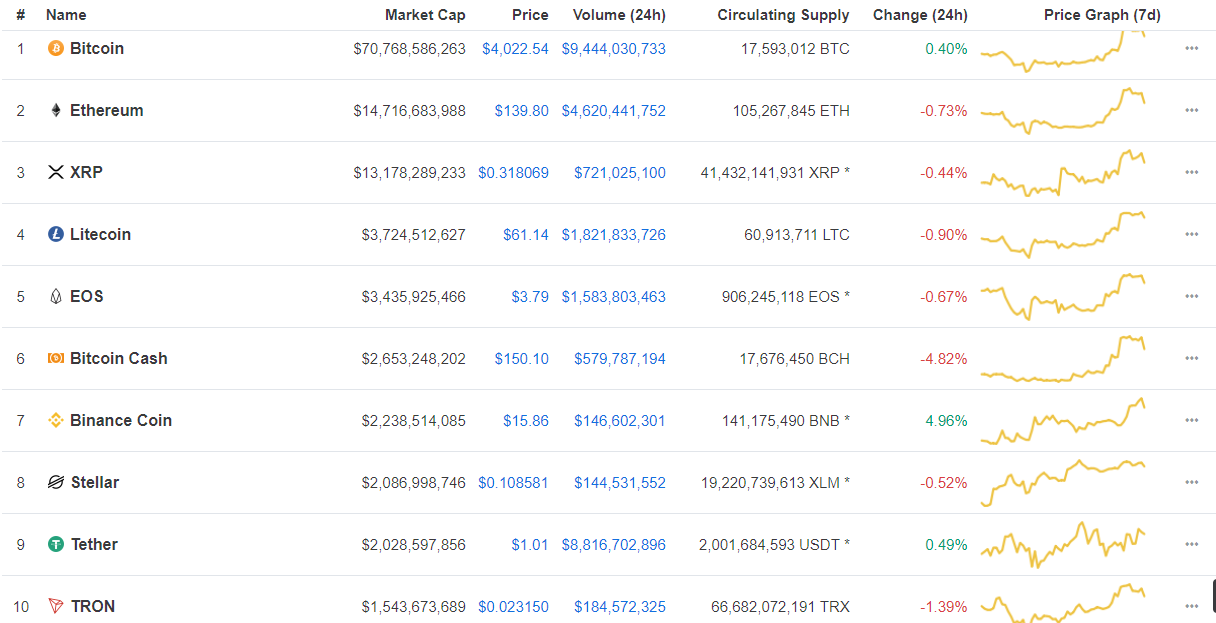 Top 100
The biggest gainer on the top 100 is BitTorrent (BTT) that sees 11.09% at $0.0008, followed by the coin that just changed its name, the ABBC Coin (ABBC) that gains by 7.85% at 0.37 and Maximine Coin (MXM) that sees a 6.27% loss at $0.03 price point.
While the top 3 biggest losers on the top 100 are Crypto.com chain (CRO) that's losing by 22.89% at $0.07 after seeing an impressive 47.78% gain in less than 24 hours ago, followed by Digitex Futures (DGTX) and Wanchain (WAN) that see 7.43% and 5.17% loss at $0.07 and $0.4 price points respectively.
Follow Chepicap now on Twitter, YouTube, Telegram and Facebook!
Chepicap is here for you 24/7 to keep you informed on everything crypto. Like what we do? Tip us some Satoshi with the exciting new Lightning Network Tippin.me tool!
Read more: How to tip and receive Bitcoin via the Lightning Network with Tippin.me