Coinbase Pro announces new fee structure, other changes
Today Coinbase announced on their blog that Coinbase Pro would be implementing some changes come March 22nd. These changes include a new fee structure for trades and some other updates to make a "more efficient market."
There were five changes announced today in the blog. The first and maybe most interesting was an update to how the fee system works. The new system is as follows and is based off of the previous 30 day volume: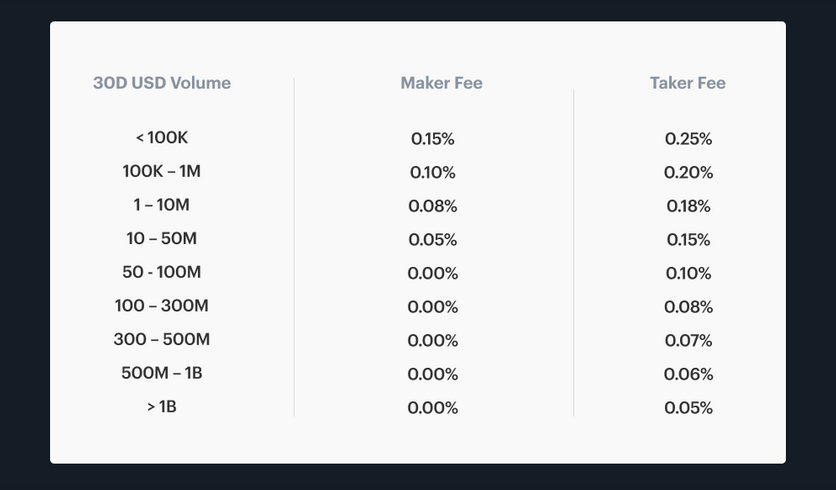 The second change is an update to order maximums, basically how big a given order is. The maximums are in place to keep massive orders from moving the market too much.
The third change is a decrease in the tick sizes (minimum differences allowed between orders) for the following order books: ETC-USD, ETC-EUR, ETC-GBP, LTC-BTC, ETC-BTC.
Next is the removal of stop market orders. From now on users must submit in the form of a limit order.
The final change is also to protect against too much volatility, and it is the introduction of 10% market order protection points. What this means is, if a single trade stands to move the market more than 10%, the trade will only return a partial fill. This keeps "whales" from ever being able to move the market too much, too fast.
Overall these changes look to be trying to create a better user experience on Coinbase Pro. Will users enjoy the changes? Stick with Chepicap for all updates!
Is NOW a good time to BUY BITCOIN?Subscribe to the Chepicap YouTube Channel for more videos!


Follow Chepicap now on Twitter, YouTube, Telegram and Facebook!
Chepicap is here for you 24/7 to keep you informed on everything crypto. Like what we do? Tip us some Satoshi with the exciting new Lightning Network Tippin.me tool!
Read more: How to tip and receive Bitcoin via the Lightning Network with Tippin.me