Altcoin season is back: these are the 10 best performers right now
Chepicap recently reported that data from Google Trends has suggested that the topic of altcoins is spiking to levels that haven't been seen since the 2017 bull run, indicating that altcoin season could be on its way. Looking at the 10 biggest altcoin earners from the top 100 over the last seven days, it seems as if the altcoins are back in force.
Read more: According to Google trends, Altcoin related searches nearing all time highs
1. Crypto.com Chain – 433.44%
Crypto.com Chain (CRO) is a Hong Kong-based project aimed at accelerating the world's adoption of cryptocurrencies. Over the last seven days, CRO has been blazing its way through the market, totaling a meteoric rise of over 433%, but for good reason. The project has made several big announcements recently, one of them being their listing on Indonesia's largest crypto exchange, Indodax. The project is now sitting at rank 21, rising 13 places in three days. Additionally, the project announced today that CRO has been listed Upbit.
The @cryptocom Chain ($CRO) Token will be listed today on @UPbitExchange! Open-source of @Cryptocom Chain Testnet v0.1 scheduled on Wednesday, March 20th. Read more here - https://t.co/udc2IYExCN pic.twitter.com/9zHqMf9MCV

— Crypto.com (@cryptocom) March 15, 2019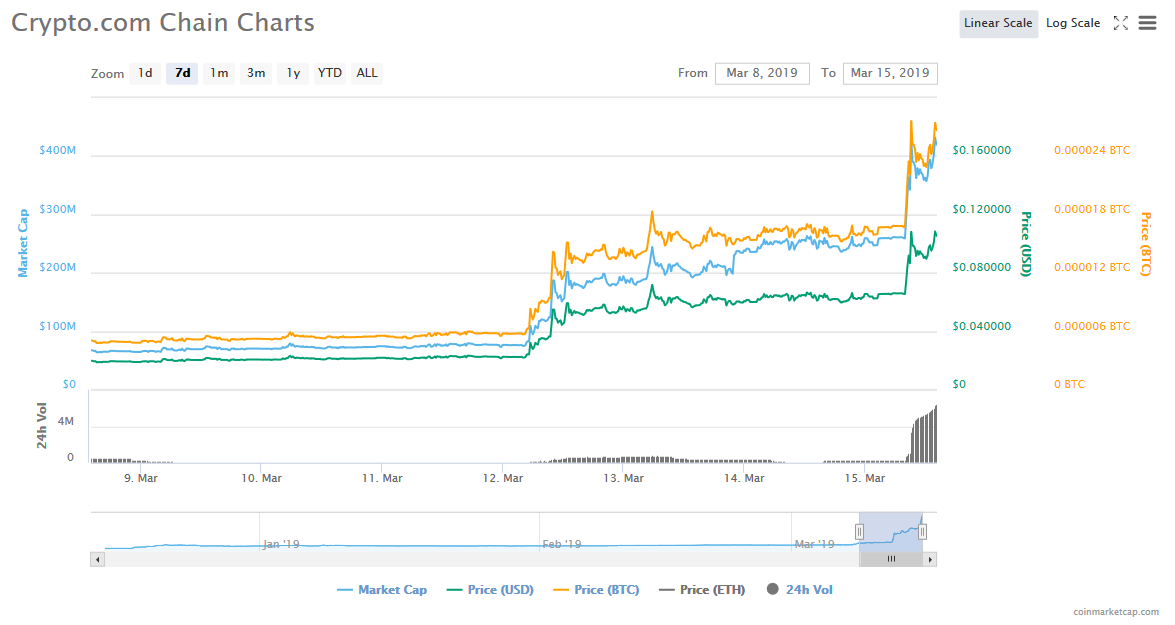 Read more: Crypto.com up over 132%, Zcoin 104%, what's going on?
2. MaxiMine Coin – 66.17%
MaxiMine Coin (MXM), a Singapore-based cloud-based pool mining platform, has also been showing some very promising growth. While not in the league of Crypto.com Chain, MXM has seen impressive performance nonetheless, surging over 66% in the last seven days bringing it into the top 100. The platform touts efficiency and transparency as the main reasons for the market's bullish sentiment, coupled with the recent release of its hash powered exchange app has brought MXM to new all-time highs.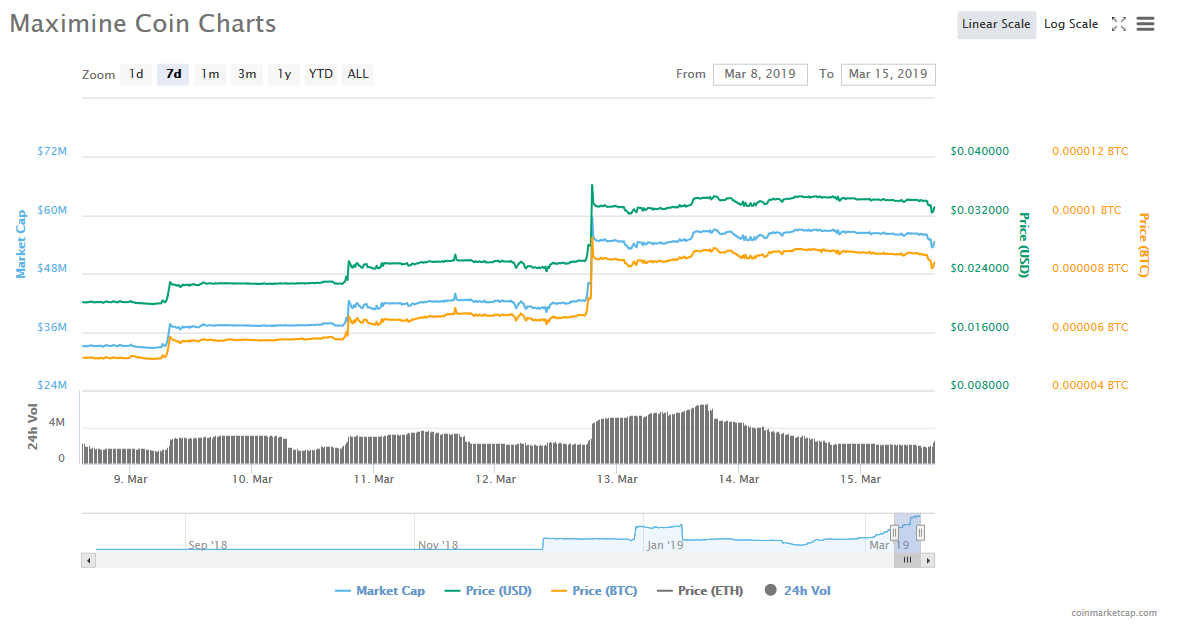 3. Wanchain – 47.45%
Wanchain (WAN) aims to build a "super financial market" by connecting digital assets. The project features cross-chain interoperability, privacy and smart contract functionality. Over the course of the last seven days, WAN has seen a price surge nearing 50%. One likely cause for its continued bull run is the WAN Staking Pilot which went live several hours ago. Essentially, users compete with other community members to gain a spot in the 3-month staking pilot. The highest amount of WAN wins. Those who make it into the staking pilot earn 4% rewards on up to 5000 WAN. Wanchain have also just announced a partnership Staked to provide Institutional Staking of WAN to their customers.
We are very pleased to begin working @staked_us to provide Institutional Staking of WAN to their customers when our Proof of Stake solution goes live later this year! Check out Staked here: https://t.co/UzlobAzhEO

— Wanchain (@wanchain_org) March 15, 2019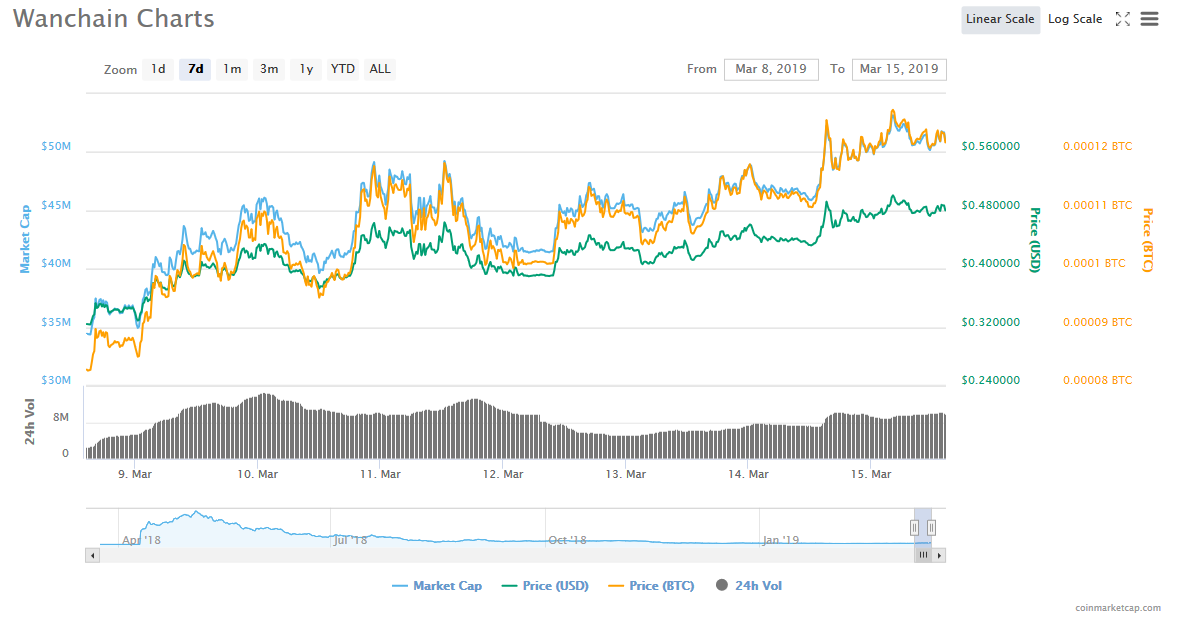 4. WAX – 36.58%
Worldwide Asset eXchange (WAX) has been designed to serve the 400+ million online gamers who collect, buy and sell in-game items. Over the course of the last seven days, WAX has seen impressive gains of over 36%. WAX has recently teamed up with Z1BR to give away thousands of exclusive, limited-edition skins which can be redeemed in popular battle royale game H1Z1, traded on WAX ExpressTrade or sold OPSkins.com. Additionally, WAX have announced a giveaway of 10,000 WAX Stickers that can be sold for $0.25 each.
It's the 10,000 WAX Sticker Mega Drop! We're giving away 10,000 WAX Stickers worth $0.25 each (via Instant-Sell) to any account that trades a vIRL on WAX ExpressTrade. To get yours, simply trade a @GO_vIRL here https://t.co/TrJMUONWjl

RT + tag a friend to enter to win a bonus! pic.twitter.com/ObBXr3Brgf

— WAX.io (@wax_io) March 11, 2019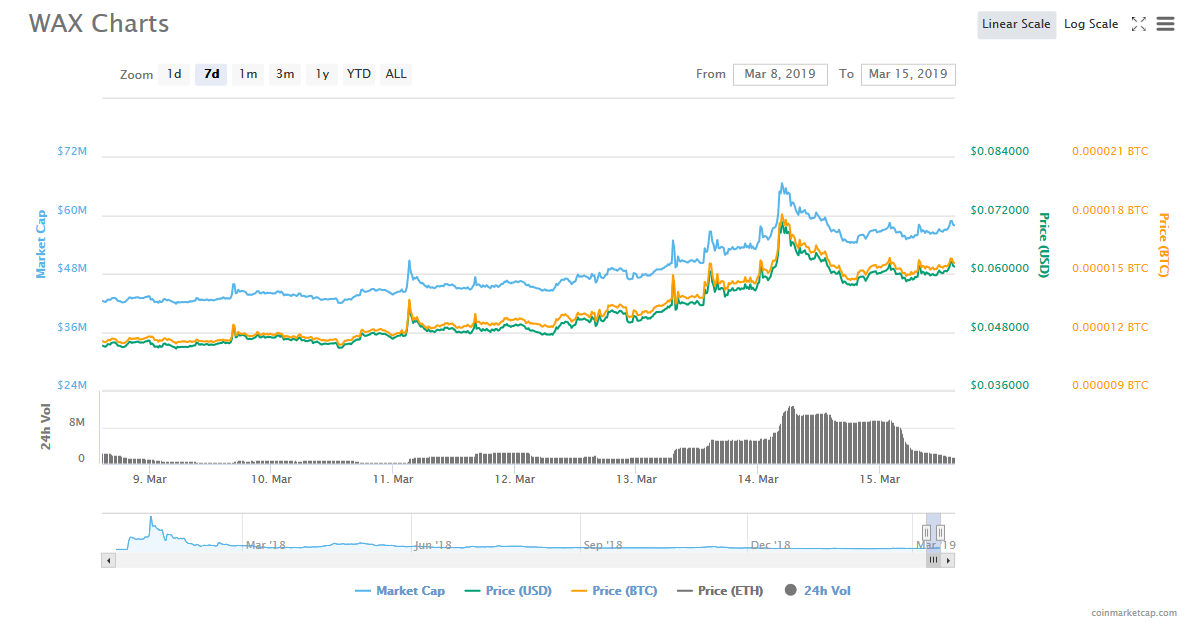 5. KuCoin Shares – 30.83%
KuCoin Shares (KCS) the cryptocurrency native to the KuCoin crypto exchange, has surged by over 30% in the last seven days. KuCoin recently announced the successful completion of the IOST mainnet swap and added support for Ankr Network (ANKR), which may be part of the reason for the currency's impressive gains. Additionally, KuCoin is celebrating the integration of BitUniver's trading bot and have announced 1 BTC and 10,000 KCS will be given away to KuCoin users.
KuCoin MainNet Swap of IOST Complete: Deposit and Withdrawal Services Now Open

Read the important notice regarding this announcement on:https://t.co/d4qqtQ5Mu9 pic.twitter.com/UJwyXgNGAx

— KuCoin Updates (@KuCoinUpdates) March 14, 2019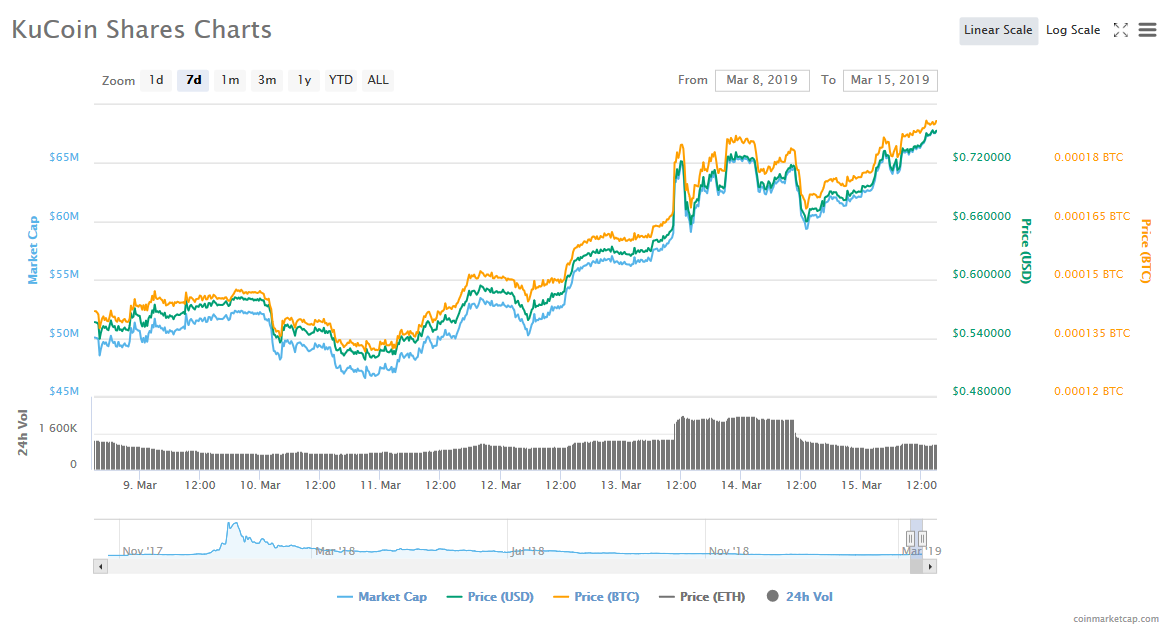 6. GXChain – 29.97%
GXChain (GSX) is a public blockchain that offers decentralized data exchange solutions for companies involved in network loans, automobile finance and others. The project has sen growth very similar to that of KuCoin, with almost 30% growth compared to this time last week. GSX announced an airdrop some time ago that's set to run from 1 March – 20 March to thank their supporters. At the same time, they announced a competition that will see the winner receive 0.8 BTC and 30,000 PPS.
🎊AIRDROP to FREE CRYPTOCURRENCIES on GXChain Forum https://t.co/MMXWCLwThj: GXChain officially announced Airdrop Campaign on GXChain Forum, to thank GXChain Forum users for their support. Also welcome to register today to win free cryptocurrency rewards! AIRDROP Time & Policy 👇 pic.twitter.com/x8LrLLdIVX

— GXChain (@GXChainGlobal) March 5, 2019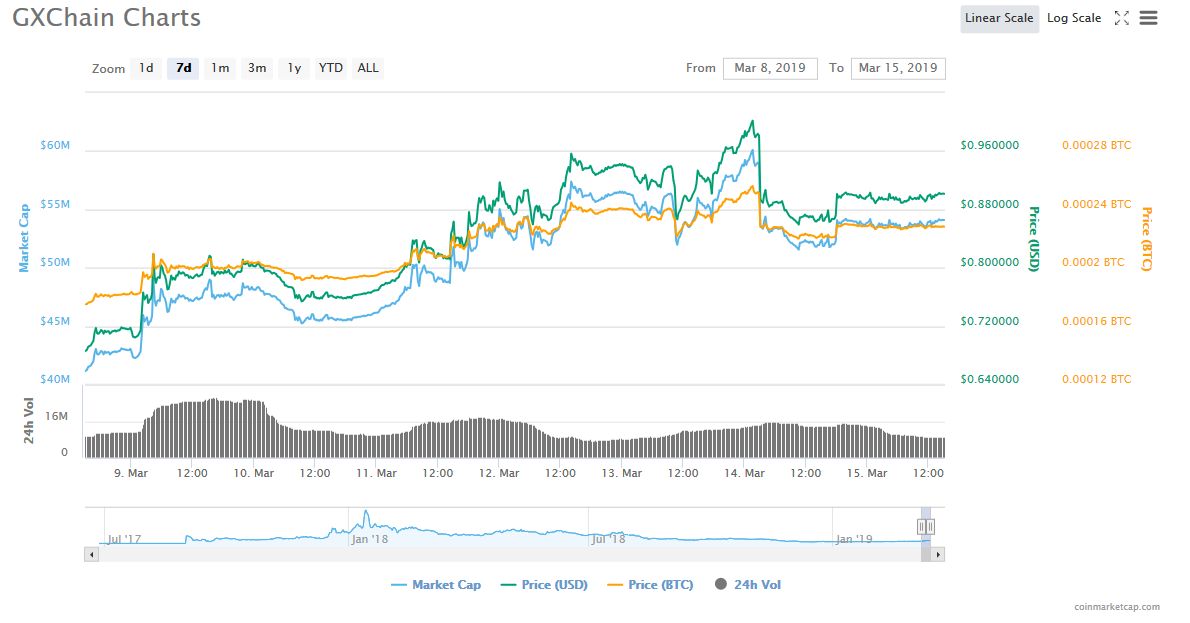 7. Crypto.com – 23.11%
Crypto.com (MCO), which differs from Crypto.com Chain's CRO token, aims to offer payment card products that allow customers to spend and borrow crypto through the VISA payment network. The Switzerland-based project has seen 23.11% growth over the last seven days which may be attributed to the announcement that the project crypto card and wallet are now offering free Spotify and Netflix subscriptions, as well as cash back on Expedia bookings.
News from @Cointelegraph - Crypto Card and Wallet Offers Free Spotify and Netflix Subscriptions https://t.co/xKinmQqiVC $MCO

— Crypto.com (@cryptocom) March 12, 2019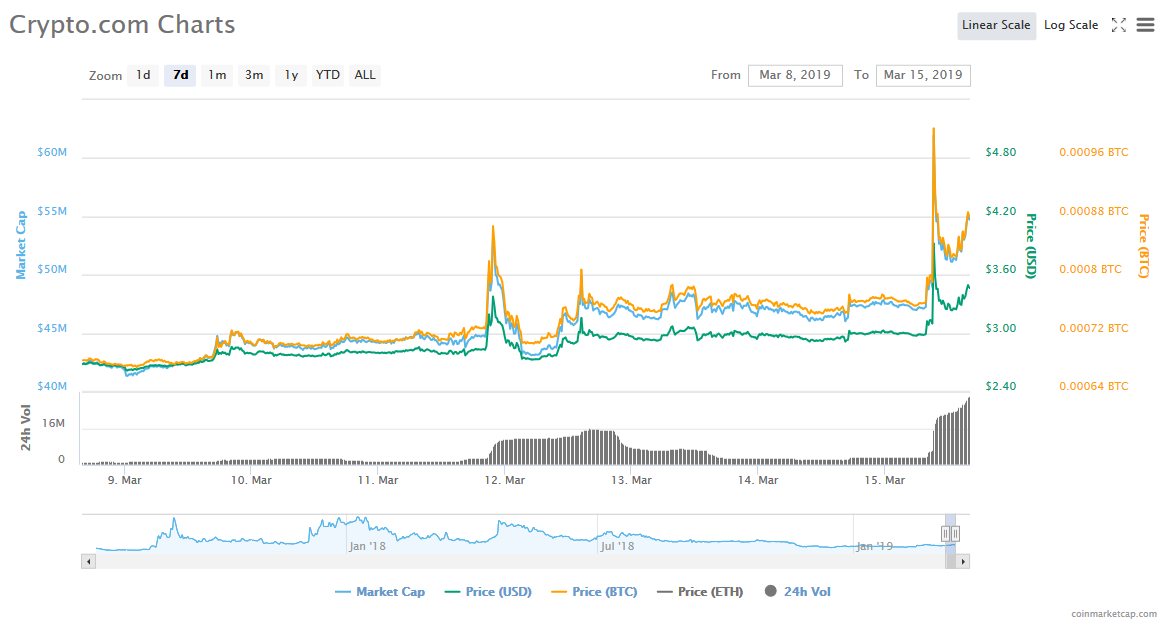 8. Stellar – 22.64%
Stellar (XLM), the eighth biggest cryptocurrency by market cap has shown the most impressive growth of all top ten coins over the last seven days, growing 22.64%. The project recently announced that Mozilla COO Denelle Dixon would be the Stellar Development Foundation's new Executive Director. But perhaps the biggest reason for the projects bullish movement over the last several days is their listing on Coinbase Pro.
https://t.co/z78mLvQcUU Coinbase is by far the most reputable exchange in the industry. A listing there is a rite of passage for any project. We think this is a huge step for the Stellar network.

— Stellar (@StellarOrg) March 13, 2019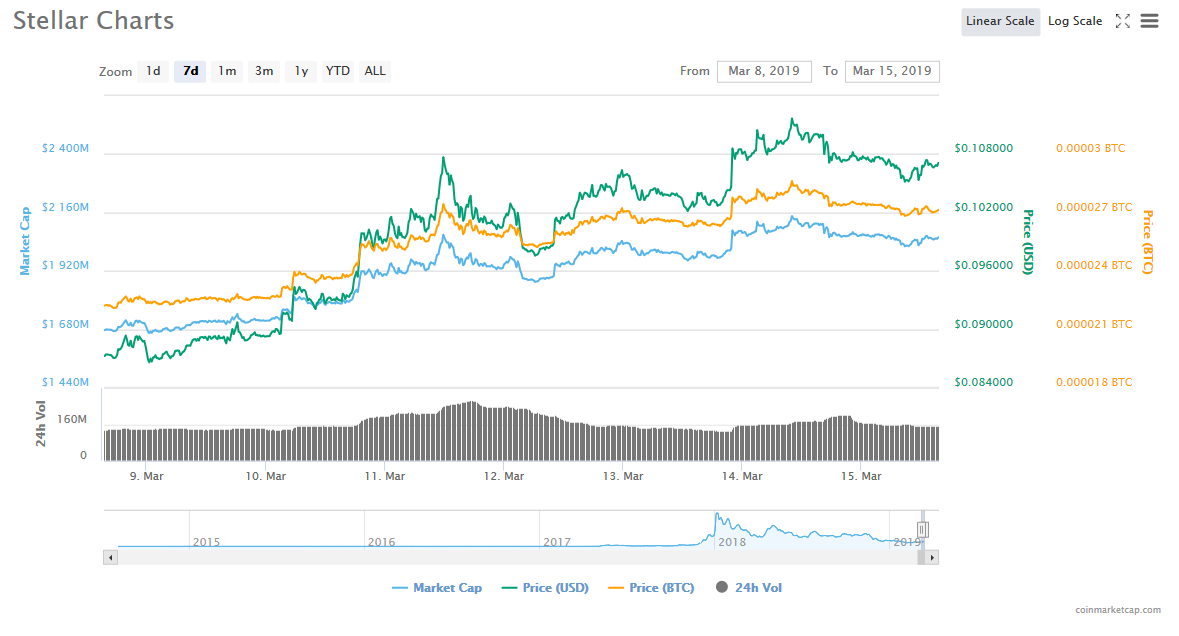 9. Qtum – 22.50%
Qtum (QTUM) is built on Bitcoin's UTXO unspent transaction model, with the added functionality of smart contract executions. The project has risen 22.50% in the last seven days, but much of that growth came yesterday with the announcement that Zeux – "the world's first crypto mobile payment and investment app" – would be listing QTUM tokens for its digital payment wallet. Users can now spend QTUM at "all point-of-sale payments," the announcement read.
Great news! #Qtum holders can now use QTUM to pay at all shops via Apple Pay and Samsung Pay using @Zeuxapp!#fintech #paytech #cryptocurrency #Zeuxhttps://t.co/8qMGhX54GI

— QtumOfficial (@QtumOfficial) March 14, 2019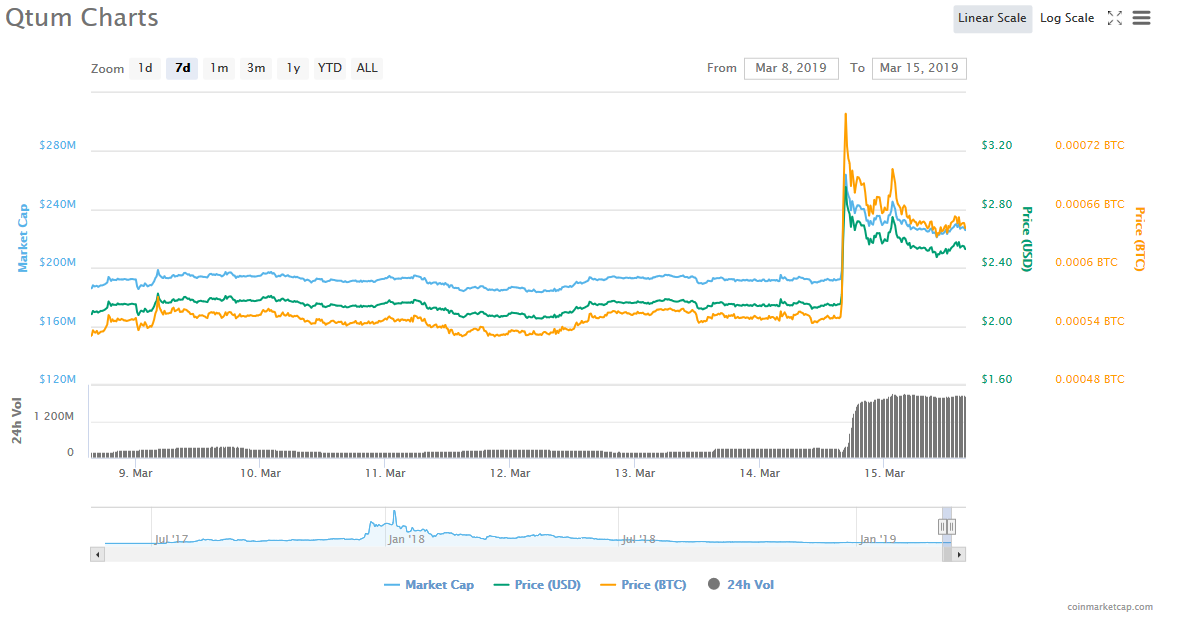 10. OmiseGo – 22.37%
OmiseGo (OMG), a platform that allows real-time, peer-to-peer value exchange and payment services, has shown some very healthy growth of over 22%. It was announced yesterday that OMG will be the first token listed on a new cryptocurrency exchange, Go.Exchange which is likely the main attributor to the projects price spike.
Go.Exchange Soft Launch is Go from r/omise_go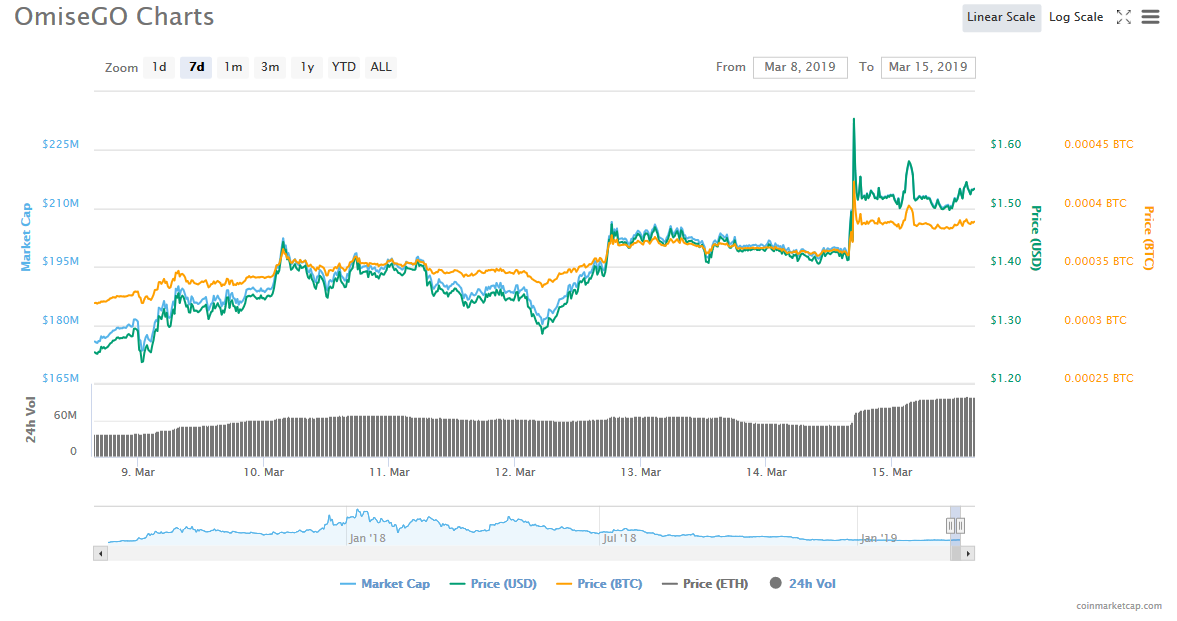 Read more: Will BTC dominance fall below 30%? Crypto trader predicts Alt Season
Follow Chepicap now on Twitter, YouTube, Telegram and Facebook!
Chepicap is here for you 24/7 to keep you informed on everything crypto. Like what we do? Tip us some Satoshi with the exciting new Lightning Network Tippin.me tool!
Read more: How to tip and receive Bitcoin via the Lightning Network with Tippin.me