Blockfolio's biggest update: What version 2.1 has to offer
The popular cryptocurrency portfolio tracker, Blockfolio, has become a staple for every crypto aficionado. Blockfolio has become prominent within the community thanks to its addictive feed of crypto prices, enabling each individual to tailor and track their portfolio at a whim. Now the firm has released version 2.1, and it's much more than just a pretty interface. Chepicap takes a look at what the latest Blockfolio release has to offer.
Blockfolio v2.1 is the biggest update for the portfolio tracker so far, with an overhaul in the way in which price information is relayed, as well as a slew of new features including a dedicated news tab, a global markets tab, and redesigned charts.
Markets tab
The market tab acts as your personal index of over 8,000 cryptocurrencies, all ranked based on market cap. Displaying up to date price, individual market cap, and daily gains or losses with metrics from your choice of market. Metrics are based on a global average by default but can be easily changed to hundreds of different exchanges.
Above all of this, is a global market cap overview, depicting 24-hour volume, BTC dominance, and, of course, total market cap, enabling you to track the movement of the entire market.
News tab
Another new feature in v2.1 is the news tab, previously known as the "explore" tab. This displays the latest stories from the many facets of the crypto industry.
Previously, news sources were depicted simply as a symbol within the explore tab, making it fairly unintuitive and difficult to customize news feeds. This latest update places special emphasis on news, allowing you to personalize the news feed, enabling you to easily filter between sources which are now denoted in the right-hand corner... The devil is in the detail.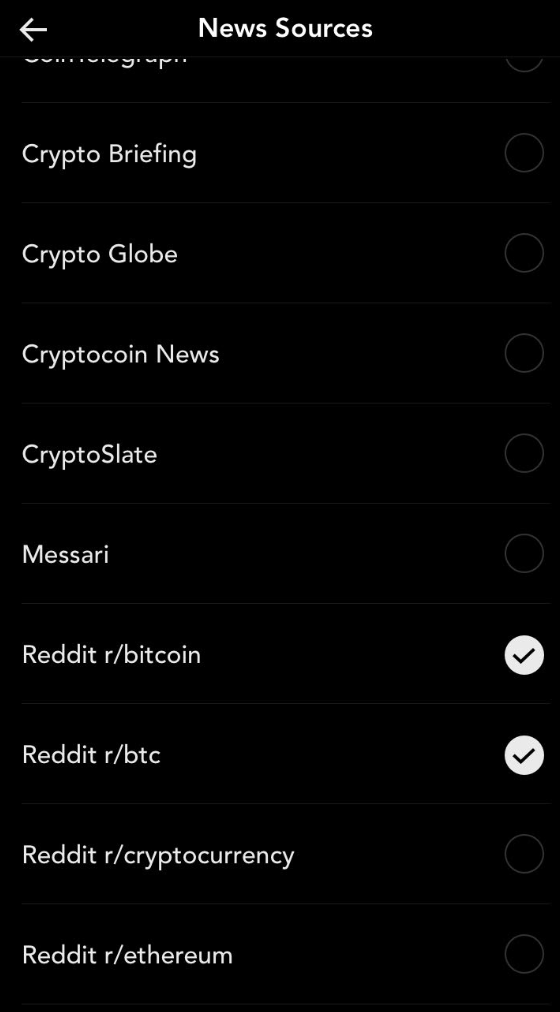 When clicking on links to various news sources, everything stays in-app, rather than redirecting you to a new page via your mobile browser, meaning your phone remains uncluttered by multiple tabs.
Signals tab
Blockfolio Signal was announced back in May 2018, as a feed for cryptocurrency projects to share their latest updates and announcements, providing instantaneous insights into all the projects in your portfolio. In order to encourage projects to sign up, Blockfolio has kept it 100% free to use for token teams, making Blockfolio Signal a win for everyone.
The intuitive Signal tab automatically filters based on the cryptocurrencies within your portfolio's watch list, providing all killer, no filler.
You can further optimize Blockfolio Signal by turning notifications on/off for individual projects, for those tokens particularly close you your heart… or wallet: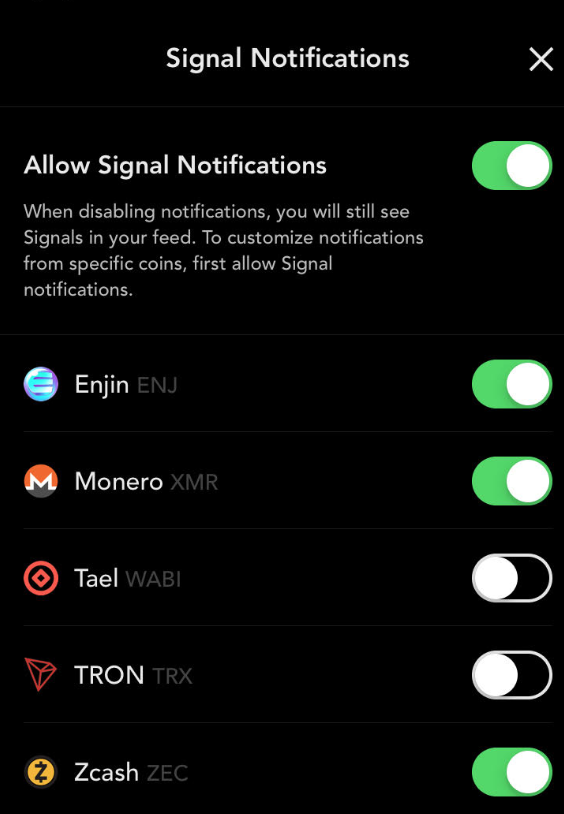 v2.1 has also integrated a share button, enabling you to share these various signals on Twitter, Facebook, and other social media platforms.
Other new features
Cited among the numerous improvements is the settings drawer, easily accessible by tapping the three dots in the top right-hand corner of the app, or simply swiping your finger left (imagine you're using Tinder…)
This ergonomic redesign of the settings menu breathes new life into the app, enabling access to portfolio settings, and management, as well as signal notifications and a bunch of on/off toggles, to further customize your portfolio.
The Blockfolio team also recently announced a Slack integration, enabling access to both portfolio prices and project signals from within Slack (giving a whole new meaning to slacking off work.)
As well as the traditional candlestick chart, Blockfolio v2.1 now enables you to toggle to a line chart view for simplified viewing, for those times where you don't fancy seeing too much red...
All in all, this latest update has rejuvenated a widely used brand, turning what was a simple portfolio tracker into a prime tool for the cryptocurrency ecosystem.
Follow Chepicap now on Twitter, YouTube, Telegram and Facebook!
Chepicap is here for you 24/7 to keep you informed on everything crypto. Like what we do? Tip us some Satoshi with the exciting new Lightning Network Tippin.me tool!
Read more: How to tip and receive Bitcoin via the Lightning Network with Tippin.me
Want to receive the latest Chepicap news in your Blockfolio app? Help us to get listed by upvoting here! A big thank you from Team Chepi!