These 21 cryptocurrencies are still candidates to be listed on Coinbase Pro
Back in December, Coinbase announced it was 'looking into adding 31 more cryptocurrencies' to their Coinbase Pro exchange. Chepicap lists the coins that have been added to Coinbase Pro so far, and the ones that are still under review.
Listed (10 out of 31)
The listing of Stellar Lumens (XLM) on Coinbase on Wednesday was the eight altcoin addition to the exchange in the last three months. XLM will be available for trading in pairs with USD, EUR and BTC on Coinbase Pro. That makes XLM the second recently listed cryptocurrency with fiat AND Bitcoin pairs. On February 28, Coinbase announced the listing of XRP, that is available for trading against USD, EUR and BTC as well.
XLM/USD, XLM/EUR, and XLM/BTC order books will soon enter transfer-only mode, accepting inbound transfers of XLM in supported regions. Orders cannot be placed or filled. Order books will be in transfer-only mode for a minimum of 12 hours. https://t.co/NgCiWEkii8

— Coinbase Pro (@CoinbasePro) March 13, 2019
From the list of 31 coins that was shared by Coinbase at the beginning of December, 8 other cryptocurrencies have earned a listing on the Coinbase Pro exchange next to XLM and XRP. Civic (CVC), district0x (DNT), Loom Network (LOOM), Decentraland (MANA), Dai (DAI), Golem (GNT), Maker (MKR) and Zilliqa (ZIL) are available on Coinbase Pro as well, however not for everyone and in every trading pair.

Read more: Stellar Lumens is launching on Coinbase Pro
ERC 20-tokens CVC, DNT, LOOM, MANA, DAI and GNT are available for users in the US (exclusding NY), the UK, the EU, Canada, Singapore and Australia. MKR and ZIL will only be available for users in the UK, EU, Canada, Singapore and Australia, so not in the US.
All these cryptocurrencies don't have pairs with fiat or BTC either. They are only linked to USDC, the Coinbase stablecoin.
So where XLM and XRP are fully available on the Coinbase platform, the other 8 are not (yet).
The altcoins listed on Coinbase Pro
XRP
XLM
MANA*
CVC*
DNT*
LOOM*
GNT*
DAI*
MKR*
ZIL*
*Not available for everyone and only in USDC pairs.
Not listed (yet) (21 out of 31)
With 10 coins listed (hard or soft launch) on Coinbase Pro so far, there are still 21 coins that Coinbase is exploring. In their announcement on December 7 revealing the 31 coins that are 'being looked into', th company confirmed it was also reviewing Cardano (ADA), NEO (NEO) EOS (EOS), Enjin Coin (ENJ) and OmiseGO (OMG), amongst others. This is the full list of coins that Coinbase is thinking of listing, but that are not listed yet.
Cardano (ADA)
Aeternity (AE)
Aragon (ANT)
Bread Wallet (BRD)
Enjin Coin (ENJ)
EOS (EOS)
IOST (IOST)
KIN (KIN)
Kyber Network (KNC)
ChainLink (LINK)
Loopring (LRC)
Mainframe (MFT)
NEO (NEO)
OmiseGo (OMG)
Po.et (POE)
Quarkchain (QKC)
Augur (REP)
Request Network (REQ)
Status (SNT)
Storj (STORJ)
Tezos (XTZ)
It is not yet clear whether Coinbase will eventually list all these coins on Coinbase Pro, but in an earlier statement the company said that 'Other digital assets and ERC20 tokens may follow'.

Bitcoin, Ethereum, Litecoin, 0x, Ethereum Classic, Basic Attention Token, Bitcoin Cash and Zcash were already available for trading on Coinbase Pro before Coinbase published the list of 31 coins.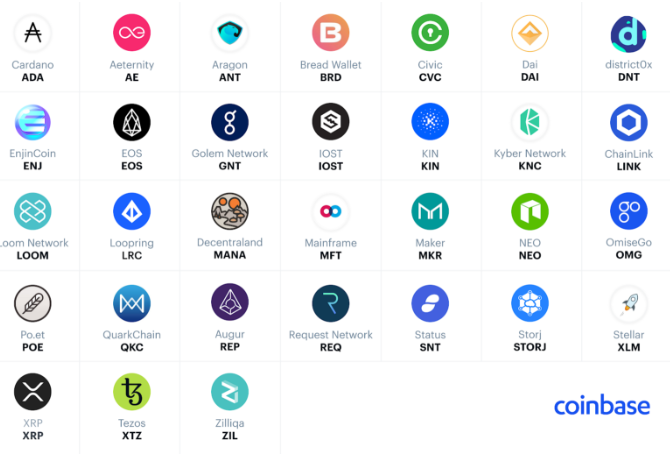 Follow Chepicap now on Twitter, YouTube, Telegram and Facebook!
Chepicap is here for you 24/7 to keep you informed on everything crypto. Like what we do? Tip us some Satoshi with the exciting new Lightning Network Tippin.me tool!
Read more: How to tip and receive Bitcoin via the Lightning Network with Tippin.me
Is NOW a good time to BUY BITCOIN?Subscribe to the Chepicap YouTube Channel for more videos!