Monero's hashrate plummets 90% after hard fork targeting ASIC miners
The latest hardfork of Monero, which took place yesterday, is already seeing some consequences today regarding the computing power available for mining in the network.
It is quite evident that the hashrate of Monero's network has taken a serious blow after the latest update, a circumstance which is clearly reflected with the following chart, extracted from 2miners: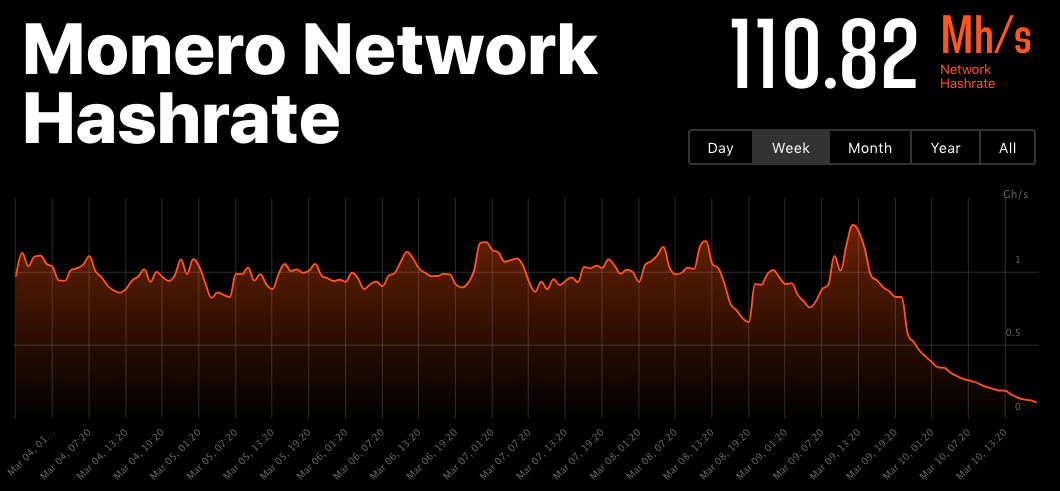 As one of the major issues addressed by this fork is a change to a Proof of Work (POW) algorithm that enhances ASIC resistance on the network, it appears as if this might be the main reason behind the descend in hashrate on the Monero network. The official Twitter account of the token had already made a warning on this issue:
Please, however, be aware of significantly slower block times until the difficulty properly adjusts. In addition, if you are incurring any issues, please open a new thread on r/monerosupport or r/moneromining (in case of mining related issues) and our community will help you out!

— Monero || #xmr (@monero) March 9, 2019
A Reddit thread titled "95% of Monero's hashrate was Botnets FPGA and ASICS" is currently trending in the CryptoCurrency subreddit. There, many users are debating the latest downtrend in computing power. A clear predominance of Monero shilling can be seen across many posts, as in this occasion, it is important to remember that the hardfork and subsequent update had the curbing down of ASICS in the mining ecosystem of Monero:
Read more: Monero hard fork goes off without a hitch, price still moving with market; CNBC's Ran NeuNer interviews Craig Wright, who wants to kill Zcash & Monero
Follow Chepicap now on Twitter, YouTube, Telegram and Facebook!
Chepicap is here for you 24/7 to keep you informed on everything crypto. Like what we do? Tip us some Satoshi with the exciting new Lightning Network Tippin.me tool!
Read more: How to tip and receive Bitcoin via the Lightning Network with Tippin.me