BTC approaches $4,000, NEM surges 9%
The top 20 cryptocurrencies are mostly reporting slight gains on the day, with Bitcoin slowly approaching the $4,000 mark again, while NEM is showing an impressive spike of almost 9%.
According to coinmarketcap.com, Bitcoin is up just 0.40% on the day, trading at around $3,955, while its weekly chart, shows that BTC's current price is almost 3% higher than the price at which Bitcoin started the week.
However, the number one cryptocurrency continues to struggle below the $4,000 mark.

Recently Chepicap reported that crypto market analyst Jani Ziedins of the Cracked Market pointed out that if Bitcoin continues to struggle below $4,000, the case for a bull run is fading.
'Bitcoin continues to hover underneath $4k resistance. It wasn't all that long ago we were talking about $9k support, then $8k and $7k. $6k and $5k followed not long after. Now $4k turned from a floor into a ceiling', he said.
Read more: 10 times Bitcoin was declared dead… and survived
Among the top 20 cryptocurrencies, the one experiencing the most notable growth is Nem.
NEM is currently trading at $0.046 and shows an impressive surge of almost 9% on the day. With a market capitalization of $414,433,064, NEM is holding on tight to the 19th spot.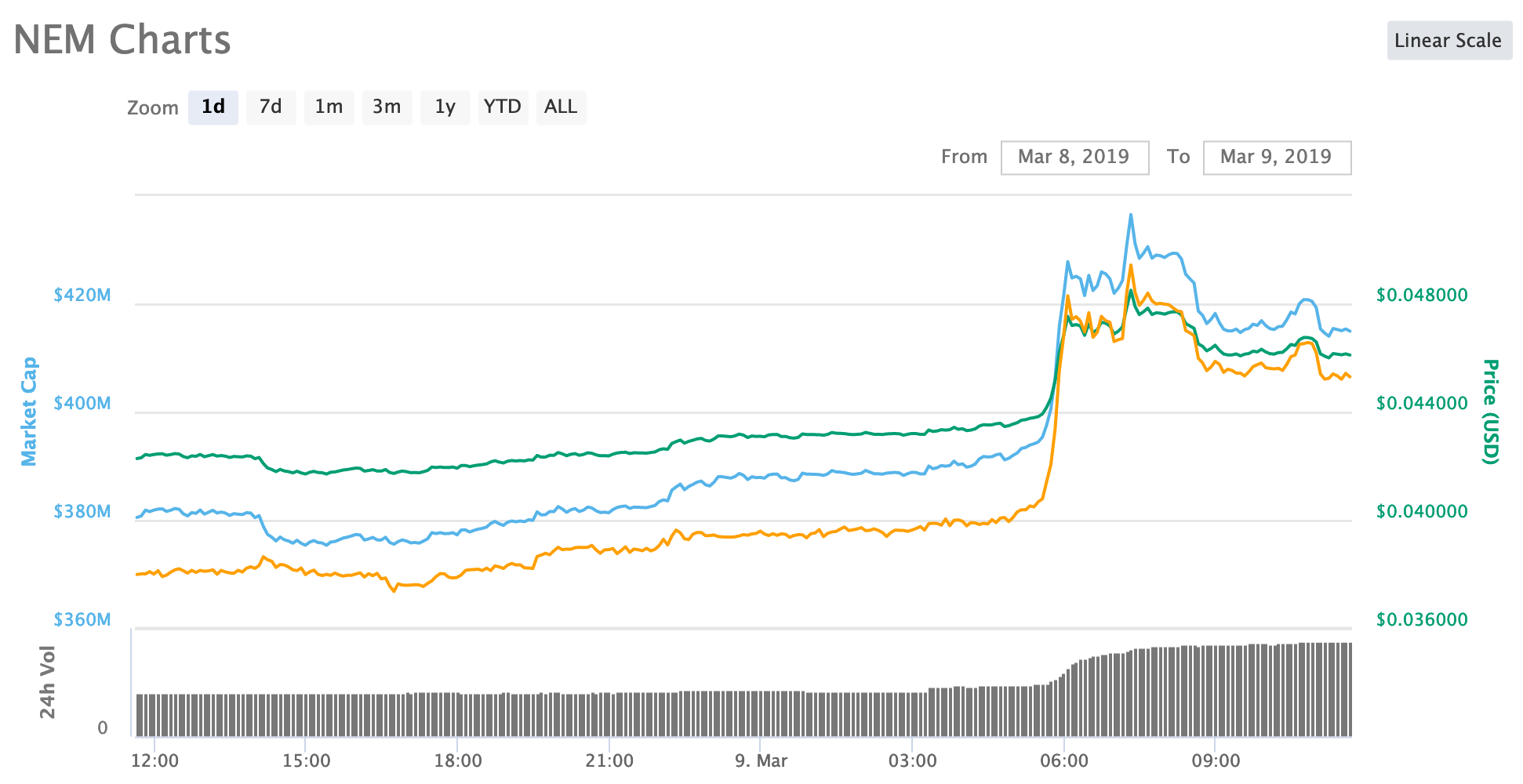 The sudden surge for the 19th most popular cryptocurrency might have something to do with the fact that the company has released an outline of their vision to move the coin forward, including an injection of funding to the tune of 25 million XEM, or about 1 million dollars.
We would like to provide an update now that we are in the process of smoothly shifting to the new structure now that funding has officially begun. We are excited for what the future holds and sincerely appreciate your patience the past few weeks. 🚀 https://t.co/RdXQn5N7Nx pic.twitter.com/zN7qVZfpB7

— NEM (@NEMofficial) March 9, 2019
After recent news about financial struggles, and layoffs, It looks like NEM is now trying hard to re-position themselves well and, if today's prices are any indication, they might just succeed.
In the meantime stick right here with Chepicap for all your cryptocurrency updates!
4 Signals the next Bitcoin bull run may startSubscribe to the Chepicap YouTube Channel for more videos!


Follow Chepicap now on Twitter, YouTube, Telegram and Facebook!
Chepicap is here for you 24/7 to keep you informed on everything crypto. Like what we do? Tip us some Satoshi with the exciting new Lightning Network Tippin.me tool!
Read more: How to tip and receive Bitcoin via the Lightning Network with Tippin.me