Survey: only 3% of Brits hold crypto, but they could reach 10% soon
UK's financial watchdog, the Financial Conduct Authority (FCA) has been spreading today the results of two separated pieces of research, commissioned by the regulator to Kantar and to Revealing Reality.
In quantitiative terms, the most relevant paper is the one authored by Kantar TNS, as it surveyed a "nationally representative sample" of more than 2,000 UK consumers.
The most interesting data is perhaps that about 3% of respondents admitted having purchased crypto in the past. The number is neither promising nor discouraging, as it matches that of other countries which rank similarly in financial terms. Also interesting to note is that up to 7% of respondents were considering the purchase of digital assets in the future.
Regarding investment behavior, it was quite positive to note that not a single responded admitted having borrowed money from financial firms or from friends to acquire crypto. HODLing behavior also appears to be a trend among British crypto investors, as up to 40% of them admitted not planning to sell their assets until 3 or more years, meanwhile about one third claimed never having checked the value of their investment since the purchase date.
There are also quite some relevant differences in crypto appreciation along the United Kingdom. Meanwhile only 19% of the inhabitants of the North West and the West Midlands could identify successfully what crypto is, up to 34% of those living in the East Midlands or the South East were able to reply to the same question.
The most common demographic group for those being able to provide correct definitions of crypto was a male, aged between 20 and 44 years of age, with an AB social grade.
Regarding their first encounter with crypto, up to 23% of respondents admitted having heard first from online news, closely followed at 22% by traditional media.
On the awareness page, there were some bad news: up to 58% of participants mentioned never having heard what cryptocurrencies are. Besides, of those who claimed to know what they are, about one third gave wrong definitions of crypto, as the graph below shows: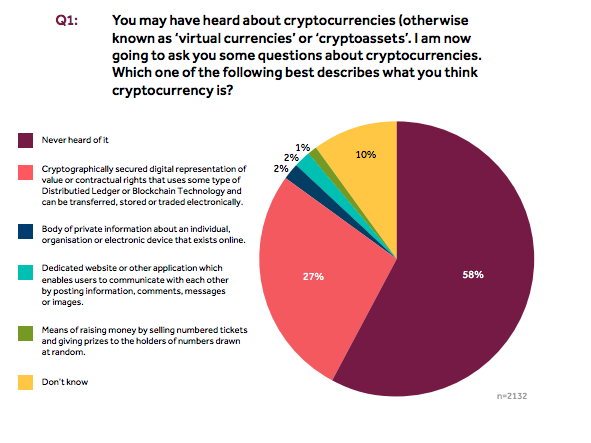 Read more: Survey: 51% of China's economists support a central bank digital currency; Survey reveals almost half of alternative investors think BTC is a bubble


Follow Chepicap now on Twitter, YouTube, Telegram and Facebook!
Chepicap is here for you 24/7 to keep you informed on everything crypto. Like what we do? Tip us some Satoshi with the exciting new Lightning Network Tippin.me tool!
Read more: How to tip and receive Bitcoin via the Lightning Network with Tippin.me