AmazonCoin? GoogleCoin?: 5 potential corporate cryptocurrencies
Corporate coins or permission blockchains (whichever term takes your fancy) are cropping up in numbers. The notion of cryptocurrency created by a corporation is nothing new, but jumping into the cryptocurrency industry is apparently more and more appealing to these firms. So, which corporate cryptocurrencies will be next? Google Coin? Amazon Coin?
Far from the where we were a year ago when hype and speculation reigned supreme, the start of 2019 has been mostly a time of mature reflection, with the industry humbled after a rocky 2018.
This maturity is reflected in quasi capitulation to the bear market and a willingness to build despite it. This continued effort to build in the face of adversity hasn't gone unnoticed and far from what was deemed by some as a 'Ponzi scheme' or 'fad' last year has multi-billion dollar companies turning their heads to get a piece of the action.
Disclaimer: Now, as it'll be made painfully obvious in any comment section on any article which includes the term "corporate cryptocurrencies," no these aren't technically cryptocurrencies.
The term 'cryptocurrency' is defined by the Merriam-Webster dictionary below:

These corporate "cryptocurrencies" will most likely be centrally controlled, and therefore can't technically be classified as cryptocurrencies, blah, blah, blah.
Enough with the semantics. We're sticking with cryptocurrencies.
With that out of the way, here are 5 potential corporate cryptocurrencies and how they could benefit the crypto industry
Facebook Coin (or Zuckbucks, please, let it be Zuckbucks.)
Obviously, this isn't a potential cryptocurrency because the potential has been realized and the project is a go (we couldn't simply leave it out though). Facebook is one of the first companies to announce a corporate cryptocurrency, or as it turns out, a stablecoin.
A few days ago the New York Times revealed a little more insight into the venture, describing that facebook coin would be backed by currencies worldwide in order to remain stable.
Read more: 'Facebook Coin' might be ready to trade in first half of 2019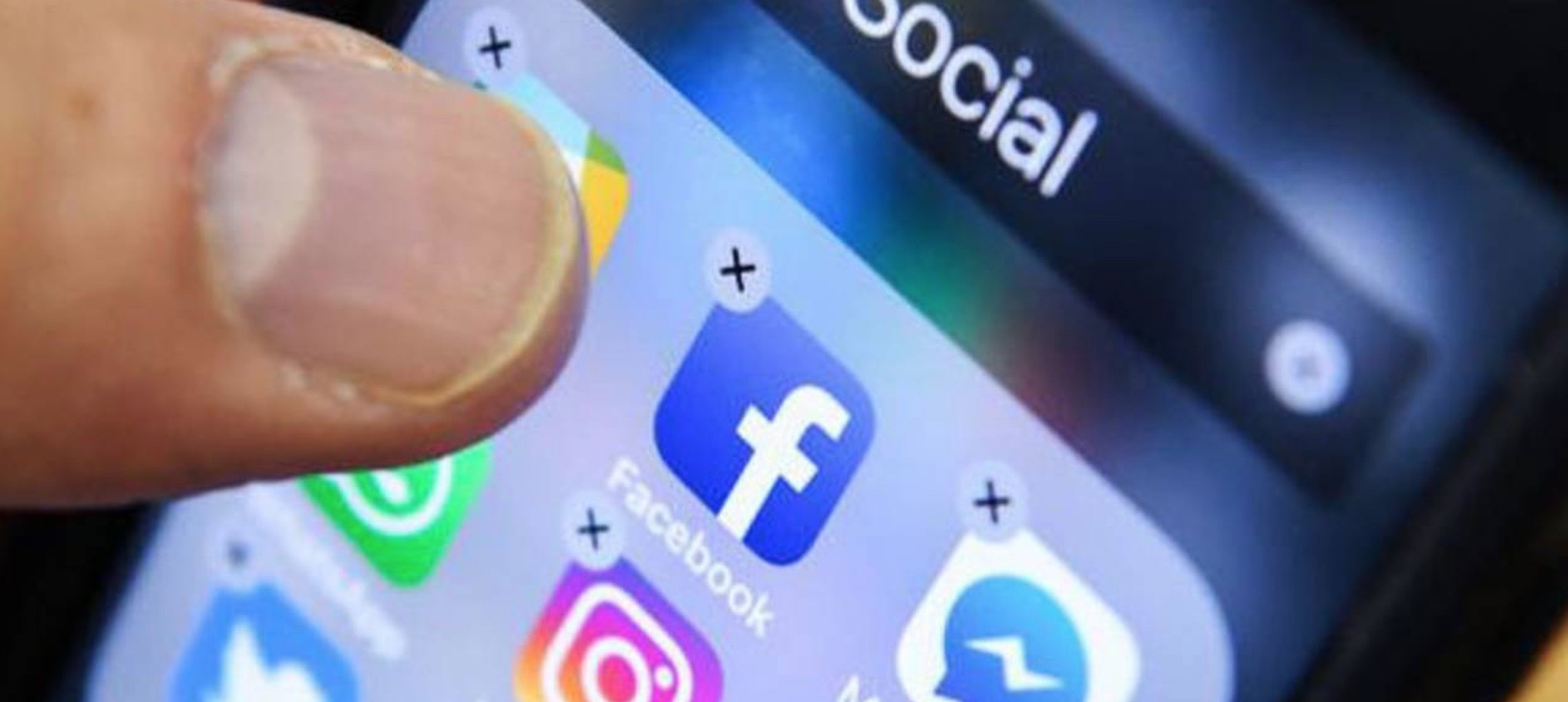 Facebook's foray into crypto is said to exploit the benefits of digital assets and their utility as a medium of exchange, allegedly integrating the stablecoin across Facebook's messaging platforms, including WhatsApp Instagram messages and of course, Facebook Messenger.
With an accumulated 2.7 billion monthly users across its various platforms, Facebook coin could potentially become one of the most widely used cryptocurrencies in the world.
It's fair to say that this would undoubtedly spell critical mass for the wider crypto industry.
JPM Coin
Of course, we had to mention JP Morgan's little venture into crypto.
Read more: What does JPM Coin mean for Ripple and the wider crypto industry?
What's not to love about JPM Coin? well, quite a lot actually, but we'll leave it to Brad Garlinghouse, CEO of Ripple, to explain why JPM Coin is both a resounding failure and a brilliant thing for the crypto industry:
Brad Garlinghouse on JPM Coin.

"Just use the Dollar?" 😂😂😂 pic.twitter.com/Lwd8VsMx4H

— ӾⱤ₱-₳₭Ⱡ (@XRPAKL) March 6, 2019
What Garlinghouse so eloquently points out is that JPM coin holds little real-world value to anyone, including clients of JP Morgan. JPM Coin set out to create an intrabank settlement stablecoin with all the benefits of blockchain technology but without any of the benefits a cryptocurrency i.e decentralization - but who needs that when your stable coin is only going to be used within a closed ecosystem by no one other than your own company.
Read more: JPMorgan set to move its in-house cryptocurrency to real-world trials

JPM Coin, in its current capacity, achieves very little, besides the fact that it is actually a pat on the back from a (former?) detractor of cryptocurrencies. JP Morgan has effectively conceded that crypto is useful; in fact, they like it so much they made their own…
Amazon Coin
The notion of an Amazon creating a cryptocurrency has been toyed with, prayed for and speculated upon for time immemorial; it was once even prophesied by Changpeng 'CZ' Zhao, CEO of Binance, that Amazon accepting or indeed issuing crypto would usher in the next bull run.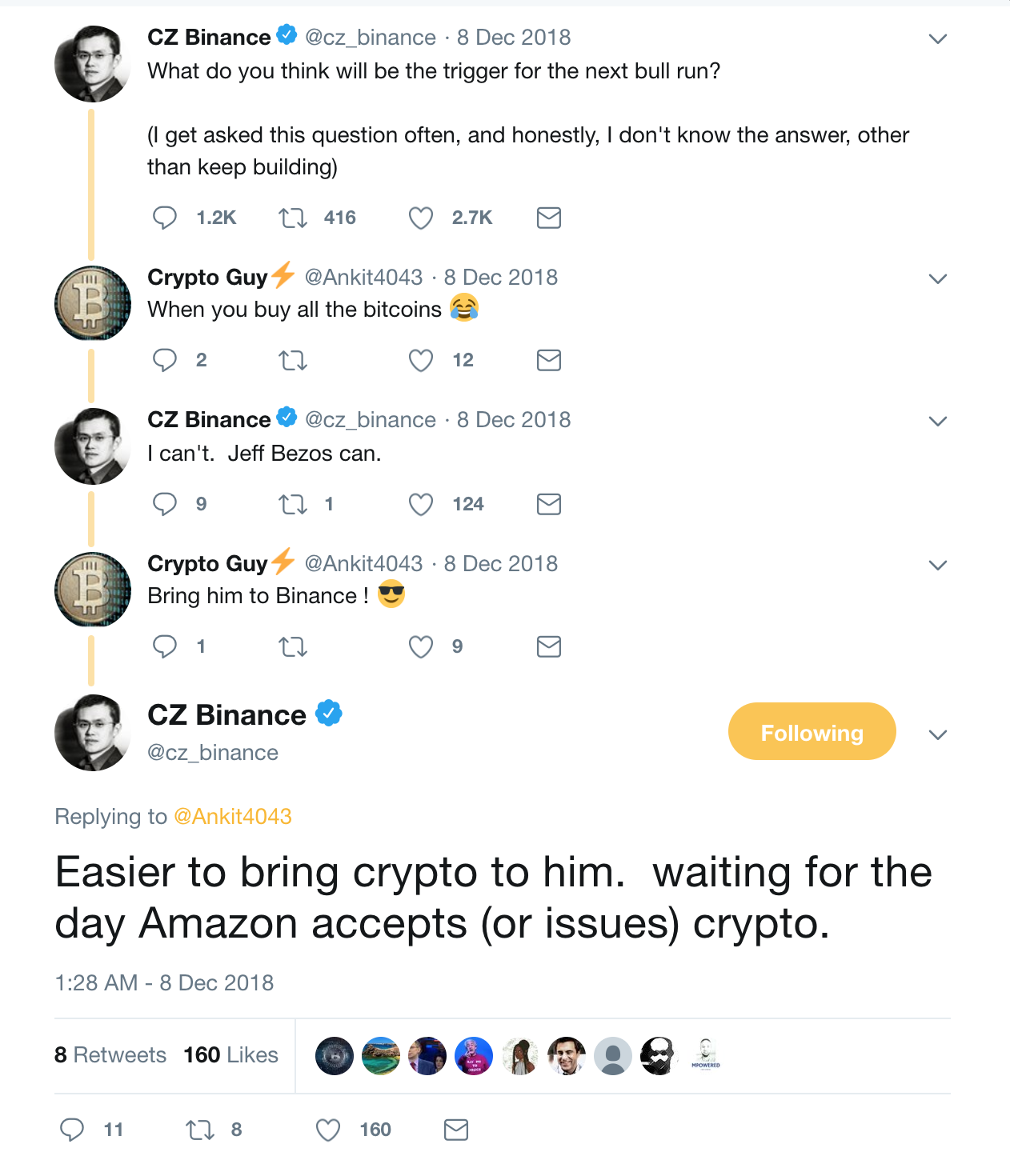 Amaz(on)ingly the multi-billion-dollar marketplace already registered for three crypto related domain names back in 2017:
- amazoncryptocurrency.com
- amazoncryptocurrencies.com
- amazonethereum.com

However, it was noted that Amazon may have registered these domains to simply protect the brand name, or even to avoid confusion with the pre-existing … Amazon Coin.
Yeah, one thing we forgot to mention is that Amazon already has a digital currency used for purchasing items on the Amazon Appstore. However, once bought its irredeemable cannot be transferred … so, it doesn't count.
Would anyone actually use Amazon Coin bucks? Well, interestingly we can already semi gauge just how popular a cryptocurrency by Amazon would be.
Thanks to a survey carried out by LendEDU last year revealed that over 51.7% of all respondents would be open to using an Amazon crypto, 26.4% being unsure and 21.9% saying no.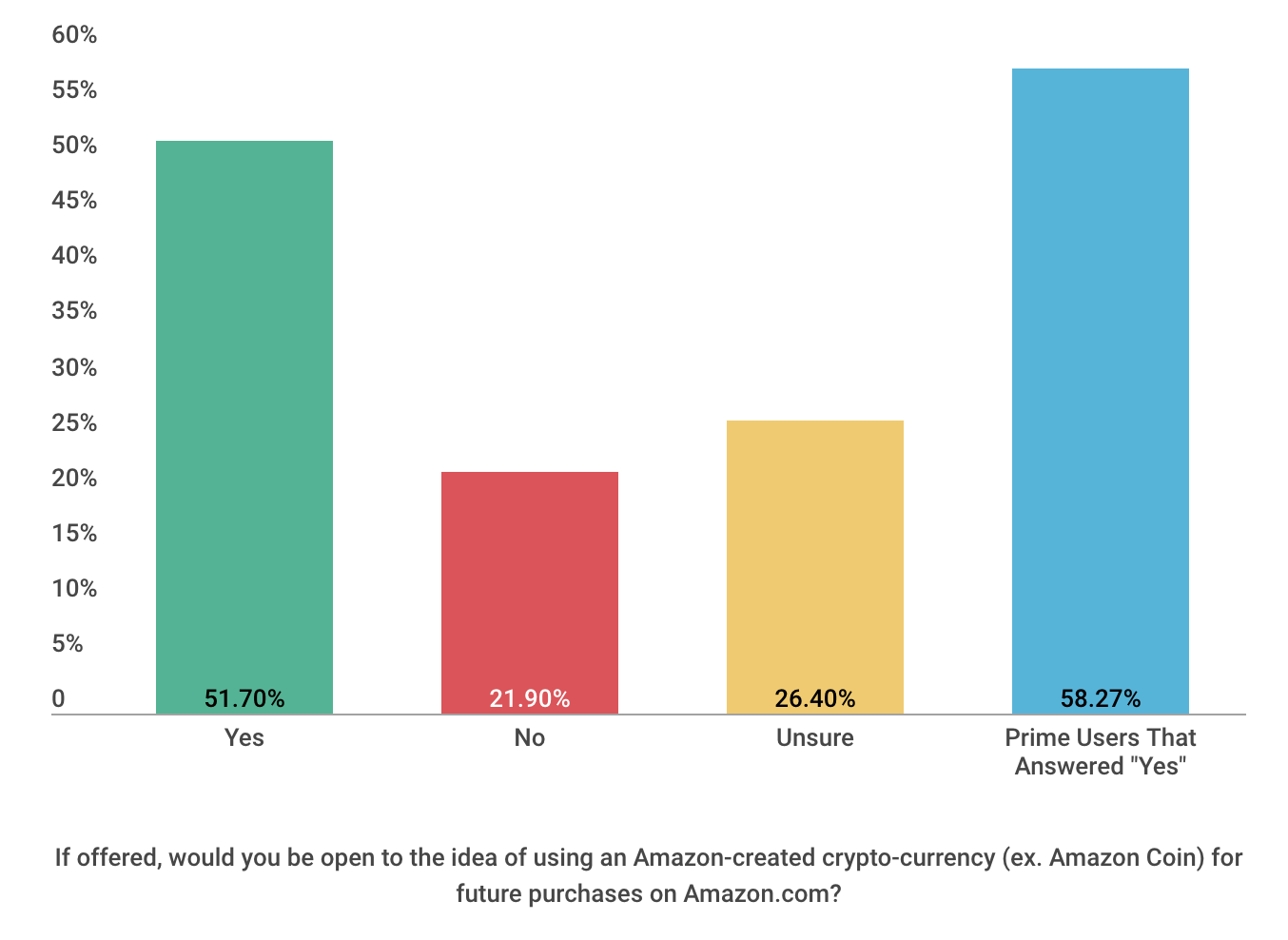 So with User adoption, pretty much a guarantee, all that is left to discuss is how much Amazon would benefit from issuing its own crypto. Thankfully, CZ also pointed these benefits out it's It is "easier, faster and cheaper to integration than traditional payment gateways," adding that it requires "less paperwork and reaches more diverse demographic and geography."
Amazon will have to issue a currency sooner or later.

— CZ Binance (@cz_binance) February 2, 2019
As of the last reported period, back in 2016, Amazon had 310 million active customers, this figure is almost guaranteed to be much larger; even so that's a conservative estimate of 310 Million users exposed to the benefits of using a (lesser) form of cryptocurrency.
Apple Coin
This isn't as far fetched as it seems, in fact, Apple has already tried its hand at its own cashless ecosystem, dubbed Apple pay.
This is effectively Apples answer to crypto, a virtual currency stored in a digital wallet, used for instantaneous peer to peer transfers without exorbitant fees (sound familiar?)
So why would they need to create a crypto then?
Apple pay still needs to be connected to a debit or credit card, effectively meaning that they're still required to pay processing fees, no matter how much of a good deal they managed to swing, this is still going to mount up. Furthermore, not all banks accept the apple pay cutting off a small chunk of potential users.
Instead, Apple could easily capitalize on the cryptocurrency trend, by creating their own crypto and integrating it into their pre-existing payment ecosystem.
According to Estimates from Loup Ventures, as of 2017, there are an estimated 250 million users of Apple Pay, that's 250 million people potentially using apples own cryptocurrency.
Furthermore, this idea makes sense, its what apple does best, taking convoluted technologies and simplifying them for mass adoption.
Interestingly, Apple's Co-founder Steve Wozniak is already a keen supporter of cryptocurrencies, speaking positively on both Ethereum and Bitcoin in the past, hoping BTC becomes a global currency, and calling Etherum, the "Apple of cryptocurrency"
Read more: Steve Wozniak: Blockchain is the next major IT revolution

Google Coin
Google – and its parent company alphabet - has been a pioneer of revolutionary technology since its emergence, experimenting with augmented reality with Google Glass, as well as toying with artificial intelligence via Google AI; but for some reason, the notion of a cryptocurrency doesn't seem to appeal to the company.
Although it did recently put a BTC symbol on its keyboard…
Wow I just noticed that the ₿ symbol is now the first currency when u long press $ on Google keyboard...

Does everyone know this? Bitcoin is becoming pervasive everywhere @APompliano pic.twitter.com/2hWDuBit3X

— JP [ ₿⚡️] (@jpthor__) February 18, 2019
And of course ripped into investors in a recent ad:
While Google has (mostly) ignored cryptocurrencies, even banning adverts for them, it hasn't ignored their underlying technology, with the Google Cloud Platform forging partnerships with numerous blockchain based companies, most recent of which enabling the development of smart contracts on Google Cloud via Ontology:
You can now develop Ontology smart contracts on Google Cloud, AWS, and Azure https://t.co/5FeRqc0kES $ONT $ONG

— Ontology (@OntologyNetwork) February 23, 2019
it seems to be a logical progression for Google to either accept cryptocurrencies or create their own, for use within Google Play, Google Cloud and further throughout Google's burgeoning infrastructure.
Furthermore Much like Apple, Google has its own digital payments platform known as Google Pay, which similarly to apple pay could benefit from the use of a native cryptocurrency; especially in order to transcend fees and negate the issue of bank approval.
The potential list of corporate cryptocurrencies knows no bounds: eBaycoin, Alibabacoin, Samsungcoin, not to mention the plethora of potential bank coins.
Read more: Samsung crypto wallet: 6 coins that are potentially involved
There are some who believe these corporate cryptocurrencies would look to make Bitcoin and other cryptocurrencies obsolete, but the plain fact is, as stipulated in the earlier disclaimer, these are not cryptocurrencies, they walk, talk and act like cryptocurrencies but have none of the fundamental attributes that make assets like Bitcoin, truly valuable. These corporations will bring mass adoption to the crypto industry, and once those users realize the true benefit of 'real' cryptocurrencies, there will be no going back.
Read more: Binance CEO: Amazon will have to issue a cryptocurrency "sooner or later"
Follow Chepicap now on Twitter, YouTube, Telegram and Facebook!
Chepicap is here for you 24/7 to keep you informed on everything crypto. Like what we do? Tip us some Satoshi with the exciting new Lightning Network Tippin.me tool!
Read more: How to tip and receive Bitcoin via the Lightning Network with Tippin.me