Report shows Binance gaining market share, up to 52%
A new report from Diar has come out that explores how despite an overall shrinking market, Binance has recently been able to capture up to 52% of market dominance, as other exchanges continue to shrink.
The report does explain that Binance itself has shrunk as well, but slower than some other exchanges, allowing for a relative growth inside of the market. After reaching a previous high of 53% last year, Binance is back on the rise and up to 52% once again.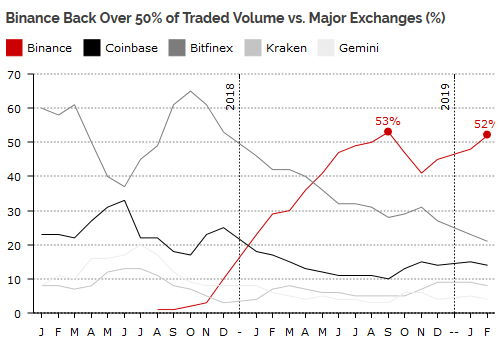 Despite this, Binance is experiencing lows in volume not seen since before the 2017 bull run.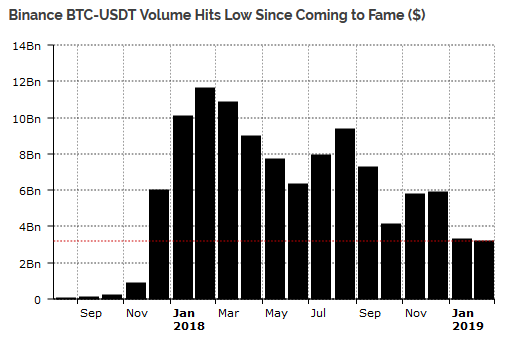 However compare this to Coinbase's trading volume, which last month was under 1 billion.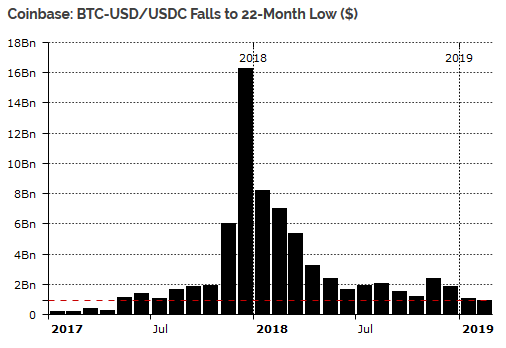 Ultimately, despite the downturn in the market, Binance has managed to carve out a larger chunk month by month. It is hard to say if this type of growth can last, or what it may mean when the next bull run hits. Stick with Chepicap for all updates on Binance's share of market volume!
Read more: Binance and the Argentine government to co-invest in blockchain projects
What has caused the latest Binance Coin (BNB) pump?Subscribe to the Chepicap YouTube Channel for more videos!


Follow Chepicap now on Twitter, YouTube, Telegram and Facebook!
Chepicap is here for you 24/7 to keep you informed on everything crypto. Like what we do? Tip us some Satoshi with the exciting new Lightning Network Tippin.me tool!
Read more: How to tip and receive Bitcoin via the Lightning Network with Tippin.me