5 reasons it's not too late to get into crypto
With last year marking the 10-year anniversary of Bitcoin, and many in the crypto community claiming that the market will never see the highs of 2017 again, it would be easy to assume that cryptocurrencies are over; but that couldn't be further from the truth, and with that said, here are 5 reasons it's not too late to get into crypto.
1. Because CZ says so
If there's anyone who knows about timing in the crypto market, it's Changpeng 'CZ' Zhao. The Binance CEO became the first cryptocurrency billionaire by launching the most popular trading platform just as the historic BTC bull run was starting.
That's exactly what I thought back in 2013, "damn, I am too late. I wish I started early like those other guys." and I will say the same thing I heard back then. We are still early, the beginning of the beginning.

— CZ Binance (@cz_binance) February 9, 2019
CZ recently posted on Twitter about how he first got involved with crypto. A friend turned him on to the idea in 2013 when Bitcoin was already five years old. Back then he was kicking himself for not getting on board sooner, but presumably, he doesn't feel so bad about that anymore. Could you be in the same position, in a few years' time?
Each time Bitcoin has crashed 70%+ the following cycle peak has been 5.1-16.89 times higher than the previous.

If that happens again then the next all time high will be roughly $102,000 - $336,000.

Roll the dice & take the risk - Buy Bitcoin.

— $carface (@TraderScarface) March 2, 2019
An interesting post recently shared by CZ was a retweet from @TraderScarface. It pointed out that every BTC crash of 70 percent or more (such as the one from the start of 2018 to now), was subsequently followed by a cycle that went even higher than the previous peak. According to this bullish prediction, we could see a BTC price of at least $100,000 sometime in the future - this would be a 2500% return on an investment made today (March 5, 2019). How does that sound?
Read more: Why it's good you're still in cryptocurrency in 2019
2. The market share is still very small
At the time of writing, the total cryptocurrency market capitalization is $131 billion. Bitcoin's total market cap makes up just over half of this, at $68 billion. These are some impressive figures for a relatively new market phenomenon, but there's still a long way to go. If you think it might be too late to get involved with the crypto market, it's worth considering just how much room it has to grow.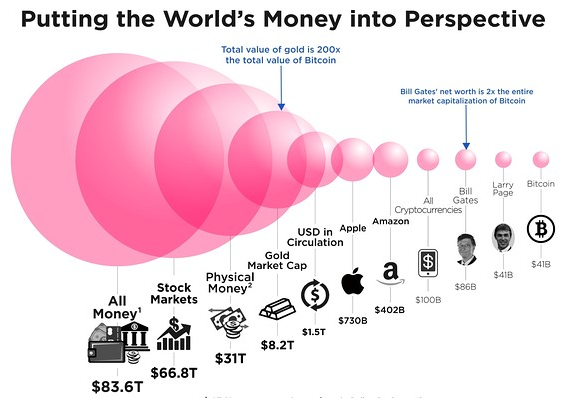 This useful infographic gives a clearer perspective on the crypto market's total share of global capital (although the figures are a little out-of-date). Amazon and Apple are far ahead of crypto, providing innovative services and products that allow them to corner their respective markets. Anyone who invested in them a decade or more ago would likely have seen an impressive return by now.
However, Bitcoin and crypto are competing in a different field to these two modern powerhouses of capitalism. The currency and assets market is a much broader field, and any success there has the potential to be significantly greater. The main relevant competitors to the crypto market are the US Dollar and other fiat currencies, gold, and other types of stocks. As things stand, these are all greatly outpacing crypto - but they had a massive head start, let's not forget.
Read more: Will Bitcoin replace fiat money?

Gold was for a long time used as a reserve to back the US Dollar and other fiat currencies, and it is still seen by many investors a crucial store of value due to its material properties as well as the effort involved in mining it. Designed to have a similarly limited supply, Bitcoin (BTC) is seen by many in the crypto space as an even better store of value than gold. If some of the investments made in gold were to be transferred to Bitcoin instead, this could lead to huge potential growth for BTC.
This goes for the Forex and stock markets too. The total global gold market is worth over $7 trillion, physical cash worth over $30 trillion, and stocks worth over $60 trillion. Bitcoin would only need to take a relatively small fraction of these market shares to see some astronomical gains - and you wouldn't want to be late to that party.
Read more: Is Bitcoin at $1 million really possible?


3. Institutional money is coming
The prospect of widespread institutional investment in crypto has been discussed for years, ever since the perception of Bitcoin shifted from a low-key experiment in digital cash to a genuinely useful new financial technology and a potentially lucrative investment opportunity.
In the wake of the 2017 bull run, some big financial firms stepped into the space and several multi-million dollar crypto funds have emerged, but most institutions are still wary of such a radically new type of asset. Concerns over price volatility and market manipulation are holding back investors, as are security issues and a general lack of understanding of the underlying technology.
This could all change relatively soon. Later in 2019, Fidelity is due to launch its new Fidelity Digital Assets Service (FDAS), a custodial solution for institutions looking to invest in crypto without having to deal with the technology directly.
Read more: 5 ways Fidelity and Bakkt could change cryptocurrency in 2019; What exactly is a Bitcoin future, and what will they mean for crypto?

Our mission is to build the first integrated, institutional grade exchange-traded markets and custody solution for physical delivery of digital assets

— Bakkt (@Bakkt) January 16, 2019
The much-anticipated Bakkt project will also go live later in the year, launched by the Intercontinental Exchange, which runs the New York Stock Exchange amongst other trading platforms. It encompasses new crypto storage services, as well as the first-ever physically settled Bitcoin futures, which will bring crypto trading closer in line with the Forex market that institutional investors are more familiar with. Bakkt is also leveraging Microsoft's Azure cloud technology and has established a partnership with Starbucks that should usher in a new era of crypto adoption in retail.
Starbucks received equity in @Bakkt in return to allow bitcoin payments in store.

Bitcoin soon to be legitimized in the eyes of 100M customers a week.

Mobile payments:
Starbucks: 25M
Apple Pay: 24M
Google Play 12M

Paying for coffee with bitcoin is as mainstream as it gets. 🚀

— Alec Ziupsnys (@AlecZiupsnys) March 4, 2019
Also, there are a number of new proposals for exchange-traded crypto funds (crypto ETFs) being submitted to the Securities and Exchanges Commission (SEC) later in 2019. With the new standards of professionalism and security introduced by the space by Bakkt, it will be a lot more likely that an ETF will be approved. Once it is, the institutional money should start flooding into crypto. Now is the perfect time to ensure that you get in ahead of it.
Read more: Why hasn't the SEC approved a Bitcoin ETF yet?


4. Another recession may be on the way
Many are predicting that the global financial markets could see another significant crash in the next year or so. A number of the factors that led to failures of many major banks back in 2008 are still to be properly addressed. This time around, corporate debt could replace mortgage debt as a catalyst for a recession. There are also concerns over Brexit, as the world's fifth-largest national economy prepares to leave the European Union with very few plans as to how it will proceed. The US-China trade war could also escalate further under Trump's leadership.
If another recession does happen, this could prove to be a good thing for the crypto market. As Bitcoin is seen by many to be a 'safe haven' asset with good liquidity, similar to gold, investors could move their money into it as a good store of value in an uncertain market. Although still relatively new, it has shown very little covariance with other asset classes so far, and Horizon's Robert Viglione has claimed that "crypto is...a decent hedge on all of the macroeconomic insanity".
2008's Great Recession was what led Satoshi Nakamoto to create Bitcoin in the first place, heralding a new era of financial technology to protect people against the bad decisions of central banks and the dangers of excessive inflation. If another recession comes around, it could bring the next phase of the cryptocurrency revolution - and anybody getting into the market now would be part of its vanguard.
Read more: What happens to Bitcoin if the stock market crashes?


5. BUIDLing never stops
Now in existence for over 10 years, cryptocurrencies have stood the test of time. Many security compromises and market crashes have come and gone, and the crypto space has been resilient due to an unwavering faith in the underlying technology. But if you compare it to almost any other technological innovation, crypto is still a relatively new phenomenon, with huge room for improvement.
Developers of all kinds are working constantly to assure that cryptos are increasingly fit for their specific purposes, and adoption will grow as use cases become clearer and more common. Scalability is one of the problems that most urgently needs to be solved for many cryptos. After the huge boom of the last few years, an increase in traffic on many crypto networks served as an ideal opportunity to develop new ways to process transactions in as fast and efficient a way as possible.
For Bitcoin (BTC), SegWit and the Lightning Network are now used in over 35 percent of transactions, over twice as many as just one year ago. This helps the network to process payments faster than ever before. The faster the network is, the more use cases Bitcoin will have and the more valuable it will become.

With a major technical upgrade recently implemented, Ethereum (ETH) has also gone some way to resolving its own scalability issues. It is also due to pivot into a proof-of-stake (PoS) system sometime soon, which will go some way towards reducing the harmful environmental impact that many use as a criticism of crypto in general. One network that is already using PoS is EOS, a network specifically designed for maximum scalability. If EOS developers can resolve its security issues, then it too will drive further adoption by showing what crypto is capable of in terms of processing payments.
Tron (TRX) is another crypto network that is growing exponentially and will have more and more use cases as it develops. It is designed for the online content eco-system, which is one that could be well-suited for decentralization technology, and Tron's recent partnership with BitTorrent shows the potential for further expansion. The BitTorrent Token (BTT) project that works in tandem with TRX could, if successful, bring a significant share of the 100 million BitTorrent user base on board with crypto.
Read more: What does the launch of BitTorrent's BTT mean for TRON?; BTT - What is BitTorrent's new cryptocurrency token actually for?
As technical expertise grows and developers build on what has already been achieved, use cases for existing cryptos will continue to grow and adoption will increase with them. New cryptos will also proliferate, designed for more specific or innovative purposes, many of which may presently be difficult to imagine. Any new crypto enthusiast who gets involved at this stage should see their faith rewarded handsomely, further down the road.
Read more: What could make Bitcoin go mainstream again?; Is Bitcoin dead? 8 reasons why it is NOT; 9 Bitcoin price predictions for 2020 by crypto experts



Follow Chepicap now on Twitter, YouTube, Telegram and Facebook!
Chepicap is here for you 24/7 to keep you informed on everything crypto. Like what we do? Tip us some Satoshi with the exciting new Lightning Network Tippin.me tool!
Read more: How to tip and receive Bitcoin via the Lightning Network with Tippin.me