Price Analysis: Is Litecoin leading Bitcoin to new rally above $4000?
Today saw a nice bump for both Bitcoin and the whole market, but by far Litecoin outperformed Bitcoin by many percentage points. Some have pointed out that Litecoin tends to lead bull runs before Bitcoin, and there is a chance that could be happening again. Let's take a closer look at both coins and see what people are saying.
Highlights:
- Bitcoin is up 3.22% today and Litecoin is up 12.15%.

- Bitcoin seems to have left ascending channel and is stuck between about $3800 and $4000.
- Litecoin is attempting to stay in its ascending channel but has met resistance about $52.
- If Bitcoin can break back above $4000, we may have momentum to push to $4400.
- If Litecoin can break $52, it looks good up through $58.
Read more: Hope, panic, anxiety? Where is Bitcoin in this current market cycle?
Looking at Bitcoin on the daily we can see that after spending some time in a new, upward trending channel, Bitcoin seems to have found a comfortable sideways channel between $3800 and $4000 (or $3700 and $3900 on Coinbase here). It seems there is considerable resistance at the $4000 level, but we can see the 100 day MA is also providing some solid support as it is aligning nicely with the bottom of the channel.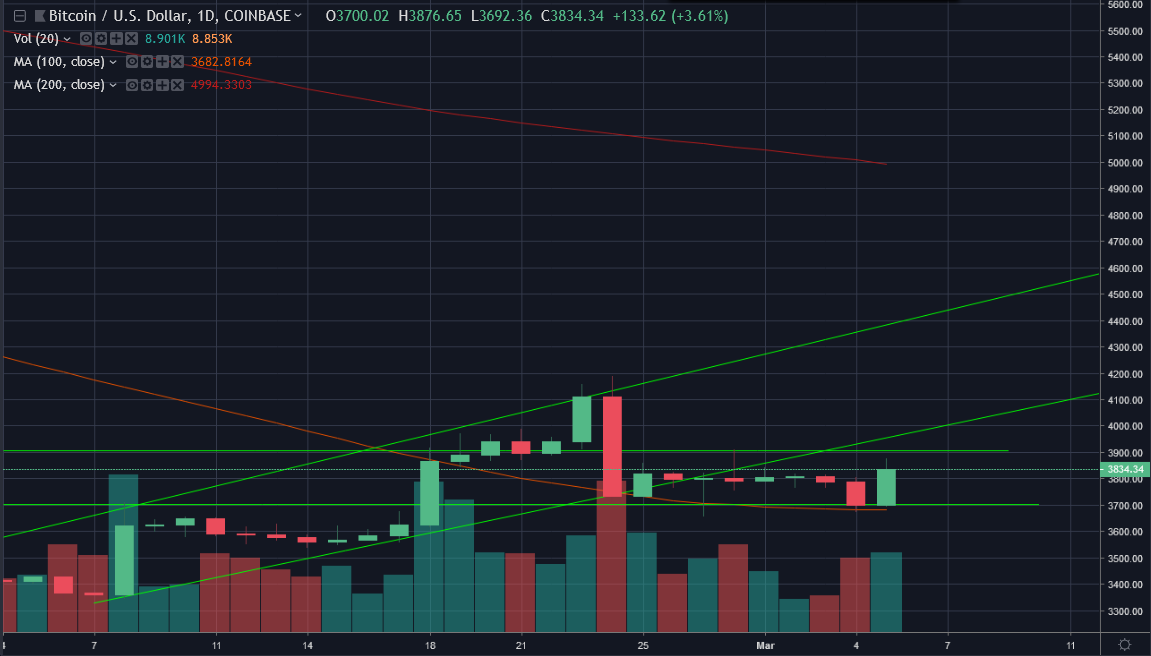 Litecoin on the other hand does seem to be firmly still within the bounds of the ascending channel it has formed recently, and todays bump is seeing it hit resistance at the $52 level. There is a good deal of optimism that if it can push above $52 we may test up to the top of the channel.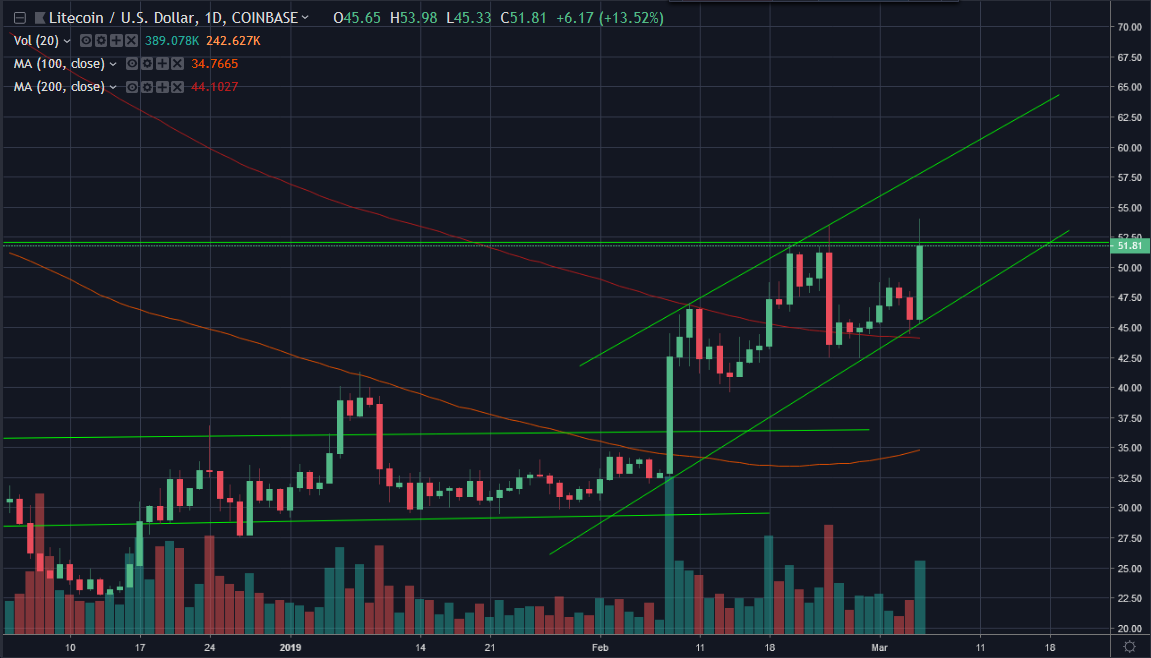 Bull Scenario:
Bitcoin breaks above $4000 and Litecoin above $52, which would see Bitcoin back into its ascending channel, possibly testing up to the top at about $4400, and Litecoin towards the top of its own channel, at about $58.
Bear Scenario:
Bitcoin is rejected at $4000 and Litecoin at $52, sending Bitcoin down to the recent support at $3800 and Litecoin to the bottom of its channel, between $45-$46.
It has been noticed by Coindesk Markets that there is a tendency for Litecoin to bottom with Bitcoin, and then precede Bitcoin in the following market bull run. If this trend holds, it is possible that is what we are seeing now, although most traders would likely wait for confimation before moving on such info.
#litecoin bottomed out at roughly the same time as #bitcoin in 2015, but $LTC's trend became bullish well before $BTC/USD.

It looks like a similar development could be occurring now pic.twitter.com/fUBNbZq4FS

— CoinDesk Markets (@CoinDeskMarkets) March 5, 2019
All around twitter people were responding to todays price action, and much of the sentiment was positive:
$BTC #Bitcoin Daily - Has real potential to test the top of the megaphone around $4600 pic.twitter.com/H14cA5QL5F

— Cheds Trading [Cancer Fighter] (@BigCheds) March 5, 2019
Why #bitcoin will not drop under $2k:
1) Miners already capitulated (difficulty -25% Nov/Dec)
2) Too close to the Halving (14 months)
3) BTC never dropped below geometric mean ($2750)
4) BTC never dropped below 50% of stock-to-flow model ($5500)
5) RSI bottomed at (42) now rising pic.twitter.com/qJyFvKQcLQ

— planB (@100trillionUSD) March 5, 2019
However some people cautiously pointed out that we aren't sure the down-times are over:
While this path is less bullish in the immediate, let's consider - what if we are to fill out another, third, falling wedge?

Just an idea$BTC #Bitcoin $crypto pic.twitter.com/DmyiuVYRAG

— The Crypto Dog📈 (@TheCryptoDog) March 5, 2019
Whether this is the precursor to the next bull run or just another hiccup during crypto-winter, be sure to stick with Chepicap for all your cryptocurrency price analysis!
What has caused the latest Binance Coin (BNB) pump?Subscribe to the Chepicap YouTube Channel for more videos!


Follow Chepicap now on Twitter, YouTube, Telegram and Facebook!
Chepicap is here for you 24/7 to keep you informed on everything crypto. Like what we do? Tip us some Satoshi with the exciting new Lightning Network Tippin.me tool!
Read more: How to tip and receive Bitcoin via the Lightning Network with Tippin.me