QuadrigaCX world news now: BBC reporting on missing $137M
Weeks after the QuadrigaCX gate started, there is still a lot unclear about the missing $137 million worth of cryptocurrencies after the death of the founder of the exchange, Gerald Cotten. Now even one of the world's leading news platforms, the British Broadcasting Corporation BBC, has started reporting about the Quadriga situation.
In an article published earlier today, 'Mystery as Quadriga crypto-cash goes missing', the BBC describes how the efforts to recover millions in cryptocurrencies after the death of Cotten have 'hit a snag'. Earlier this week, it was discovered by Ernst & Young that the cold storage wallets that belonged to Cotten are all empty. These wallets were supposed to contain the funds that were inaccessible for the exchange because only Cotten had the private keys to enter those wallets.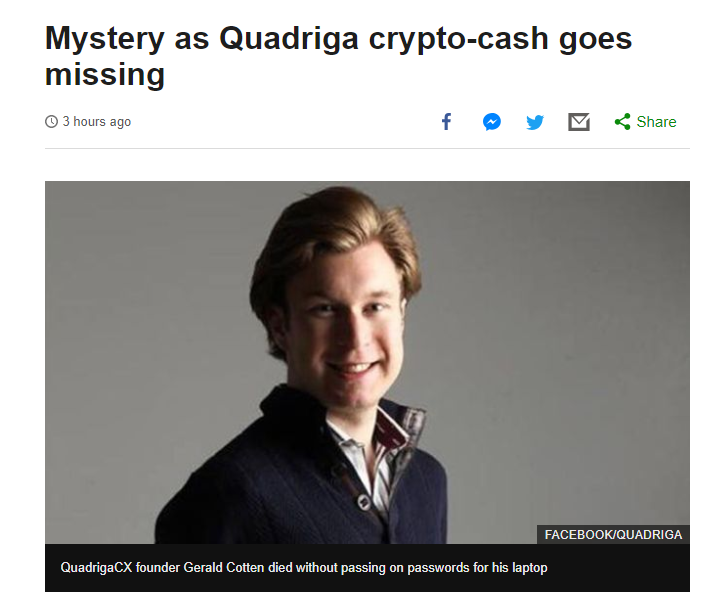 With even the BBC now reporting on the matter, the QuadrigaCX drama is introduced to a wide range of people who haven't been looking into cryptocurrencies yet, and will be reluctant to after reading about Quadriga losing so many funds, with the option of an exit scam still on the table.

If you are here because of the BBC article: there is so much more to cryptocurrency than what the mainstream media reports on... Don't let this scare you off and read more about what cryptocurrency is truly about, and could do for you. And as always: do your own research!

Read more: What are the hottest cryptocurrency trends for 2019?
WATCH: QuadrigaCX Conspiracies - What is REALLY going on?! Subscribe to the Chepicap YouTube Channel for more videos!


So what's the deal with QuadrigaCX?
The story of Quadriga CX is a confusing one, and one with many questions still left unanswered. Let's begin where it all started. On January 14, Jennifer Robertsen, the widow of QuadrigaCX founder Gerald Cotten, released a statement announcing the death of Cotten. In the statement, Robertson said: "Gerry died due to complications with Crohn's disease on December 9, 2018, while traveling in India, where he was opening an orphanage to provide a home and safe refuge for children in need."

Read more: Who is Gerald Cotten, the allegedly dead co-founder and CEO of QuadrigaCX?
Two weeks later, on January 29, the QuadrigaCX gos offline because of 'unannounced system maintenance upgrades'. The crypto community started talking about a possible exit scam, and two days after the exchange goes offline, Jennifer Robertson shared the news that 'Quadriga's inventory of cryptocurrency has become unavailable and some of it may be lost.'
Cotten was the custodian of 26,500 Bitcoin, 11,000 Bitcoin Cash, 11,000 Bitcoin Cash SV, 25,000 Bitcoin Gold, around 430,000 ETH, and roughly 200,000 Litecoin. He held the private keys to the wallets containing these funds, and was the only person who knew what the private keys were and therefore the only one who could access the wallets.
Is this normal for cryptocurrency exchanges?
No! Such large amounts of funds, especially when belonging to investors, should never be accessible for one single person only. Even Cotten himself said it years before he died: "It's like burning cash in a way. Even the U.S. government, with the biggest computers in the world, could not retrieve those coins if you've lost the private key. It's impossible to retrieve those." That being said, when you buy cryptocurrencies it is better to always have it in your own possession. When keeping it on an exchange, you actually do not hold the keys to your funds. Watch this great video by Bitcoin expert Andreas M. Antonopoulos to learn more about this.
Could it have been an exit scam?
Now, ever since the Quadriga gate started, there is talk of an exit scam in the space. The crypto community found out shortly after the exchange closed down that the co-founder of QuadrigaCX, Michael Patryn, was in fact Omar Dhanani, a convicted criminal charged with fraud for his role in operating an online marketplace for identity theft. He was released in 2007.
Next to that, there were suspicions Gerald Cotten didn't die at all, and left with the funds. On February 6, the Indian death certificate of Cotten was released to prove his death.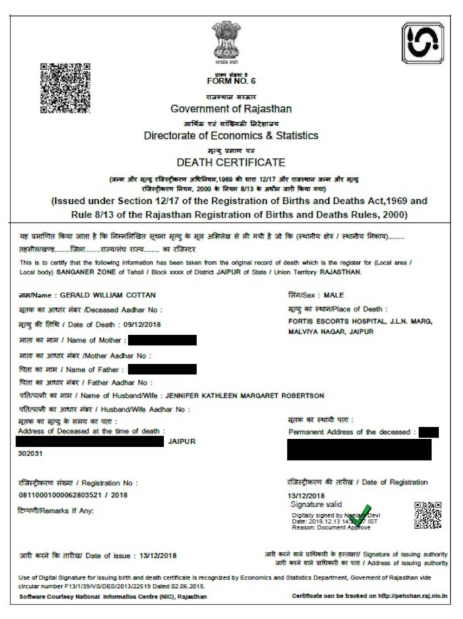 According to a close associate of the widow, Jennifer Robertson, it was very hard for her "to lose your husband, to then face the turmoil and fallout effect of that on the business you grew together while you are grieving for that loss is an enormous burden for anyone's heart to take."
At the same time, there is a lot of discussion about the role of Robertson in the QuadrigaCX saga. Twelve days before the death of Cotten, the Quadriga CEO filed a will listing substantial assets. The name of the deceased Cotten was removed from 4 properties located in Nova Scotia, Canada, with Robertson trying to protect the properties worth $1.1 million from future creditors.
Although Robertson denied these allegations, it came out two weeks ago that Robertson was liquidating assets that Cotten left her in his will. Next to the properties, these included a Jeanneau 51 sailboat, an airplane, a Lexus and a Mini Cooper (among other unnamed motor vehicles).
So what happens now?
While the crypto community keeps hunting for more information on the possible exit scam, and the $137 million that got lost and cannot be located, there is a court case in Canada ongoing as well, while Ernst and Young are trying to retrieve funds. E&Y is currently looking into 14 accounts that could be created by Cotten 'outside of the normal process' to try and trace where the lost cryptocurrencies are.

Read more: Man who lost $422K in QuadrigaCX disaster: 'I was angry and depressed'
Follow Chepicap now on Twitter, YouTube, Telegram and Facebook!
Chepicap is here for you 24/7 to keep you informed on everything crypto. Like what we do? Tip us some Satoshi with the exciting new Lightning Network Tippin.me tool!
Read more: How to tip and receive Bitcoin via the Lightning Network with Tippin.me