What traders have to say about this latest Bitcoin drop
Bitcoin (BTC) and the wider correlated cryptocurrencies are suffering yet another dip in the latest blow to the market. So what's going on? What are the traders saying about this latest dip?
Within the last few weeks, the market had been looking ever more bullish as the tide started to turn in favor of a continued rally, interjected by periods of relativity harmless sideways action. However, it appears BTC got a little too big for its boots, breaching 4k, rising towards $4,200 before collapsing down to $3800, and erasing weeks of positive movement.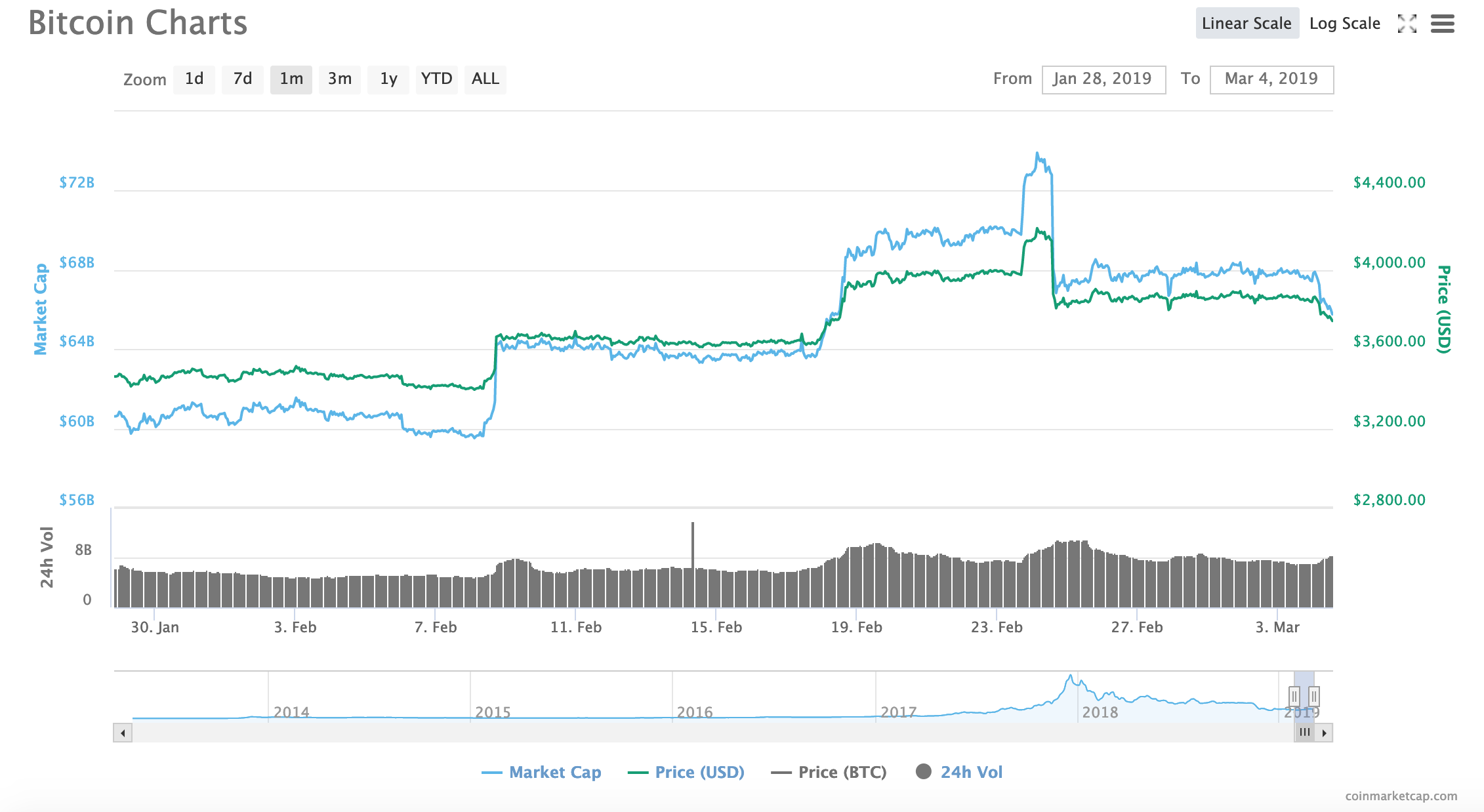 Now, as BTC edges ever closer to resistance levels drawn around $3700, many traders and analysts are offering their forecasts:
The first piece of insight comes from cryptoanalyst, Willy Woo who, as reported yesterday asserted that BTC was in the throws of indecisiveness. According to Woo, this could lead to further downside and a prolonged bear market:
This indecisiveness is characterized by minimal long and short positioning, which have in the past coincided with price action heading south:
The last time the market was more indecisive was at the start of 2018. Zones of minimal Long + Short positioning have historically coincided with bearish price action during bear markets (opposite is true for bull markets). When undecided, "the trend is your friend" prevails. pic.twitter.com/xwAkXrqKI3

— Willy Woo (@woonomic) March 3, 2019
In Woo's eyes, the markets are simply in for another dump.
Our next analyst and trader, Luke Martin, is also fairly pessimistic, relaying that the latest dump brings us in danger of crossing down below the $3700 resistance level.
$BTC dump after 4120 level hit.

If the dump was going to stop or bounce, this resistance support flip at 3700 would be a logical spot. pic.twitter.com/wn5y6rVA5r

— Luke Martin (@VentureCoinist) February 24, 2019
However, with the evanescent optimism of a crypto trader, Martin states that at current levels he's still long on BTC, but only until there are further closes below $3700, something he asserts would be indicative of more pain to come.
$BTC weekly thread updated.

While this third dump in the last 7 days into 3700 is slightly worrying, I still prefer to be long from down here until we start seeing closes below 3700.

4hr closes would give a hint the level is going to give. Daily close below would confirm it. pic.twitter.com/0kvntspKmk

— Luke Martin (@VentureCoinist) March 4, 2019
Another trader and author of 'An Altcoin Trader's Handbook' - Nik Patel - appears to agree with Martin, again citing key support levels.
$BTC is in no man's land atm; 4H market structure is bearish but we remain above the resistance turned support at ~$3800...

— Nik Patel (@cointradernik) March 4, 2019
Other traders threw their bets down on top of this theory, with many cautiously optimistic that we could be in for a reversal if support holds:
Buy #tusd if #btc break down 3700

— 🏹 crypto warriors 🏹 (@jadmounti) March 4, 2019
Btc 3700 bottom am ready for buying back!

— Cryptodios (@Cryptodios1) February 24, 2019
Pray $3700 holds lol. $BTC

— Taylor (@taylorcreationz) February 24, 2019
We need to hold 3700 to 3800 on #btc #bitcoin. If we do then I expect 5200 by mid March. Let's see!

— omgvoy 👻 (@VoyMikz) February 24, 2019
Essentially, it looks as though the markets could go one of two ways at this juncture; either we'll see a break below the resistance level of $3700, which could usher in a further downtrend, or support will be strong enough to bolster BTC.
However, if Woo is correct and the market remains indecisive and lacking in long/short positions, then we may actually see further downsides to come.
Read more: According to analyst Willy Woo, Bitcoin is on the brink of another dump

Follow Chepicap now on Twitter, YouTube, Telegram and Facebook!
Chepicap is here for you 24/7 to keep you informed on everything crypto. Like what we do? Tip us some Satoshi with the exciting new Lightning Network Tippin.me tool!
Read more: How to tip and receive Bitcoin via the Lightning Network with Tippin.me