Square Cash App reports record-breaking $52 million in BTC sales in Q4 2018
According to its Q4 2018 shareholder letter, the Square Cash App reported record-breaking revenue in Q4 of 2018, selling over $52 million in Bitcoin.
According to the company's latest shareholder letter, the company registered a strong quarter over quarter growth, especially when it comes to Bitcoin sales. The company's earnings report, showed that Cash App facilitated the purchase of over $166 million worth of bitcoin in 2018, with $52 million of that amount, or 31%, in Q4 of 2018.
Read more: What does Elon Musk have to say about Bitcoin?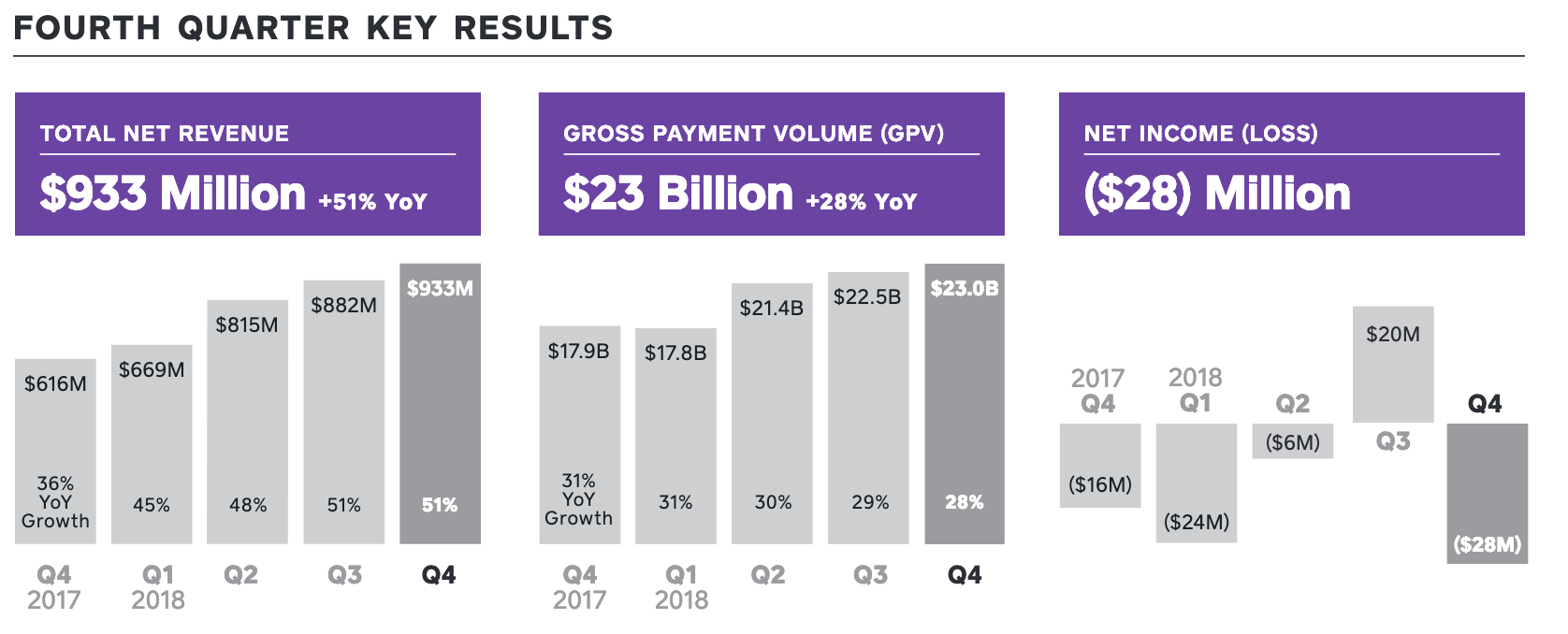 The company reported that Q4 sales showed a 70% increase from its Q3 sales, representing more than 200% increase in sales compared to Q1 of 2018.
'As we reinvest for growth, we are seeing strong momentum in our ecosystem: Notably, Cash App had more than 15 million monthly active customers in December 2018, which is more than double year over year.'
Read more: Twitter co-founder Jack Dorsey sets up his own Lightning Network node
The total net revenue was $933 million in the fourth quarter of 2018, up 51% year over year. For the full year of 2018, total net revenue was $3.3 billion, an increase of 49% from the full year of 2017.
The Adjusted Revenue was $464 million in the fourth quarter of 2018, up 64% year over year. For the full year of 2018, Adjusted Revenue was $1.6 billion, an increase of 61% year over year and an acceleration of 18 percentage points compared to our growth rate in 2017.
This acceleration is a clear demonstration of Square's continued ability to drive growth as they scale.
Follow @SquareIR for all earnings-related information. $SQ https://t.co/2KvEjK7L0A

— Square (@Square) February 27, 2019
Square Card is a free business debit card that enables sellers to spend their funds as soon as they make a sale. When a seller takes a payment, the proceeds immediately go into their Square stored balance, which can then be spent or withdrawn from an ATM.
The Cash app, Square's popular payments app, was initially designed to facilitate the transfer of fiat currency but soon started supporting cryptocurrency trading.
Follow Chepicap now on Twitter, YouTube, Telegram and Facebook!
Chepicap is here for you 24/7 to keep you informed on everything crypto. Like what we do? Tip us some Satoshi with the exciting new Lightning Network Tippin.me tool!
Read more: How to tip and receive Bitcoin via the Lightning Network with Tippin.me