Smash hit Battle royale game Apex Legends features blockchain costume
It may not be the kind of blockchain adoption everyone is hoping for, but battle Royale game Apex Legends features a character with a 'blockchain' outfit.
Apex Legends was launched last month as a surprise without much knowledge or marketing behind the project and has since grown to over 25 million players. The game grew to over ten million users in one week, something the world's most popular battle royale game Fortnite took two weeks to achieve.
Double the hop ups, double the fun! Here comes the Havoc: https://t.co/7pzKO4q7Ku pic.twitter.com/fFmJ3jASOX

— Apex Legends (@PlayApex) February 20, 2019
The game features different types of players in an open world game working as teams of three in a mission to try and be the last team standing.
One character in the game called Lifeline, has a special unlockable outfit known as blockchain reaction.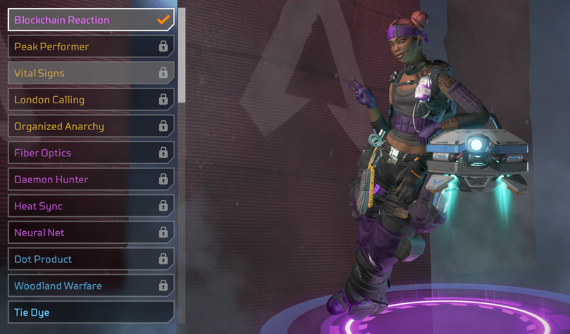 While the blockchain reference is pretty cool as a common word, it in no way makes a reference to cryptocurrencies or adoption. However, the use of the world in a game that now has over 25 million players within less than a month is something to be proud about.
Perhaps going forward, Apex Legends could look at implementing cryptocurrency micropayments. Cryptocurrency micropayments in a popular video game has yet to be successfully implemented. A common feature for most games with additional purchasable content is to sell items with the games native currency. No one has yet to make use of a crypto asset for in-game use.
While mass adoption is slowly but surely happening, a popular video game would indeed spur a crypto revolution if they could successfully implement cryptocurrencies into their games.
Follow Chepicap now on Twitter, YouTube, Telegram and Facebook!
Chepicap is here for you 24/7 to keep you informed on everything crypto. Like what we do? Tip us some Satoshi with the exciting new Lightning Network Tippin.me tool!
Read more: How to tip and receive Bitcoin via the Lightning Network with Tippin.me