Ethereum hard fork goes off without a hitch, price largely unaffected
As was reported earlier by Chepicap, today saw the launch of the Constantinople (and St. Petersburg) hard fork of the Ethereum network. The fork has gone off successfully with no signs of technical issues or chain splits. However, the price of Ethereum has barely moved at all. Is there a reason for this and is it a good or bad thing for Ethereum? Let's take a look.
First off, let's take a glance at the Ethereum chart, on the hourly.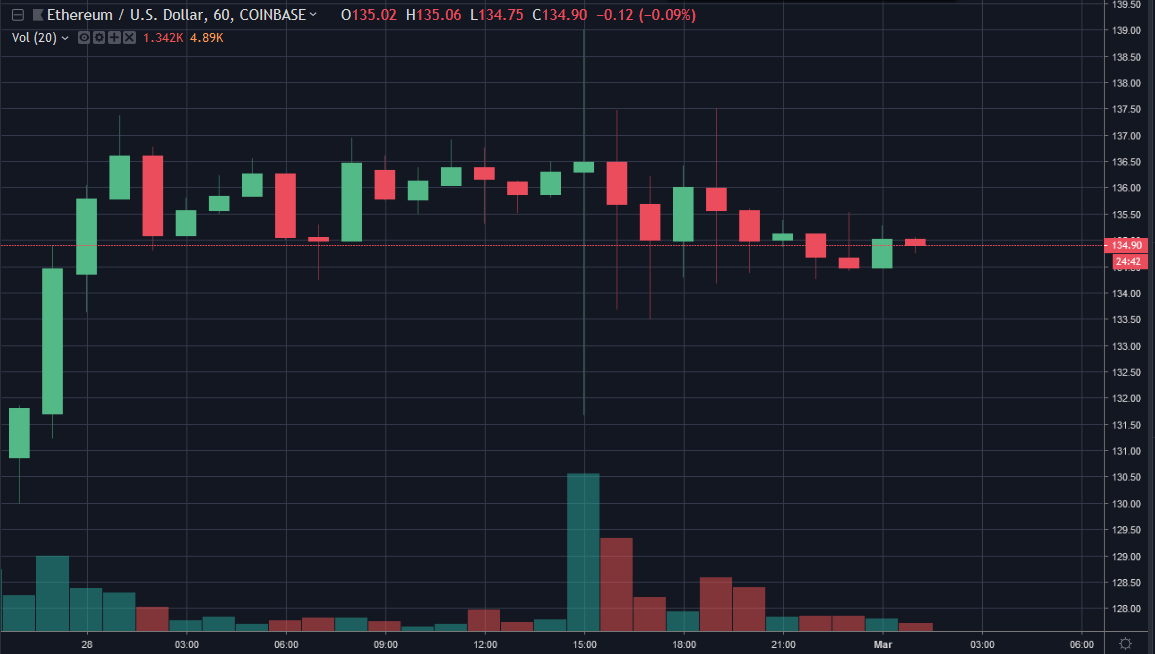 See where the hard fork happened? Me neither. That's because the price didn't respond, really at all. To be fair, if things hadn't gone well it may have been a very different story.
One thing to note about the lack of splash from the hard fork is that it isn't the only news that hasn't moved the market today or lately. For example, recently XRP was listed on Coinbase Pro and though it gave the price a bump, it was very minimal. Today the coin was also listed to Coinbase.com and the mobile apps, and the price barely moved at all.
Ethereum-Constantinople, XRP-Coinbase, but neither sparked a major bullrun. Retail won't do it. BITCOIN ETF approval incoming! The Nasdaq index, Fidelity, Lloyds of London solve 3 SEC problems, now make it possible NYSE ARCA & Vaneck. @XRP_community @ModernInvest @digitalassetbuy

— Tree50 (@Tree506) March 1, 2019
Read more: XRP now available on Coinbase.com and mobile apps
Other recent news like the launch of a Facebook Coin and JP Morgan's JPM Coin failed to make much of a splash at all. These are the types of stories that would have driven prices nuts one or two years ago.
Perhaps the reason for the apathy is that these things are largely "priced in." That is to say, the market may have moved months ago when most of these stories were rumors, but now everybody already responded to them, before they were even news.
Back to Ethereum, the fact that the price is stable actually may be a good sign. It has been speculated that the reduction of the block reward could have a negative impact on the price, though in the long term a positive one. Now, nobody was saying it would hurt the price in just the first few hours, but the fact that fear hasn't driven the price down may be a positive sign for the inevitable rise down the line.
One thing that has been exceptionally positive is twitter. Despite being known for being critical at times, most either wanted to help spread useful information:
To follow data on how many #ETH nodes run on Constantinople-compliant #Ethereum version following today's Hard Fork, check out: https://t.co/zbIOzkd7HE

Currently 24.1% of the total 11480 $ETH nodes are running on the Constantinople Fork

PoW upgrades take time#IAmDecentralized pic.twitter.com/zke0OaA4ke

— Misha Lederman (@mishalederman) March 1, 2019
Or simply just celebrate and congratulate:
Congrats to ethereum constantinople https://t.co/vwHn9ygnmj

— Ethereum 24/7 (@Ethereum247) March 1, 2019
"We are currently 25 blocks into Constantinople! I'd just like to say thank you and well done to the developers for their hard work and professionalism with delaying the upgrade to make sure it will all transition smoothly." $ETH

— CryptoBitcoinChris (@CryptoBTC_Chris) February 28, 2019
Congrats to Ethereum for launching its #Constantinople upgrade! 🎉

And kudos to their core devs for not caving into outside pressure from investors and community members, some who wanted them to rush something out the door even though it could have been dangerous.

— Spencer Noon (@spencernoon) March 1, 2019
Though the price may not be moving, all the sentiment in the community is headed to the moon. The coming months for Ethereum should be very exciting!
WATCH: Coins BOOMING after Samsung S10 news! $ICX, $ENJ, $BAT PRICE TARGETS!
Follow Chepicap now on Twitter, YouTube, Telegram and Facebook!
Chepicap is here for you 24/7 to keep you informed on everything crypto. Like what we do? Tip us some Satoshi with the exciting new Lightning Network Tippin.me tool!
Read more: How to tip and receive Bitcoin via the Lightning Network with Tippin.me