Has the QuadrigaCX lost Ethereum been found?
An exhaustive report has just been released on the Zerononcense Blog outlining the discovery that as much as 600,000+ Ethereum that was lost in the now infamous and still unfolding QuadrigaCX drama may still be on multiple exchanges. If true, it means there may be a way to recover the coins without the deceased CEO's private keys, which gives some hope to the many customers who saw their funds lost.
The researcher, ProofofResearch, aka James Edwards, who has been working on this case since the beginning, has found definitive evidence that at the least, QuadrigaCX had accounts on Kraken, Bitfinex, and Poloniex, and that a total of 649,708 ETH had been collectively sent to those exchanges.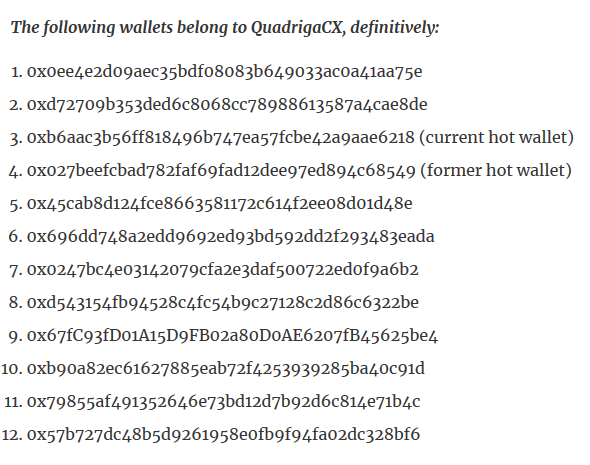 Now the report admits that this isn't a guarantee that the money is still there, but claims it should be a relatively easy matter to reach out to these exchanges to get any information on the accounts QuadrigaCX had, whether the money is still in them, and if not, where it may have gone.
The blog also outlines how this may explain why researchers couldn't find confirmed QuadrigaCX cold storage wallets on the blockchain, because it would mean the CEO was using exchanges as cold storage. Let that sink in.
It could also explain away any nefarious intent from any parties and bring this back to a series of truly unfortunate events. The upside is that if this is the case then with the help of the exchanges, the Ethereum could plausibly be returned.
The report is quite deep and well worth a look, and it is too early to say if all the info is accurate, or if the exchanges still have the money. With all the twists and turns in this case, we may have to wait and see. Until then stick with Chepicap for all QuadrigaCX updates!
Read more: 'QuadrigaCX saga will kick-start regulatory oversight for crypto exchanges'
WATCH: Coins BOOMING after Samsung S10 news! $ICX, $ENJ, $BAT PRICE TARGETS!
Follow Chepicap now on Twitter, YouTube, Telegram and Facebook!
Chepicap is here for you 24/7 to keep you informed on everything crypto. Like what we do? Tip us some Satoshi with the exciting new Lightning Network Tippin.me tool!
Read more: How to tip and receive Bitcoin via the Lightning Network with Tippin.me