Latest crypto scam targets Square Cash App customers, promises XLM
It is being reported by CCN that a new scam is making the rounds which is targeting users of Square's Cash app. The emails being sent out are declaring that the Cash app now allows for the trade of Stellar (XLM) against Bitcoin, which is untrue, and asks users to send Bitcoin to a specific address in exchange for XLM.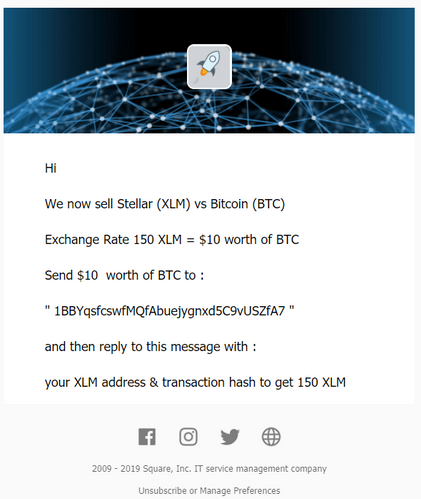 Any veteran in crypto would see right through this as a scam, seeing as Square would never distribute XLM by asking investors to send Bitcoin to a specific address through an email. Furthermore the exchange rate given is both inaccurate but also fixed, the way no crypto exchange rate ever is.
It seems most investors are too smart for this type fo scam by now anyway, because as of now no Bitcoin has been sent to this address. Hopefully it stays that way as news of this spreads, however anyone should know better than to trust an email like this.
All of this comes as Square recently released a disappointing earnings report which temporarily hurt its stock price, only to see the price rally shortly thereafter.
WATCH: Coins BOOMING after Samsung S10 news! $ICX, $ENJ, $BAT PRICE TARGETS!
Follow Chepicap now on Twitter, YouTube, Telegram and Facebook!
Chepicap is here for you 24/7 to keep you informed on everything crypto. Like what we do? Tip us some Satoshi with the exciting new Lightning Network Tippin.me tool!
Read more: How to tip and receive Bitcoin via the Lightning Network with Tippin.me