'XRP is better than Bitcoin' says co-founder of Ethereum, Vitalik Buterin
The co-founder of the second most popular cryptocurrency, Ethereum, took to Twitter to express his believes that XRP is better than Bitcoin. However, many are convinced that Vitalik was just being sarcastic.
The Russian-Canadian programmer responded to a tweet by Pierre Rochard, a software engineer who runs Bitcoin Advisory.
Rochard said that Bitcoin is the ideal stablecoin and store of value. Further adding that this is 'what peak sound money looks like.'
He added a graphic that compares Bitcoin to itself. Therefor, the graphic shows a flat line that is worth exactly 1 BTC at all times.
Read more: XRP can see a growth of 27,000% since ATH and hit $1,000 per coin
This is the ideal stablecoin and store of value.

You may not like it, but this is what peak sound money looks like. pic.twitter.com/xZ5HrzGN6x

— Pierre Rochard [⚡️] (@pierre_rochard) February 23, 2019
Vitalik responded by saying that he thinks Rochard should use XRP, adding that the XRP graphic would look the same and that it is as well 'sound money'.
The co-founder of Ethereum points to the fact that XRP has been adopted by several institutions and signed several partnerships around the world, and that this is the reason why he thinks XRP is better than Bitcoin.
Read more: XRP at $589? Is it really possible for Ripple's token?
I think you want to use XRP. The chart for XRP/XRP would look the same so it's also sound money, but they have Institutional adoption™ and Partnerships™ so they're better.

— Vitalik Non-giver of Ether (@VitalikButerin) February 24, 2019
Already back in 2013, Vilatik Buterin had expressed his positive take on the third largest cryptocurrency, XRP.
'Litecoin is perhaps the most prominent out of all the alternatives, its price hovering around $0.07 USD and even slowly increasing over the past six months, but so far the overwhelming majority of merchants – and merchant platforms, for that matter – have seen no reason to pay attention to them. Now, that may finally change with decentralized cryptocurrency's new kid on the block: Ripple.', Vitalik said.
Obviously the XRP community was more than delighted.
I appreciate your honesty. Most bitcoin holders do nothing but bash xrp. Xrp is a great digital asset. I also hold and love ETH, BTC,TRX. I think we need to stop bashing each other and find a way to make the market grow as a whole

— Markjcrypto (@Mark11736571) February 24, 2019
Funny. Remember this? https://t.co/NQOjPomUXP pic.twitter.com/qla2mMOiUp

— myster X (@myster___x) February 24, 2019
XRP The Standard 👍🏼

— DJ (@DJtheinvestor) February 24, 2019
Although to some it is clear as day that Vitalik was being sarcastic.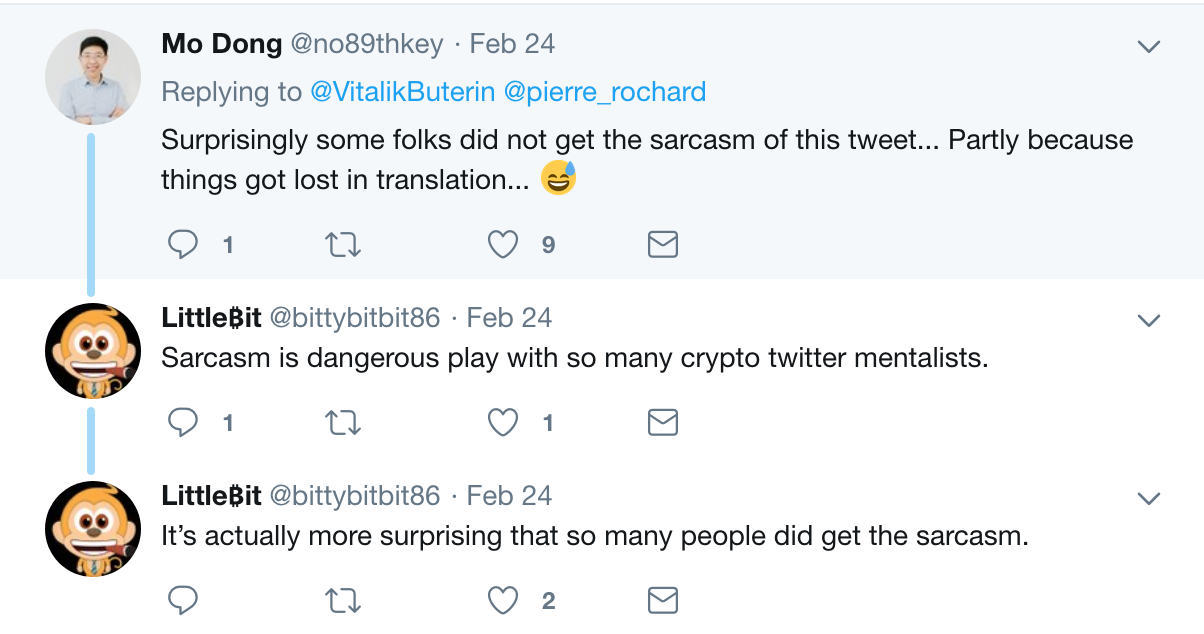 WATCH: Elon Musk thinks Bitcoin is better than fiat! Why doesn't he buy more?!
Follow Chepicap now on Twitter, YouTube, Telegram and Facebook!
Chepicap is here for you 24/7 to keep you informed on everything crypto. Like what we do? Tip us some Satoshi with the exciting new Lightning Network Tippin.me tool!
Read more: How to tip and receive Bitcoin via the Lightning Network with Tippin.me