What is Vitalik Buterin's cryptocurrency net worth?
Vitailk Buterin is co-founder of Ethereum, one of the worlds leading cryptocurrency platforms, and #2 largest digital asset by market cap. He's managed to amass himself a fortune at the tender age of 25. But where did it all begin, and how much is Vitalik Buterin's cryptocurrency net worth now?
We're not talking about his intelligence or general worth as a human being. No. This is about cold hard cash… or should that be crypto?
Before we do though, let's take a little look into Buterin's background, and how he amassed the fortune he has today.
Humble beginnings.
Born in Kolomna, Russia in 1994 to computer scientist, Dmitry Buterin and finance manager, Natalia Ameline (what else did you expect?). Vitailk was always noted as a gifted child, with a particular inclination towards maths, programming, and economics; as well as the nifty ability to add three-digit numbers in his head as twice as fast as the average human.
Buterin reportedly first learned about Bitcoin (BTC) back in 2011 from his father, however being a 17-year-old, Buterin didn't pay much heed, instead, turning his mind to more productive pursuits, such as World of Warcraft...
However, it didn't take long for Bitcoin to merge into Buterin's own beliefs, thanks to a predilection towards anti-establishmentarianism and a more-than-willingness to learn.
Unfortunately for the idealistic Buterin, being a teenager also meant being perpetually poor, leaving him unable to either buy or mine BTC. Industrious as he is, Buterin trawled online Bitcoin forums in the hopes that someone would offer him work in return for a slice of digital gold.
And finally, he struck it, finding someone willing to pay him in bitcoin for blogging. His starting rate was 5 BTC per post… (note to self – ask for a raise)
His posts started gaining traction and eventually got noticed by fellow Bitcoin enthusiast Mihai Alisie.
After some correspondence the pair joined forces, creating Bitcoin Magazine with Buterin as head writer, alongside his numerous advanced studies at Waterloo University.
Read more: Who is Vitalik Buterin?

As Buterin's writing prowess increased, so did his knowledge of cryptocurrencies and their underlying technology.
A bitcoin conference, attended by the Winklevoss twins, was his breaking point; the juncture at which Buterin went all in.
"That moment really crystallized it for me," he told Wired. "It really convinced me that, hey, this thing's real and it's worth taking a risk and jumping into. So I did."
During this period Buterin burnt through the majority of the BTC he accumulated from his numerous blog posts, using it to fly around the world seeking out the 'next Bitcoin' or, more appropriately, 'blockchain 2.0.'
However, instead of simply building on Bitcoin as many others were attempting, Buterin took a different route, writing a new version, with a Turing complete programming language, enabling a blockchain ecosystem that could do it all, and thus Ethereum was born.
Read more: What is Ethereum?

After favorable peer review, the Ethereum whitepaper has deemed a success, and shortly thereafter the augural token sale was held. The sale managed to raise 31,000 BTC, the equivalent of a little over $18.5 million at the time.
Unfortunately, the market crashed soon after the token sale, from a price point of $600 per BTC to around $250. The newly formed Ethereum Foundation had kept the funds raised from the sale in BTC, losing millions in the space of a few months. Classic crypto.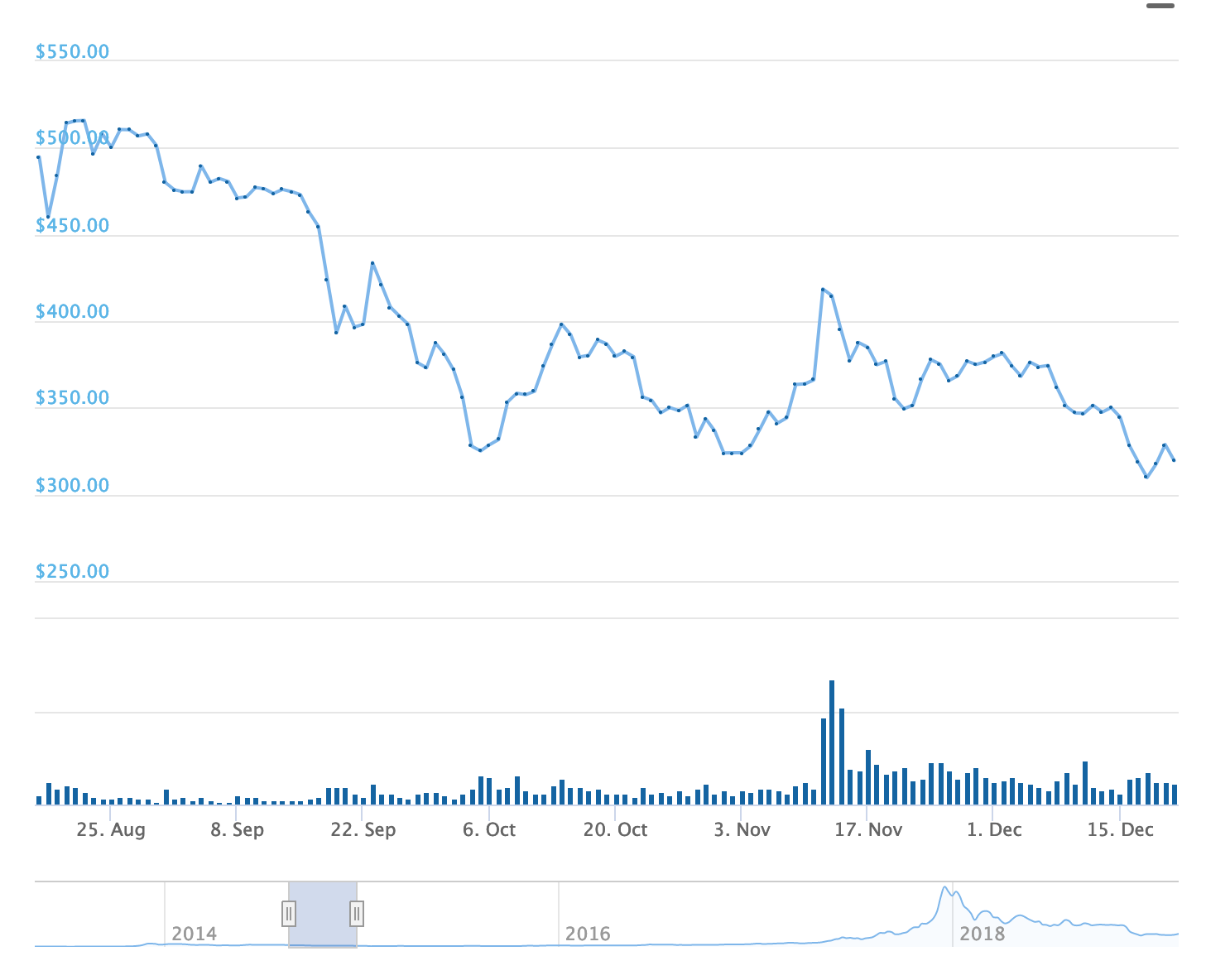 And the rest is pretty much history. So where does this fortune lie today?
Crypto Fortune
Well, for the most part, it's holed up in a few of Buterin's wallets. In response to a question pertaining to his net worth back in February 2016, the prodigy divulged that he had held around 0.6% of the circulating supply of ETH (630,000 ETH at that time) worth between $1.4 million to $4.1 million - a major discrepancy thanks to a 300% boost during the month.
Later that year, in April, Buterin stated that he had sold 25% of his holdings for $1,000,000 at a price of $6.25 per ETH.
Ethereum founder has sold 25% of his $ETH position so far. pic.twitter.com/RPRetQQftj

— Tuur Demeester (@TuurDemeester) April 22, 2016
Now, not to pour salt in the wound, but he could have got a *little bit more if he had held…
*Approximately $223 million more if he waited until January 2017… okay, we're not going to rub it in anymore.
Fast forward to October 2018 and we gained another insight into Buterin's fortune, all thanks to one unlikely man… Nouriel Roubini
Roubini, as scathing and vitriolic as ever, goaded Buterin into revealing his net worth by accusing him of stealing 75% of the ether supply, and becoming one of the "instant billionaires of fake wealth."
Read more: Vitalik discloses holdings in Twitter beef: 365,003 ETH in Vitalik's wallet
Buterin retorted by revealing that he had never held more than 0.9% of all ETH, adding that his net worth never came close to $1 billion.
I never personally held more than ~0.9% of all ETH, and my net worth never came close to $1b. Also, I'm pretty sure there are no criminal laws against pre-mining.

— Vitalik Non-giver of Ether (@VitalikButerin) October 10, 2018
This was followed by a user request for transparency, asking buterin to disclose his trading history; to which Buterin supplied one of his ETH wallet addresses:
https://t.co/yLfy39gwB5

Though that doesn't just include sales, it also includes some gifts and charity donations.

— Vitalik Non-giver of Ether (@VitalikButerin) October 10, 2018
Vitalik's address currently holds 350,000 ETH, a (current) USD equivalent of $58.3 million.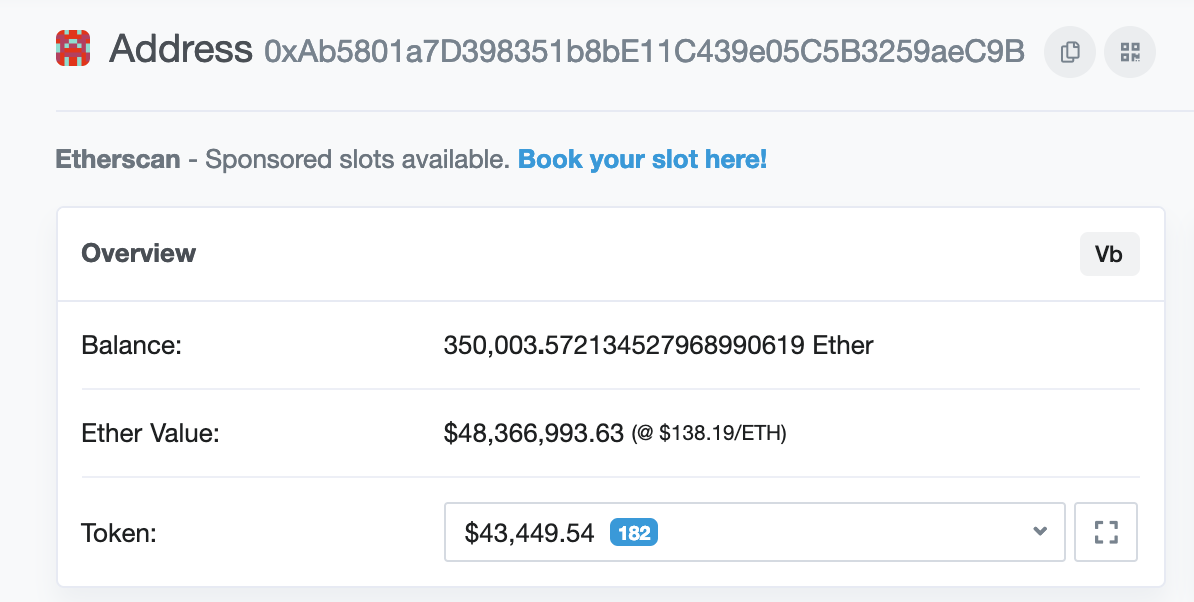 Incredibly, this fortune during the Ethereum all-time-high back in January 2017 would have amassed to more than $500 million (we lied about not rubbing it in).
Recently, we caught a glimpse of the most up to date figure of Vitailk Buterin's net worth when he took to Reddit to reveal his crypto holdings in a further effort towards transparency and in order to avoid any claim of a conflict of interests.
During an AMA addressing issues surrounding the accountability of Ethereum leadership following concerns raised about Afri Schoedon's conflict of interests (COI), one Redditor suggested that the Ethereum elite follow the academic model of COI disclosure, in which all sources of income are disclosed in order to avoid any such conflict occurring.
Read more: The Ethereum community responds to Afri Schoedon's lack of response
Buterin, jumped straight in, listing a plethora of cryptocurrencies both Ethereum-based and non-ethereum based:
in summery Buterin disclosed holdings of Bitcoin Cash (BCH), Bitcoin (BTC), Dogecoin (DOGE), Zcash (ZEC), Kyber Network (KNC), Maker (MKR), OmiseGo (OMG), and Augur (REP) all representing less than 20% of the value of his ETH.
For argument's sake, let's assume that these tokens, in fact, represent a nice round 20% of the value of his ETH holdings, this would amount to approximately:
$11.6 million
Bringing Buterin's total net worth, (in terms of crypto holdings at least) to a grand total of $69.9 million at the time of writing (April 17, 2019).
Read more: 9 Ethereum price predictions for 2019 by crypto experts; Is Ethereum dead? Here's why ETH still has a bright future


Follow Chepicap now on Twitter, YouTube, Telegram and Facebook!
Chepicap is here for you 24/7 to keep you informed on everything crypto. Like what we do? Tip us some Satoshi with the exciting new Lightning Network Tippin.me tool!
Read more: How to tip and receive Bitcoin via the Lightning Network with Tippin.me