Chicago Mercantile Exchange's Bitcoin futures contracts reach record highs
According to information on February 19, Chicago Mercantile Exchange's trading volumes for their Bitcoin futures products has reached record highs, The Block reports.
Surge in bitcoin price leads to record $BTC futures volume on February 19 with over 18K contracts traded. https://t.co/X3zW4D861Y pic.twitter.com/Qldb1jaVgw

— CMEGroup (@CMEGroup) February 21, 2019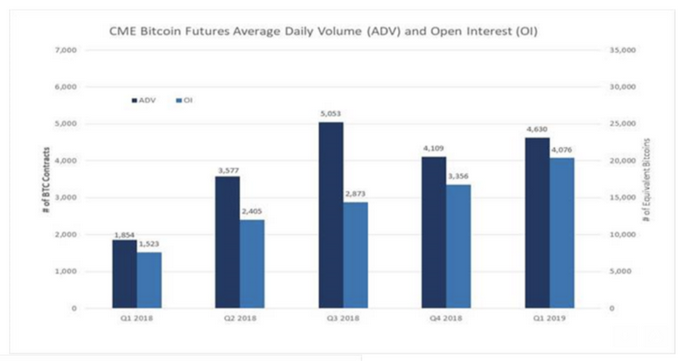 "Yesterday (Feb 19th) set a new record with 18,338 contracts traded," an email to The Block said. "This is equivalent to 91,690 bitcoin or $360MN."
The previous record was set on November 20, 2018. The average daily volume has risen to 4,630 contracts (equivalent to 23,150 BTC). This is up around 13% from Q4 2018. Additionally, open positions rose by 21.5% to 4,076 contracts.
The note also mentions a rise in customers active in trading Bitcoin futures. Since its debut in December 2017, the firm has had over 2,100 accounts trade the futures contracts.
"Institutional interest has gradually risen and the number of LOIHs (Large Open Interest Holders) has been holding steady around 43 holders since November," according to the email. "A LOIH is an entity that holds at least 25 BTC contracts."
It was recently reported that German-based stock exchange Eurex will be releasing its own cryptocurrency futures contracts. An anonymous source stated that the stock exchange will be launching Bitcoin, Ether and XRP futures contracts.
Read more: ErisX: Crypto exchange platform hires dream team prior to launch
Follow Chepicap now on Twitter, YouTube, Telegram and Facebook!
Chepicap is here for you 24/7 to keep you informed on everything crypto. Like what we do? Tip us some Satoshi with the exciting new Lightning Network Tippin.me tool!
Read more: How to tip and receive Bitcoin via the Lightning Network with Tippin.me