XRP at $589? Is it really possible for Ripple's token?
The $589 per XRP forecast looks like a take from a bad sci-fi movie flick, especially in a time where the token is struggling to even reach $0.40. However, if you look at current and past data, you might see why so many XRP supporters are seemingly convinced that one day we will see XRP hit the $589 price mark...
Before you dismiss the notion of $589 per XRP, you have to remember that back in 2017, XRP started at $0.006 and reached almost $2.80 by the end of December in the same year; representing a massive 35000% growth.
XRP continued its winning streak and touched its all-time high of $3.80 in the first week of 2018, making it the second largest cryptocurrency in the world with a market cap of over $140 billion.
Read more: Western Union is experimenting with Ripple to prepare for crypto future
Of course, this was at a time when the total market cap of all cryptocurrencies had crossed $713 billion.
The 2018 bear market that followed and turned into a prolonged crypto winter that continues till this day, makes it unthinkable to see the current XRP price of $0.33 grow almost 1800x. However, one must admit, stranger things have happened in this crypto universe.
If we just take a quick look at the number one cryptocurrency, then you will notice that at one point it seemed impossible for Bitcoin to reach the value of even one single dollar. Whether it was $100, $1000, $10,000 and eventually $19,783, each and one of these prices were considered to be an impossible milestone at some point in the past.
Read more: Is Bitcoin at $1 million really possible?
We can make the same argument for XRP. Ever since the beginning of 2017, XRP has continued to prove the majority of skeptics wrong.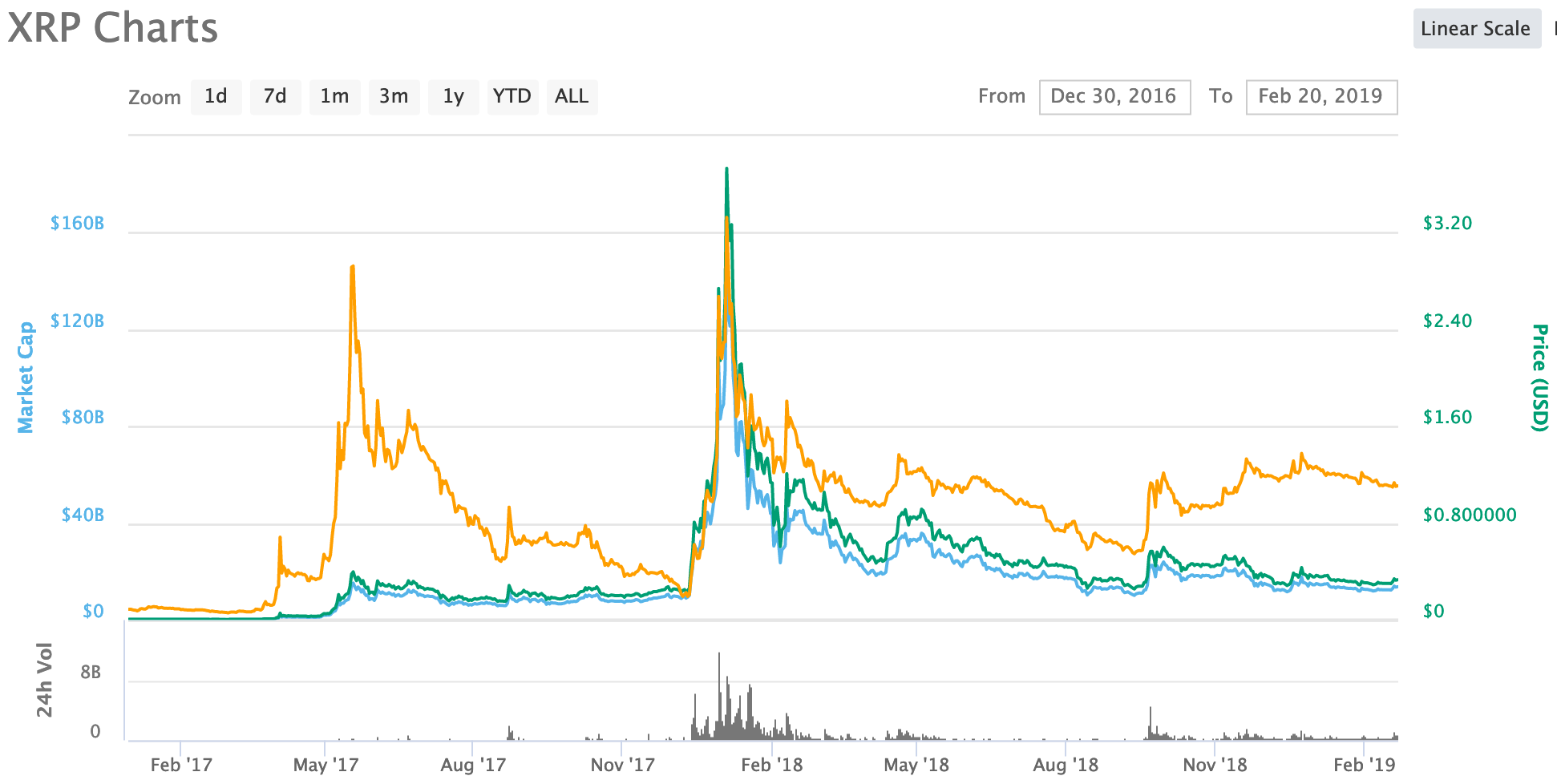 Where does the $589 XRP prediction come from?
The Reddit user Bearableguy123 was the first one to suggest a price point for XRP of more than $589.
The now infamous Reddit user had previously suggested multiple predictions, including claims of partnerships and predictions regarding price movements.
The riddles of the secretive Reddit user on technical developments in Ripple were way ahead of the official announcements of the company, which lead many to believe Bearableguy123 was a Ripple insider who knew the potential of XRP and had knowledge of the ins and outs of the Ripple company.
He (or she) suggested the price point for XRP of more than $589 by the end of 2018, on the 14th of February 2018, and ever since that moment the XRP community seemed divided on whether this prediction could come true or not.
The #XRPcommunity is split between people who believe in the prediction of "bearableguy" of $589 per XRP by the end of 2018 and people who do not.

What do you believe?#xrp #xrpthestandard #ripple

— xrp_news ⚡ (@xrp_news) September 19, 2018
Read more: 'xRapid is the future', says Alastair Constance, #XRParmy agrees!
For those of who don't know bearableguy123, he was a Reddit user, who created a small subreddit on Ripple. He started posting cryptic riddles and pictures hinting at future developments at Ripple. Many of his cryptic insights eventually were found to be true, which made bearableguy123 infamously known, especially amongst XRP enthusiasts.
Previous posts by Bearableguy123 revealed the Reddit user to be a passionate supporter of XRP and Ripple.
'When XRP recently, to the dismay of the ETH and BTC heads, took over ETH's place, the crypto world was shaken to the core. Plans were set in motion to have CoinMarketCap "suddenly" not recognize Korean exchanges and XRP was taken out. Plans, within plans, within plans. And this is just the beginning. This year is the year that XRP's Ragnarok will shatter the cryptosphere into splinters and no one can do a damn thing about it.'

Read more: XRP for the banks: will the large ones ever use the Ripple token?
However, shortly after Bearableguy123 came forward with his bullish XRP prediction, both his Twitter and Reddit account were deactivated and with it, the 'Nostradamus' of XRP mysteriously vanished into thin air.
One Twitter user expressed his skeptical views about this prediction, by saying that although $589 could happen one day, he didn't think it would happen by the end of 2018. Even though he was hoping he would be wrong, it turns out he wasn't. XRP is still trading around $0.33, which might just as well feel like an eternity away from the $589 price mark.
I think CEO of SBI knows more than the whole xrp community, especially bearableguy. $589 could happen someday but by the end of the year, I don't think so. I would love to be wrong about it though.

— Lon Copper (@CopperLon) September 19, 2018
Another Twitter user, going by the name ZerpHound, expressed similar concerns by pointing out that XRPs price would need to double every 10 days in order to hit $589 by the end of 2018.
'Possible? Yes. Probable? Unlikely', he tweeted.
Something to consider for the $589 debate.

There are 107 days left in 2018.

To reach $589 by EOY #XRP needs a 2,104x increase in price, which is a gain of $5.50 everyday till 2019. XRP's price would need to double every 10 days.

Possible? Yes
Probable? Unlikely#xrpcommunity

— 🌊 Zerp_Hound 🌊 (@ZerpHound) September 16, 2018
Read more: XRP community divided over $589 XRP price prediction by end of 2018
Can XRP still hit $589?
Obviously, today we know that this bullish prediction didn't materialize until this day, but that doesn't stop some XRP fanatics to devise new arguments why the $589 XRP price prediction can still unfold.
Some are now asking themselves if Bearableguy123 actually wasn't pointing at January 1st as the beginning of the new year. The EOY time frame could have been misinterpreted, as the 'Reddit Riddle Master' wouldn't have made his riddles that easy to understand.
What if EOY was this. If BG meant EOY i'm sure it wouldnt be that obvious. Has to be something hidden like this.

Spring starts during May and it makes more sense for it to be a new year. #Xrp #xrp #bearableguy123 #bg123 #xrpbaby @321yugelbaraeb #SYNCHRONICITY #xrpthestandard pic.twitter.com/Ty7wEwkkPF

— Nicholas Zach (@NicholasZach) February 10, 2019
The nurse says. "Bitcoin?, That died out in 2024. But the price of XRP is $589 if that helps" you pass out.

— 𝕊𝕚𝕞𝕠𝕟 (@Simon_Rees) February 20, 2019
People are now considering the end of March as the prediction date for the $589 price point, as it coincides with the fiscal end of year.
Financial EOY is end of March as well 👍 the tax year 🤷🏻‍♂️ April to April

— CℝyקtØ Captain (@HODLAGUY) February 10, 2019
Not only that. APRIL is the new tax year here in the UK. 🤔 March would effectively be New Year's Eve for the tax year

— Ripple Ninja リップル忍者 (@RippleNinja) February 10, 2019
However, with the price hovering at the $0.33 level at the time of writing, many remain intensely skeptical of XRPs ability to find its way back to record highs let alone a future estimate of $589.
How gullible are you? 😂

Lol so many 589 sheeple 😂😂

— Dividend-Gamer XRP (@_Varkeer) February 10, 2019
I think that's a reach. Don't get me wrong the riddles are fun and they get me hyped but I think for this space to mature we should really focus on concrete stuff.

— James Marino (@IIG00S3II) February 10, 2019
No matter the outcome of this prediction most would agree that Ripple's future seems bright.
Ripple can be seen as an exciting project, which has the potential to become a major player in the world of payment processing.
Interesting times are ahead for this cryptocurrency project and many analysts believe that XRP will confidently reach new all-time-highs, considering Ripple's consistent growth towards consolidating the traditional financial network.
One analyst even went as far as making the outrageous claim that XRP is designed to carry a $10,000 value.
Did @Ripple design #XRP to be worth $10,000?
I think it was and provide some evidence: https://t.co/zEn4RypKff What do you think? @digitalassetbuy @Hodor #xrpcommunity #xrpthestandard pic.twitter.com/wE0EMcGBE9

— Mark R. Phillips APR (@Mark_Phillips) February 18, 2019
Read more: Why isn't XRP on Coinbase?; will it ever get listed?
There you have it. Is it possible for XRP to hit that $589 mark? Yes, many seem to believe so and given the history of cryptocurrency, nobody would be surprised with a wild ride like that. Is it likely? Only time can tell.
It is impossible to predict if XRP will ever reach that astronomical price point, but wherever XRP is headed, it is going to be an exciting ride getting there - so strap in.
Follow Chepicap now on Twitter, YouTube, Telegram and Facebook!
Chepicap is here for you 24/7 to keep you informed on everything crypto. Like what we do? Tip us some Satoshi with the exciting new Lightning Network Tippin.me tool!
Read more: How to tip and receive Bitcoin via the Lightning Network with Tippin.me