Waltonchain (WTC) postpones mainnet launch... again
According to a blog post published today by the company, the Waltonchain parent chain will be postponed. The reason behind the delay is the reviewing of the tech by a third-party code audit company. With only one day of notice until the now invalid date, Reddit is not pleased.
The Waltonchain Foundation announced that the audit will be carried by Knownsec, a Tencent – based firm that provides services for government and companies. Per the blog post, audit time is expected to be one and a half months.
This is not the first time that Waltonchain delays the swap of their mainnet. A redditor took the time to count how many failed launches had happened in so far across the last year or longer, since the first mainnet launch announcement:
At writing time, there is not a single positive comment towards Waltonchain on the Reddit thread, with users compiling several failiures and breachings of Waltonchain:
In what is already starting to become a regular meme whenever someone mentions Waltonchain on social media, another redittor shared the following comment, which is the most upvoted one in the thread:
For the curious reader, the "OMG! 😭Cant't believe I won! Thank you Walton team ! ❤️ keep doing the great work. 💪🏼💪🏼💪🏼🚀🚀🚀" emojifull sentence is acquiring now cult status after the Twitter account of the project sent out a message with the aforementioned characteristics to its 50K + followers. Although the tweet was obviously deleted, someone got the screenshot: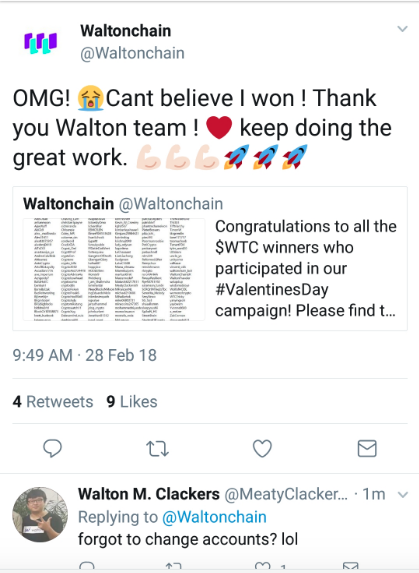 Read more: Walton Blockchain Institute will train 150,000 developers in 3 years; South Korea aims to secure the future of blockchain through education
Follow Chepicap now on Twitter, YouTube, Telegram and Facebook!
Subscribe to us on Feedly