Stablecoins down in February, except Tether and DAI
Over the past few months, there has been a continuous background roar about stablecoins as more and more projects have been launched. However, in the first half of February these non-crypto digital assets have been losing market capitalization.
The net decrease of the outstanding supply of stablecoins without accounting for Tether and DAI has decreased in about $100 million or 10%. In a month were the largest bank in the U.S. launched their own stablecoin, upwards price action might be triggering some funds to step off stablecoins into cryptocurrencies.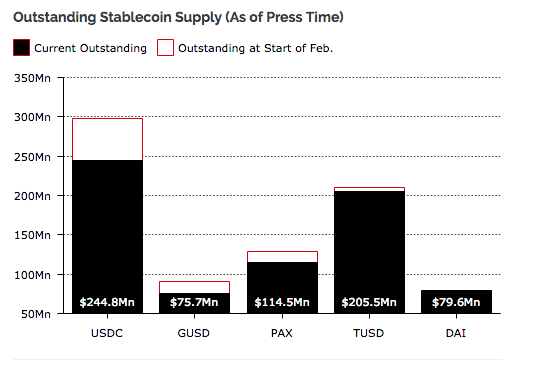 As the graph above shows, with data extracted from Ethersan by Diar, USDC is taking the largest hit, also significant when detrending for project size. Thether's losses are rather negligible, meanwhile DAI is the only stablecoin increasing its outstanding supply during the current month.
Read more: "The JP Morgan coin should obliterate Ripple", says Bloomberg editor
2018 and the beginning of this year have witnessed many new projects getting launched an increasing adoption among those already operating. However, it remains to be seen if the trend will continue, especially if price winds start to blow towards another bull run in cryptocurrencies.
Read more: Binance adds 4 stablecoin pairs, making stable coin cross-trading easier

Follow Chepicap now on Twitter, YouTube, Telegram and Facebook!
Subscribe to us on Feedly