It's LTC time! Litecoin leading the market again today, reaching $52
The cryptocurrency market keeps its momentum after the gains of the last few days, with Litecoin and EOS leading the pack today. Both coins have seen gains of about 8% in the last two hours.
EOS jumped from $3.64 to $3.90 and Litecoin saw its value going up from $49 to $52. At the time of writing (1.30 PM UTC) $LTC seems to be on a second run for today, after a short consolidation period. Last week, Litecoin was the first top coin to make significant gains and the rest of the market followed in the footsteps of $LTC.

Read more: Next bull run? Here's what the community is saying about this crypto rally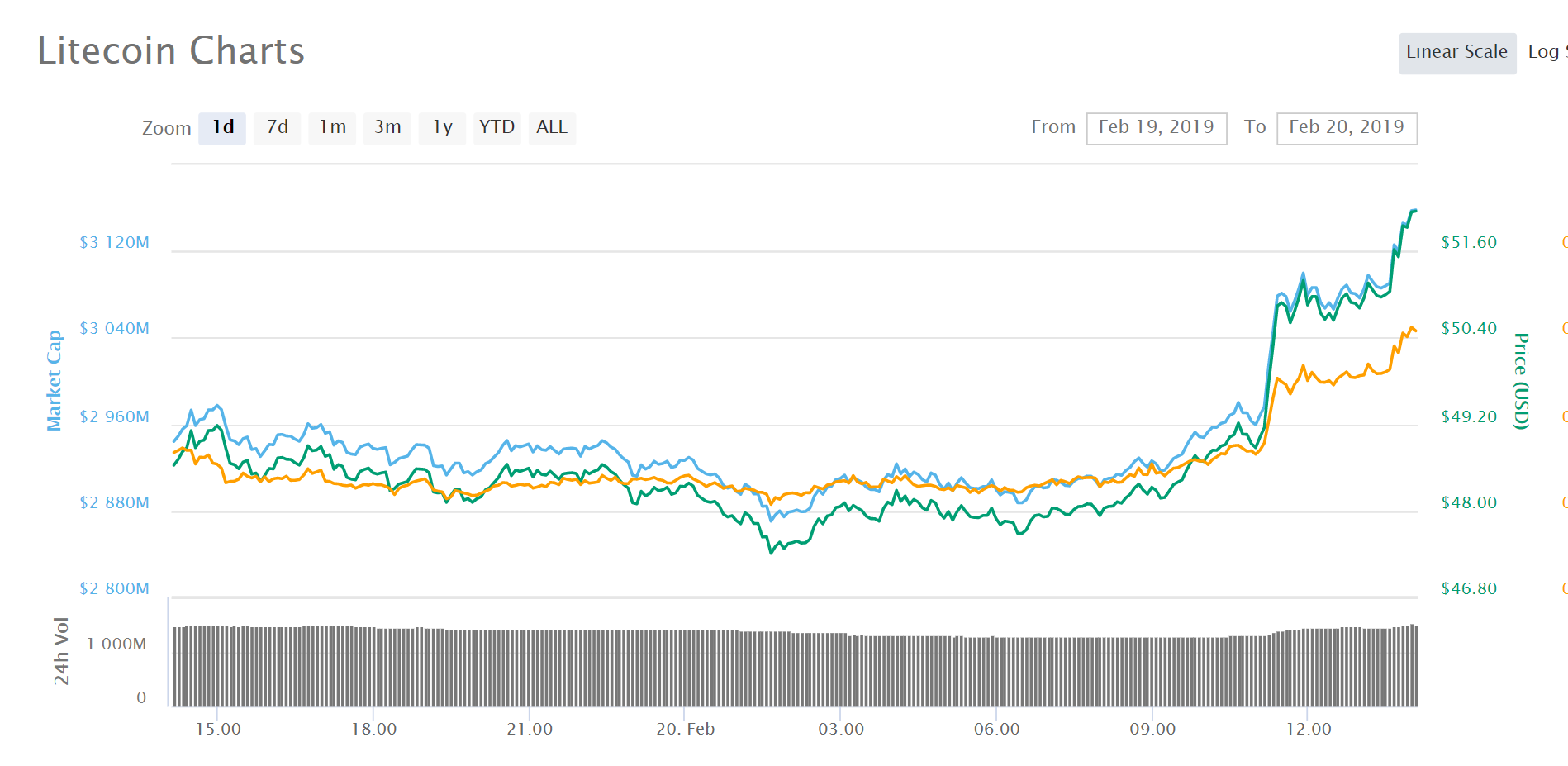 $LTC #Litecoin 12 hour - Fresh bull break over night pic.twitter.com/a0aM0UddUN

— Cheds Trading [Cancer Fighter] (@BigCheds) February 20, 2019
Bitcoin is seeing upwards movement as well, trying to break the $4000 mark yet again. Yesterday, BTC was trading above $4K for 15 minutes, before it dropped back to $3970 levels. Currently Bitcoin is again trading above $4000, now trying to hold this level.

Read more: Bitcoin breaks $4000! And is now fighting to stay there or push higher




Ethereum and XRP are relatively stable, with Binance Coin being the top gainer in the top 10. $BNB grew 15% in the last 24 hours, thanks to the launch of the Binance DEX and Chain on the public testnet.

Read more: Is Binance DEX really decentralized? Some critics are saying it's not
Another eyecatcher is Maker, that gained 11% and passed NEO in the top 100 on Coinmarketcap. Maker is now the 16th ranked cryptocurrency with a market cap of $650 million.
The total crypto market is now valued at $136 billion.
Follow Chepicap now on Twitter, YouTube, Telegram and Facebook!
Subscribe to us on Feedly

WATCH: Is this the start of the new Alt Season?