Binance accidentally airdrops more BTT than expected, asks for it back
Binance have apparently sent out an email to those that benefited from the addition BTT airdrop, asking for the funds to be returned. The company describes the error an unexpected system issue.
Binance have sent out an email to users who received more BTT than expected and have since withdrawn the funds. According to Binance, a system error resulted in some users receiving BTT into their accounts.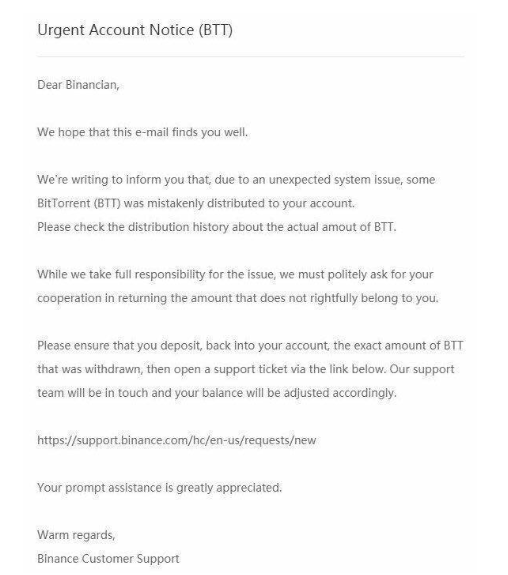 Binance have since sent out an email "politely asking for your cooperation in returning the amount that does not rightfully belong to you"
Binance are reaching out to users and asking them nicely, to return the funds an open a support ticket once the funds have been deposited back into the account.
The news is not all that concerning, it appears Binance simply want their BTT refunded to them that was accidently sent to users. The question is will users actually send back the BTT? No clear indications of how much BTT was accidently sent to users, however if some users received large amount of BTT, chances are they have withdrawn them or sold them and withdrawn BTC or ETH.
While doing testing for https://t.co/g1XQeddwEq, one tester inadvertently clicked an airdrop button for BTT, giving some BTT launchpad buyers extra BTT tokens. We are resolving the issue now. No other people are affected.

— CZ Binance (@cz_binance) February 19, 2019
Why my balance 3.000.000 btt now? Never bougt $trx too, sold these shit tokens for eth thank you

— RoadRunner (@losercoyote) February 20, 2019
explains how my low bid got filled 😅

— $ (@whosyodaddy13) February 19, 2019
yes

— CZ Binance (@cz_binance) February 19, 2019
Follow Chepicap now on Twitter, YouTube, Telegram and Facebook!
Subscribe to us on Feedly