'The Ethereum abuse did not start now. It's been going on for ages'
The decision made by Ethereum core developer Afri Schoedon, to leave all social media channels due to the ongoing online criticism directed at his person, is impacting the Ethereum community at large, and not in a good way.
María Paula, CEO of Goerli testnet, took to Twitter today to express her disgust at the 'mobs' who forced Schoedon to make his decision to leave social media.
I'm disgusted by the mobs that forced this.
Please reach out here for #Goerli or our group @ETHBerlin. Reach me personally for @EthMagicians discussions on #eth1x and #eth2, plus the new session on preserving integrity. https://t.co/xe3y3XqTeH

— María Paula (@MPtherealMVP) February 18, 2019
Paula states that the Ethereum community abuse didn't just start now, but points out that this has been going on for ages.
'I said I was angry at the "mob", but actually, i'm more dissapointed at all of us who have been seeing abuse towards a lot of people in several times And NEVER did much.'
She went on to say that she could count only a few people that are always there to encourage people.
'The rest remain passive, silent, apolitical. GROW A PAIR', she tweeted.
There is absolutely no guarantee people will not come after any of us at any given point. We need to look after each other. Grow some empathy with that pair too. It's a dog eat dog world out there. We fight the system but we cannot defend our own from angry investors? Hopeless.

— María Paula (@MPtherealMVP) February 18, 2019
Read more: ETH core developer Afri Schoedon quits social media
Some members of the Ethereum community agree completely and raise genuine concern about the displayed 'mob' mentality.
Serious question: how can we help stop this sort of social media mobbing? Once it gets rolling, it doesn't stop. While you can step in with you own tweet saying "STOP THIS MADNESS!!!", my experience has been that the mob just ignores you and keeps on savaging its target :/

— Jack Peterson (@tensorjack) February 18, 2019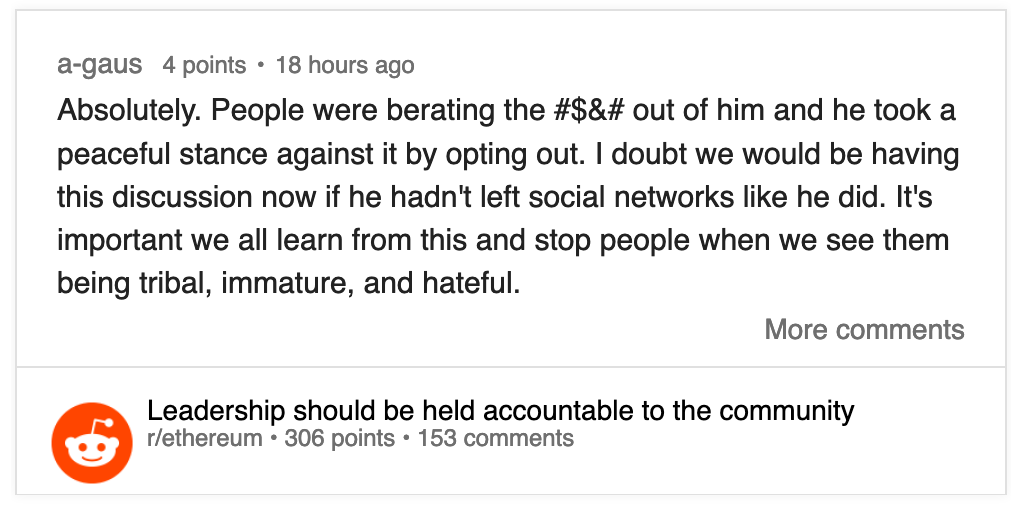 Others believe that the prominent core developer of Ethereum, Afri Schoedon, should have faced the critics heads on, instead of simply deciding to turn off, and tune out.
Jesus. People are coming for you? Defend our own? Them angry commoners and us enlightened "each other"? Afri made comments, people made comments. What's the problem? Or do only devs have the right to make comments and the rest can't disagree?

— Andrew Quentson (@Aquentson) February 18, 2019
Read more: The Ethereum community responds to Afri Schoedon's lack of response
It seems as if the prolonged crypto winter didn't really bring out the best out of everybody. Perhaps the 'coming' bull run might bring some release and more importantly, some positivity to the cryptocurrency universe.
Stay tuned to Chepicap for updates.
Follow Chepicap now on Twitter, YouTube, Telegram and Facebook!
Subscribe to us on Feedly