Komodo (KMD) gains 20% in one week
After gradual gains over the 7-day period, KMD was up 17 percent for the 24h period just a few hours ago, before falling back slightly. The 50th-placed token is now up 20 percent for the week, with a total market cap of $86.4 million.
Komodo (KMD) - $0.772848 (10.68%)
Launched in June 2018, the Komodo (KMD) blockchain eco-system is focused on interoperability, and the development of customizable multi-chain architecture. These features are particularly useful for developing decentralized exchanges that support atomic swaps, enabling users to trade crypto quickly efficiently without having to trust an intermediary.
Thanks for the mention @mikejcasey @coindesk. https://t.co/E4gdV2l4oI. #cryptocurrency #fintech #blockchaintechnology pic.twitter.com/LzfFE56AUv

— Komodo (@KomodoPlatform) February 11, 2019
It's possible that this price action could be linked to concerns about centralized exchanges, in the wake of the QuadrigaCX fiasco. A CoinDesk feature mentioned Komodo as a more secure alternative to major centralized exchanges, meeting growing demand for decentralized asset trading.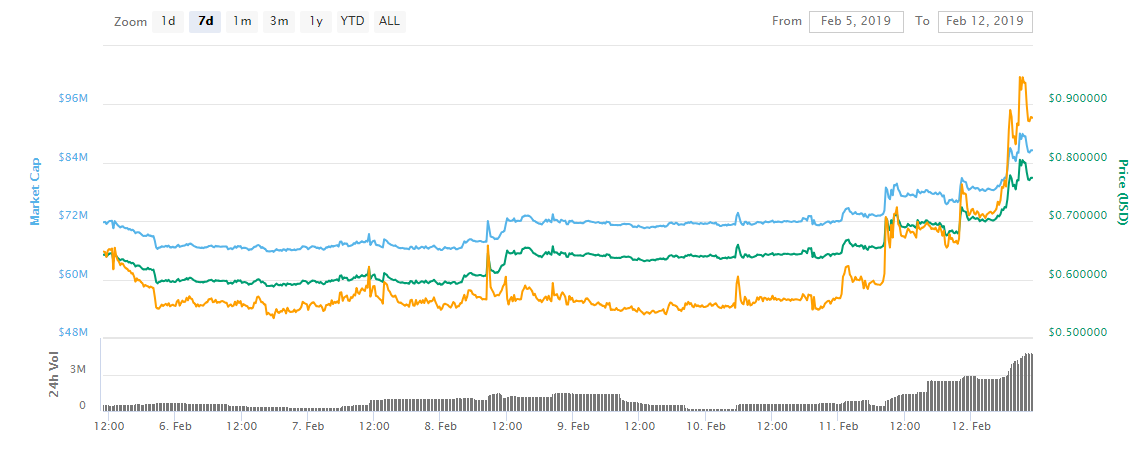 Perhaps more importantly, Bittrex launched a KMD-USD trading pair on on February 7, which was around the time that the price started to increase. Komodo was also recently listed on the TxBit, Cointree, and Beaxy exchanges.
Read more: Why it's good you're still in cryptocurrency in 2019; 4 cryptocurrency exchanges closed in 2019: what happened?


Follow Chepicap now on Twitter, YouTube, Telegram and Facebook!
Subscribe to us on Feedly