Binance Coin (BNB) sets a new all time high amidst the crypto winter
Binance Coin (BNB) has broken away from the pack, exhibiting some of the most impressive movements seen since the start of 2018.
Over the past few weeks BNB has gone from strength to strength, barely straying from a continued upward trajectory, and finally, today, setting a highly coveted and brand new all-time high of 0.00264172 BTC ($9.64) for the BNB/BTC pair.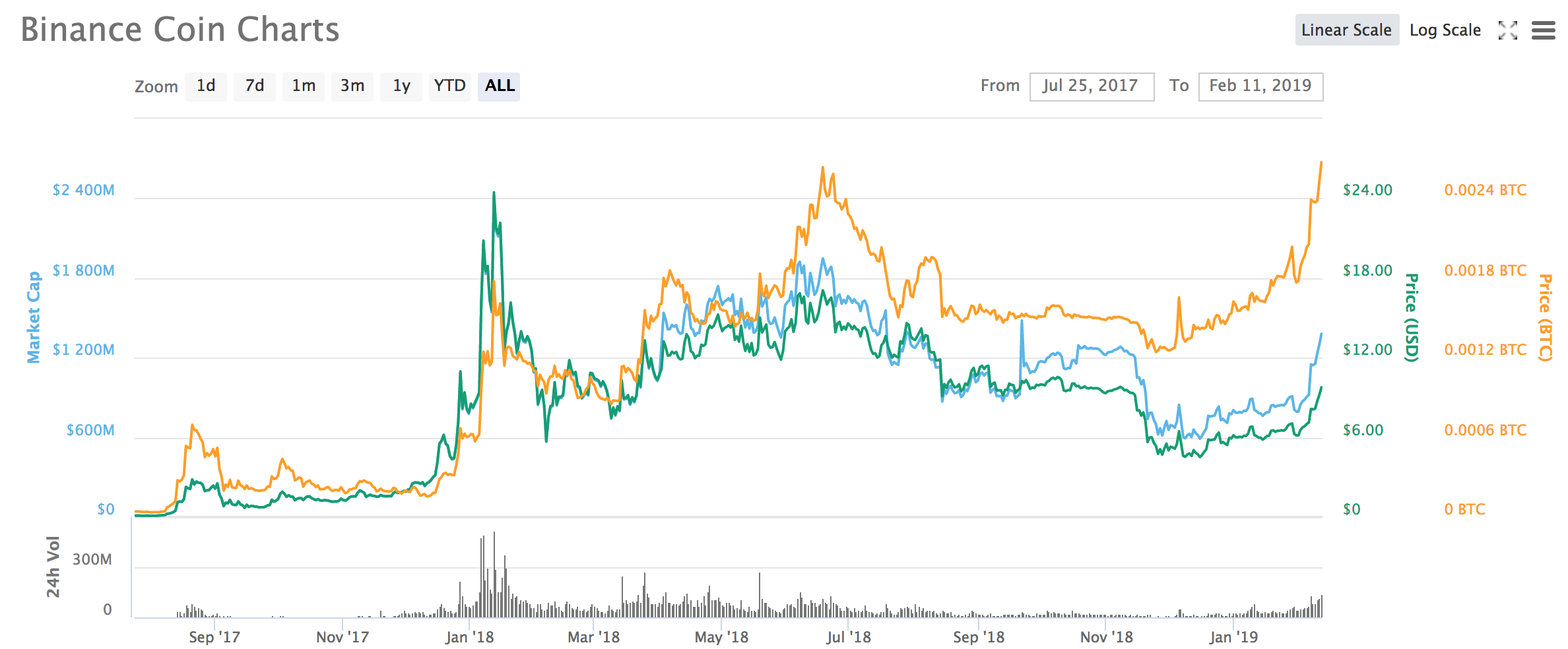 The sentiment surrounding BNB is also on a high. Binance's many bullish announcements range from the recent implementation of debit and credit card payments on the platform to the incipient launch of Binance Launchpad, all of which are contributing nicely in the overall attitude towards the cryptocurrency.
While crypto is struggling, Binance's $BNB token is on a crazy run this past week pic.twitter.com/xoKc0lKG0i

— Jon Russell (@jonrussell) February 11, 2019
The nascent exchange has risen from relative obscurity to pride of place as one of the most influential companies in the cryptocurrency industry, with plans to maintain this prominence well into 2019 with the highly anticipated launches of the Binance DEX and Binance Chain; initiatives which will see the firm expand far beyond its status as a cryptocurency exchnage.
Read more: A promising Q1 ahead... What's next for Binance and BNB?

gotta keep shilling... https://t.co/fHcjTRwSi6

— CZ Binance (@cz_binance) February 10, 2019
The crypto community came out in their masses to congratulate the CEO of Binance, CZ for his continued effort in promoting and building BNB and the Binance exchange.
Love you @cz_binance thank you for speeding up the revolution 💕🙏

— ₿itcoin Bull ™ (@BitcoinBuIl) February 11, 2019
Great work! Binance is a testament to all exchanges moving forward!

— Burger Boy Crypto (@burgerboycrypto) February 11, 2019
#BNB Congrats! ATH pic.twitter.com/2E035PKvPo

— Obionemacs (@obiobi_JP) February 11, 2019
Back in January of last year, amidst the tail end of a major bull run, BNB managed to climb up to an unprecedented height, setting an inaugural USD/BNB & BTC/BNB ATH of $24.46 & 0.00177 BTC respectivly. At the time BTC was priced at around $13,600.
Read more: These are the 3 coins to watch for February - Cryptocurrency; Binance Chain will charge "close" to $100k to list new coins, says CZ
Follow Chepicap now on Twitter, YouTube, Telegram and Facebook!
Subscribe to us on Feedly