Bitfinex announces last minute support of TRON's BitTorrent airdrop
Jumping on the hype train last minute, notable exchange, Bitfinex has announced support for the imminent BitTorrent (BTT) airdrop for Tron (TRX) holders.
The exchange announced their full support yesterday in an official announcement, tying themselves into a 5-year airdrop program with the incipient BTT token for all TRX holders.
We are delighted to announce full support for the BitTorrent (BTT) Airdrop Program, available to all Tron (TRX) holders.

For more information, please visit: https://t.co/51cxnetRHn

— Bitfinex (@bitfinex) February 10, 2019
Some users noted the exchange's slightly bad timing, with the airdrop deadline looming:
Same here... also had quite some trouble with the withdrawal

— Goldrush Greedwood (@MightyChartist) February 10, 2019
too late !!!; transferred to the other exchanges

— joker1970 (@joker__1970) February 11, 2019
Justin Sun also welcomed the addition of Bitfinex (no matter how late they were to the party…)
Thanks for the support of @bitfinex. #TRON block height is 6,578,310! See you in 6,600,000! #TRX $TRX #BitTorrent #BTT $BTT https://t.co/EmXf3waHVw

— Justin Sun (@justinsuntron) February 10, 2019
Airdrop incoming.
The highly anticipated airdrop is said to take place today. A snapshot of all TRX holders funds will be taken at block height 6,600,000, currently at a tantalizing height of 6,591,228.

TRX holders will receive 1.1% of BTT's total supply, on a ratio of 1:0.11, and will continue to do so in increasing amounts until 2025.
Meanwhile, the price of BTT has fluctuated quite wildly. Currently enjoying a nice boost of +8.08% in the 24-hour charts.
Interestingly, while the rest of the market enjoyed sustained gains from Friday's pump, TRX actually retraced quicker than most. TRX is currently up +1.66% in the 24 hours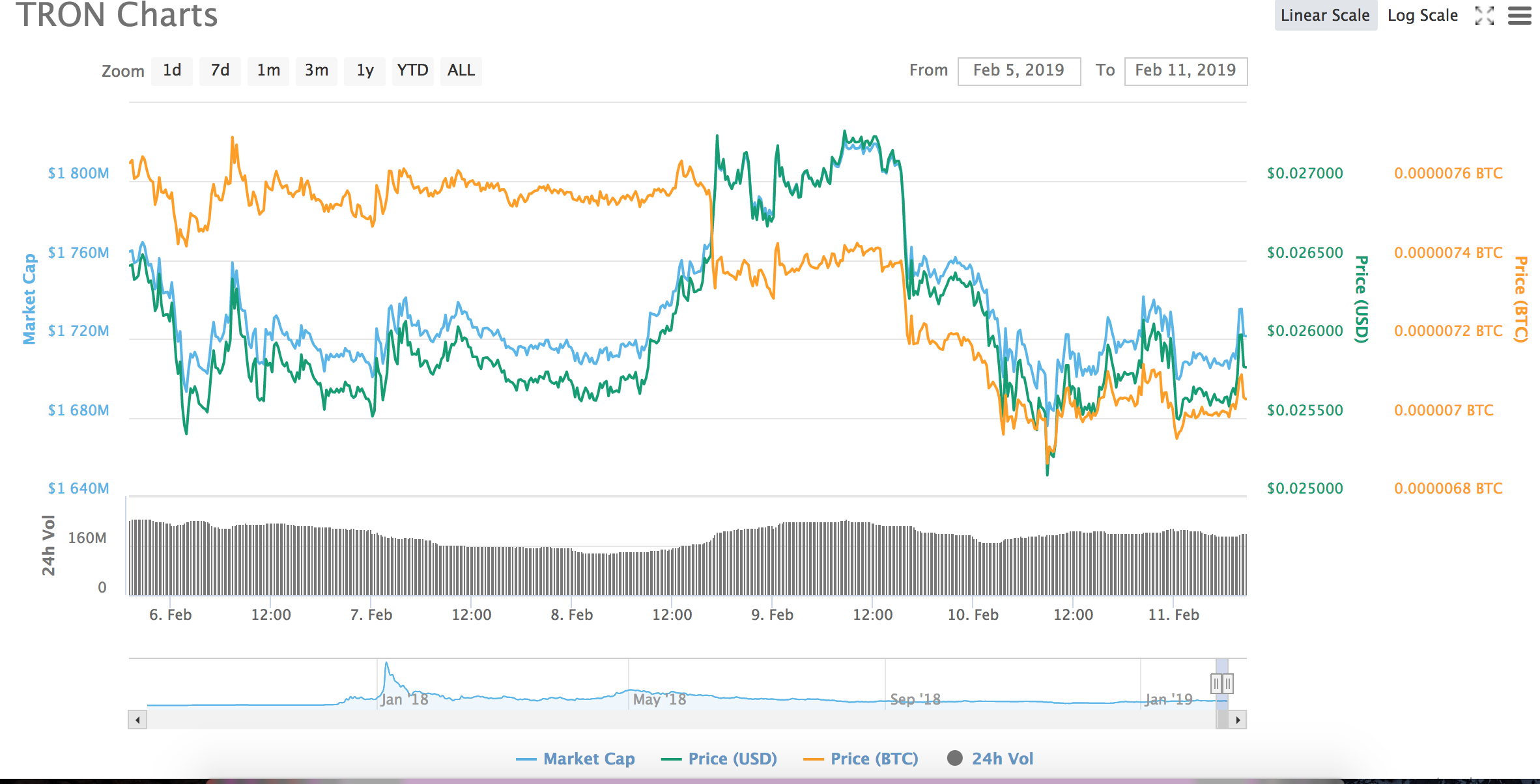 Justin sun recently tied the two cryptocurrencies together, alluding to their dependency on each other:
Think of #TRX and #BTT like a razor and a blade instead of the dividends. You need both together to create a new internet economy driven by decentralization and fulfil the utility of #TRON network. #BitTorrent $TRX #TRX https://t.co/byzEC5kMh9

— Justin Sun (@justinsuntron) February 10, 2019
It's not quite clear how a razor and a blade are going to create a new internet economy driven by decentralization, but knowing Sun, it will probably include an ICO…
Read more: BTT - What is BitTorrent's new cryptocurrency token actually for?; BitTorrent airdrop coming up: this is how the BTT airdrop works; Bitfinex is back online: why did it shut down earlier today?

Follow Chepicap now on Twitter, YouTube, Telegram and Facebook!